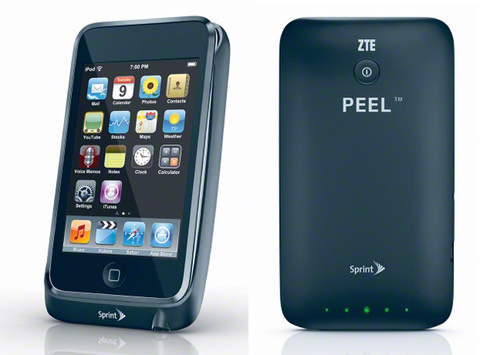 Apple's iPod Touch is arguably the best MP3 and media player on the market. However, what it does lack are the features of it's older brother, the iPhone. Sprint's ZTE PEEL aims to close that gap.
The ZTE PEEL is a special 3G enabled case for the iPod Touch that gives the device a constant connection to Sprint's 3G network. The device also allows the iPod Touch to act as a wireless hotspot for up to two devices. This, essentially, turns the iPod Touch into an hotspot enabled, VoIP capable, iPhone. Of course, there's a catch. The case will add considerable bulk to the ever-so-thin iPod. But, as we've come to expect with added functionality, there's usually some sort of tradeoff.
According to a Sprint press release, the ZTE PEEL will be available on Sunday, November 14th for a hefty $79.99. The data plan for the device doesn't require a contract and will run $29.99 a month for 1GB of data. There's no mention of any higher tier data plans, so it doesn't seem likely that there will be one. It's also unclear which iPod Touch versions are supported by the device, as Sprint fails to mention any specific model. It's possible that it will work for all of them. However, it's best to ask a Sprint representative before taking the plunge.
Image Credit: Gizmodo