The June 2023 report from Statcounter is now available with the latest details about desktop browsers and changes in their market shares. According to the findings, in June 2023, Chrome lost a notable chunk of users, Edge remained relatively unchanged, and Safari continued its climb.
---
Disclaimer: Third-party reports are never 100% accurate, so take the data with a grain of salt. To better understand Statcounter's findings, check out the FAQ section on the official website.
---
Google Chrome continues reigning the desktop browser market (spoiler: mobile too) with a 61.1% share. However, last month, it lost 4.78 points, which is a notable change for the market, where month-to-month fluctuations are usually within one or two points. All that market share went to other browsers, resulting in Chrome being the only player "in red" last month.
Safari, on the other hand, keeps growing after overtaking Microsoft Edge in March 2023. Apple's desktop browser is now at its all-time high of 14.45% (+1.6 points). Finally, Microsoft Edge, the world's third most popular browser, is back above the 10% mark with a 10.77% share (+0.83 points).
Here are the top five desktop browsers according to Statcounter:
Google Chrome - 61.1% (-4.78 points)
Apple Safari - 14.45% (+1.6 points)
Microsoft Edge - 10.77% (+0.83 points)
Mozilla Firefox - 6.04% (+0.74 points)
Opera - 5.31% (+1.27 points)
Interestingly, things are the opposite on the mobile side of the market: Google Chrome reclaimed its lost market share while other popular browsers lost some of their consumer bases. Sadly for Microsoft, Edge is nowhere to be found.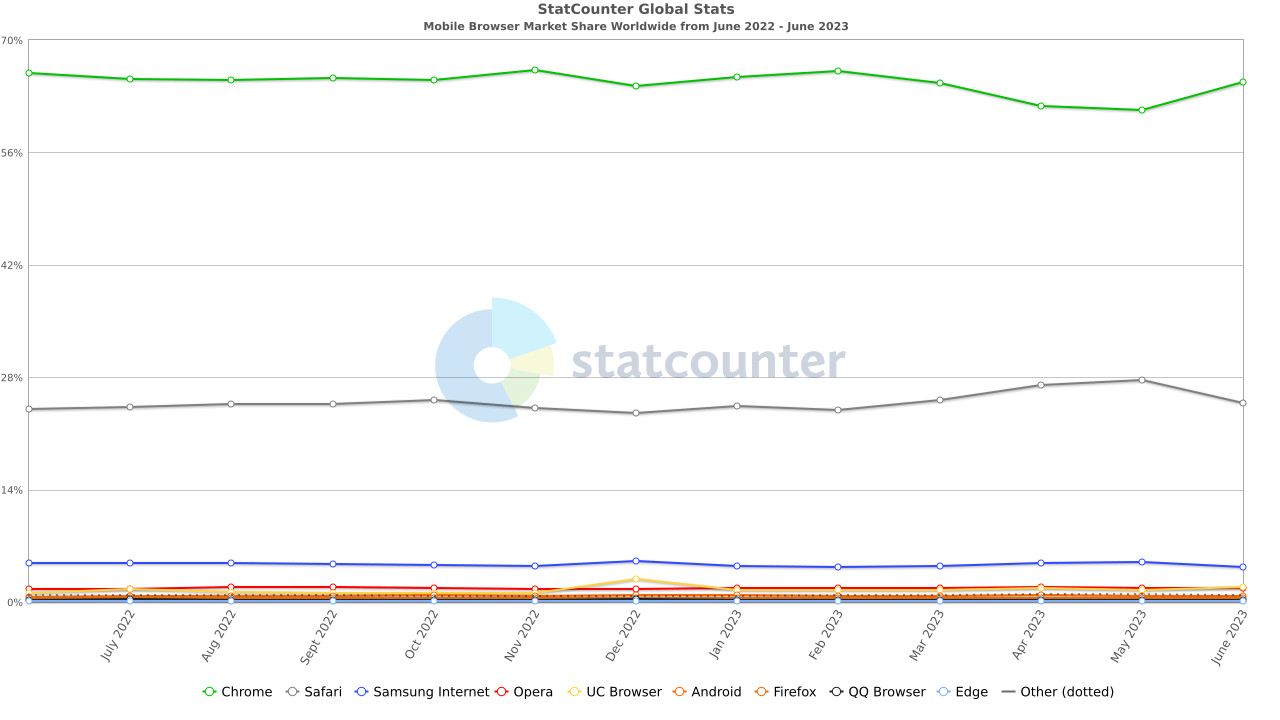 Google Chrome - 64.82% (+3.55 points)
Apple Safari - 24.82% (-2.85 points)
Samsung Internet - 4.3% (-0.65 points)
UC Browser - 1.81% (+0.28 points)
Opera - 1.75% (-0.04 points)
You can find more information about Statcounter's June 2023 report on the official website. The previous month's report is available here.