It only seems like yesterday that the T-Mobile G1 was released but it seems we are already looking ahead to a remodel and some very nice new features.
January 26th 2009 is the date the model will be released on general sale for the public. There are many new additions that are outlined in the image below but lets go through a few of them here.
The first one is the addition of a VGA Camera which could be a sign that T-Mobile are looking ahead to a video calling service by the end of January 2009, on top of that there is a normal camera which is 5 mega pixels which seems a standard with many phones lately. The device will also be able to receive 3G but that depends if you are in the area of receiving 3G as to whether you can use it, it will also feature EDGE and GPRS which is quite normal.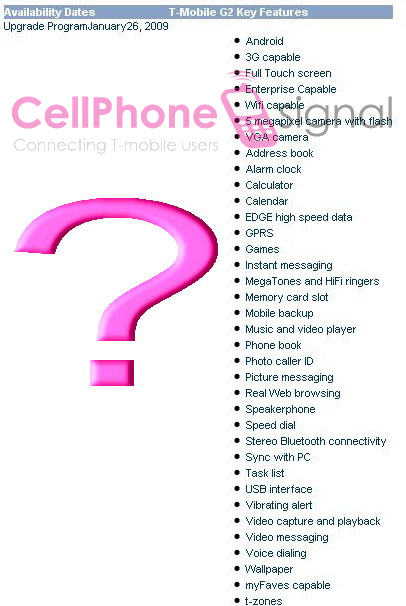 Image Credit : Cellphone Signal
It will not only be the G2 that will get released but there will be updates to the G1.