This news must be taken with a huge grain of salt, as there is very little to go on at the moment.
The pictures were posted to a Twitter account bearing the name EVLeaks and it's clear the account was made specifically to post the images. Are they shots from a marketing promo video or slides? The way they are taken doesn't really conform to the "leak standards" we're accustomed to, and appear to be part of their own marketing.
One thing's for sure, we might be seeing more than the three devices that are rumored to be released next month.
The design appears to follow the HTC One brand of smartphones, and as the Know Your Mobile site points out, has a contoured polycarbonate shell coloured in white. A shot of the back also clearly shows a metallic HTC logo, while a side shot makes it look very thin indeed.
From what we can see from the relatively button-less front, there appears to be either a "home button" or camera
As we can clearly make out, this thing is very thin indeed.
On the back, there's the HTC logo and what appears to be a rear camera in the same spot as on the front (front and rear cameras?)
Here we see it docked, all it's missing is some sort of Surface keyboard!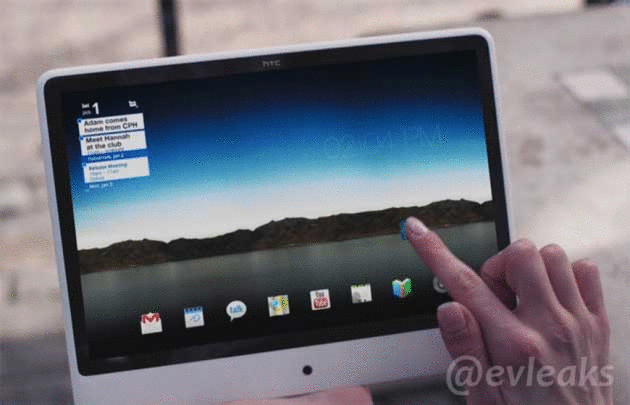 And lastly, we see this device is clearly not running Windows RT, it's either Android or an updated HTC Sense on the home screen.
As pointed out at the start of this article, there's no way to know if this thing is real, a concept or otherwise. It could also be announced at the IFA event in Berlin this week, which kicks off today with a few press announcements.
In the last week details of another two devices from HTC leaked online, so we'll just have to wait and see what comes from all this.
Source & images: EVLeaks on Twitter via Know Your Mobile