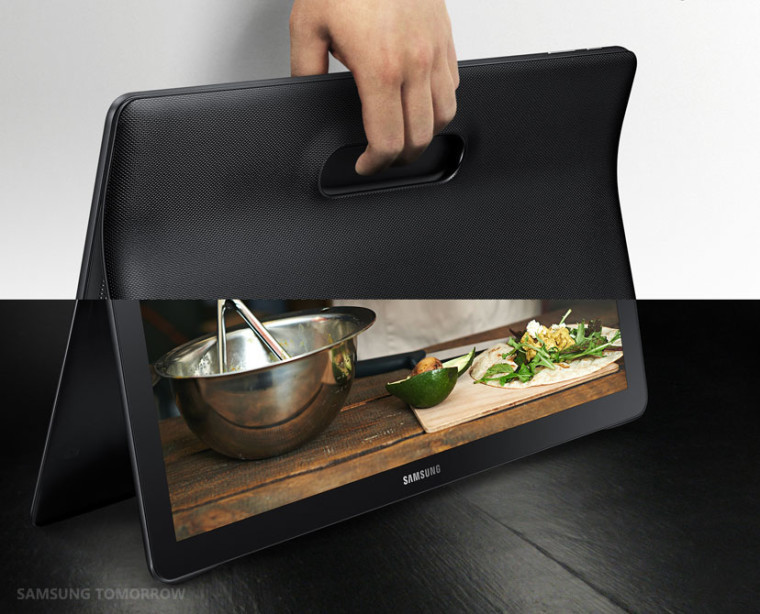 Verizon really seems to struggle at launching new devices while they're still actually new. It released Microsoft's Lumia 735 over nine months after it was originally announced by Nokia; four months after saying the BlackBerry Priv was "coming soon", it began selling it eleven days ago; and four and a half months after Samsung unveiled the Galaxy View, Verizon has finally got around to adding it to its range too.
As SamMobile reports, the carrier has announced its launch of the device, which it will offer at a full price of $599.99 with a 24-month "Verizon device payment plan", or $499.99 "with a new two-year activation".
The Galaxy View is essentially a very big Android tablet that's designed to be used in various rooms around your home. Verizon suggests that it's "the perfect mobile multimedia device for young professionals or college students looking to bring an entertainment center to their apartment or dorm room."
Its key specs include:
18.4-inch touchscreen with Full HD (1920x1080px) resolution
Octa-core 1.6GHz Exynos 7580 processor with Mali-T720MP2 GPU
2GB RAM
64GB storage (plus microSD card support up to 128GB)
2.1MP front-facing camera
4G LTE connectivity
Wi-Fi 802.11 a/b/g/n/ac
Bluetooth 4.1
451.8 x 275.8 x 11.9mm; 2.65kg
Unhelpfully, Verizon's product page for the device claims that you can expect "up to 16.18 hours usage time" - despite also stating, immediately below that, that "the long-lasting battery supplies up to eight hours of enjoyment".
Disappointingly - but perhaps unsurprisingly - the device is shipping with Android 5.1.1 Lollipop onboard, rather than the much newer Android 6.0 Marshmallow. Perhaps Verizon will get around to updating it to Marshmallow before the even newer Android N is released later this year - but given that the carrier never seems to be in any great rush to keep its range up to date, don't hold your breath.