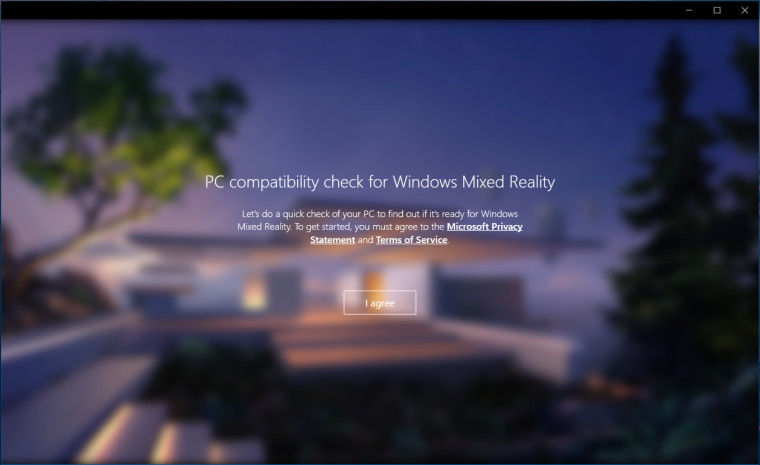 Microsoft has rolled out an app that checks if your PC is ready for Mixed Reality. The app, cleverly named Windows Mixed Reality PC Check, is available to install on Windows 10 build 14257 and up, so from the Windows 10 Anniversary Update - that was released back in the summer of 2016 - onwards.
Once installed and opened, if you agree to Microsoft's Privacy Statement and Terms of Service, you can hit "I agree" and the app does a little hardware check to see if your PC is up to standard on Mixed Reality. Microsoft's own description from the Windows Store says:
Download and run this app to check if your PC can power Windows Mixed Reality. The check doesn't take long, and we'll let you know if any changes are needed.

Windows Mixed Reality delivers exhilarating experiences that combine the thrill of VR with a phenomenal sense of presence. It requires a compatible headset and PC running Windows 10 Fall Creators Update.
Once the test is completed, which only takes a few seconds, you can hit up a link to "Discover Windows Mixed Reality," that leads to this page at Microsoft, where we assume more products will start to be listed there around the time the Windows 10 Fall Creators Update is released.
Only two Mixed Reality kits are available to order there, which are the HP Windows Mixed Reality Headset Developer Edition for $329, or the Acer variant, of which the pre-order page doesn't seem to work at the time of writing.
The app can be downloaded right now in the Windows Store.
Windows Mixed Reality PC Check joins some other new or updated apps like Language Community, Feedback Hub and Microsoft Photos with 57 Story Remix features that apply to the Windows 10 Fall Creators Update, which will start rolling out to consumers from October 17th.
Source: Aggiornamenti Lumia