The Droid Xyboard is a product that is entering a market that is far from mature. The tablet segment has taken off in the past few years but is far from a point of saturation that limits new entrants. The 10.1 in size has, so far, been the primary focus for many but others such as Samsung and now Motorola are venturing in to the smaller arena.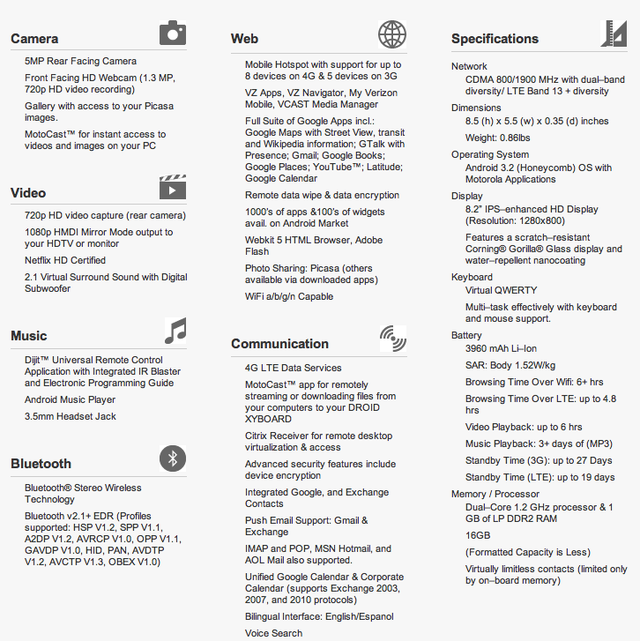 The Droid Xyboard at 8.2 inches comes with a spec sheet, that on paper, makes the device fit in with others in its class. An IPS display, a gig of ram, LTE, and a housing that feels good in the hands makes for attractive product but a good spec sheet does not equate to a pleasurable user experience. The full spec sheet can be found above. Although, Motorola did slash the microSD card slot from the spec list, a disappointment in our book. The device rings up the cash register at a steep $599.99 or $429.99 on a two year contract. 
Design:
The Xyboard (with a name only a mother could love) is packaged in to an attractive housing made of metal and rubber and placed into an octagonal shape. Motorola literally cut the corners here but it does give the product a unique look and should keep Apple off its back.
A couple of things to note, Motorola has a habit of placing physical buttons in awful positions. The original Xoom was subject to this and the Xyboard continues that trend. The volume and power buttons are on the back in approximately the loctation your index finger could land but it is far from a convenient location.
Generally speaking though, Motorola did an excellent job with the design of the product. Yes, there are a few small exceptions but the materials and construction feel top notch and it feels like a premium piece of gadget in your hand.
Screen:
Motorola opted for an IPS display in the Xyboard, which for those who are unfamiliar, is the high end of displays.  While this is good choice for Motorola but the display is still not up to par with other devices we have seen such as the iPad 2 or the Transformer Prime that we played with at CES.
The 1280 x 800 resolution at this size is something we can get behind. Images are clean, text is crisp and it really makes the 8.2in screen feel as if it has all the real estate that you could ever need. Color reproduction is adequate and whites look, well, white. Our device was slightly warm but it was hardly noticeable unlike the recently reviewed LG Spectrum.
When interacting with the display, touch response was accurate and had no issues with multiple points of contact. Occasionally the gestures would become a bit disjointed but it was never enough to inhibit the end user experience.
Speakers:
Yes, the Xyboard has built in speakers, no they are not going to save the day. The speakers can be turned up loud enough to watch a movie or hear YouTube play but the quality is lacking. This is primarily because the size of the tablet does not allow for larger speakers which results in a tinny sound and the lows are all but absent. This is to be expected and the Xyboard is on par with the iPad 2, but again, don't expect anything above average on this device.
Cameras:
The cameras on the Xyboard are actually quite good compared to others. Despite only being a 5MP, images were better than the previous gen Xoom and held up relatively well to other images from sensors with more megapixels. We know that images are dependent on the glass in front of them and this time around , Moto made a few tweaks to refine its cameras abilities.
The front facing camera clocks in a 1.3MP and does the justice for video calling. Using your favorite video chat application will not be a problem and even over LTE, the experience was useable with minimal pixilation
OS/Apps:
The Xyboard ships with Honeycomb and after using ICS on a tablet, Honeycomb really shows its age and stagnated performance.  Motorola also included several applications that allow you to access you Windows of OS X machines from afar, Dijit remote application to control your TV and all the included applications work but we don't feel as if they are killer features that define the product and certainly would not be a reason to purchase this tablet over others when nearly all of the features can be obtained elsewhere.
Performance:
The 1.2 Ghz OMAP 4430 processor made by TI does offer decent performance. The addition of 1 GB of RAM is looked highly upon but even this power can not stop the lag that shows its ugly face on occasion. It's unfortunately a consistent problem we have seen with Android; that is, massive specs, but still lag with the OS. ICS should help to combat this systemic problem.
Saying that, the combo of CPU/RAM/OS does provide a user experience that most will be happy with. Watching movies, surfing the web and other casual use is a pleasurable operation and the end result is a modest tablet that can do most things adequately.
Battery Life:
The Xyboard 8.2 battery life is measly, there is no other way to say it. After a few days use with the device, we are barely getting to 4 hours of use.  If you are on a long haul flight, the Xybaord will not make it the entire journey. The battery life is the biggest pitfall of this device as you will always have to take into consideration when you will be able to charge next and if you watch an HD movie, expect the device to heat up too.
Conclusion:
The Xyboard is a well-built product that is hit with not one, but three Achilles heals. The device runs an older version of Android, has insufficient battery life, and is priced way out of its league.
For Motorola, it is not hard for them to fix the flaws of the Xyboard as the OS update requires no hardware changes and by slapping a larger battery in the device, two major points are knocked out that bring this device back up in to the premium category. Of course, the pricing of the device reminds us of what happened to the KIN which made it DOA.
We must admit that we did fall in love with the size. Motorola hit a sweet spot at 8.2in with the 1280 x 800 resolution, we vehemently love this.  Could Motorola create a killer product in this segment, we believe they could, but is the Xyboard 8.2 it? We don't think so.