Dell's Windows 8 tablet has an all-day battery, but build quality may be a concern
The arrival of Windows 8 signaled perhaps the first time Microsoft has been able to deliver on its tablet computing goals; that is, devices with near all-day battery life, small form factors and an app platform suited to touch. The device I'm looking at today is the Latitude 10 from Dell, which sets its sights squarely at the business end of the market. Will this Atom based tablet with stylus support, long battery life and expandability be enough to entice execs away from their iPads?
The Latitude takes on the familiar form factor of a slate, a self-contained unit with screen and computing built in, extras such as keyboard and so forth can be added after if needed. As this device is aimed at the business crowd, it has its own docking station which provides a host of USB slots, HDMI and an Ethernet socket. Dell also offers a stylus, which will allow users to take advantage of Windows 8's handwriting and inking capabilities.
Specifications
Dell Latitude 10
Display
10.1-inch IPS TFT LCD display
1366 x 768
Processor
Intel Atom Z2760 'Clover Trail'
1.5 GHz dual-core CPU
Graphics
PowerVR SGX545 integrated graphics
Storage
64 GB solid-state hard drive
Memory
2 GB
Connectivity
Wi-Fi 802.11 a/b/g/n
Bluetooth 4.0
GPS
Mobile broadband version available
Cameras
8 MP rear-facing camera and LED flash
2.1 MP fixed-focus front-facing camera
720p video recording
Ports
1 x USB 2.0
1 x microUSB 2.0
1 x mini-HDMI
1 x SD
1 x 3.5mm audio jack
1 x docking connector
Battery
30 Whr Li-ion
60 Whr Li-ion optional
Size, Weight
274 x 176.6 x 10.5mm
658 grams
Price
£375.00 (~US$590)
Design & Display
Like all slate devices it's essentially a rectangle shape with an assortment of ports on the edge. What little design work can be bestowed on a tablet normally occurs on the edges of the device, and with regards to the Latitude 10, the edge is trimmed with a soft, almost rubber-like edge. This edge is shaped in places until it terminates with the back where it is separated from the main body. While the screen bezel is pure black, sides and body are a soft touch dark grey.
The back of the device has speakers placed at the far left and far right, a removal battery and a rear facing camera unit. Around the edges can be found a power supply/dock connector, mini HDMI, full-sized USB, an audio jack, SD card slot, volume and power controls. There is also a space to allow the tablet to be secured with a security cable. At the front of the device it has an embedded camera and a physical Start button.
When I first unboxed this tablet and held it, there were creaks and groans of plastic. Holding the device can produce sounds and it does feel as though the body hasn't been joined correctly. Even though there is flex and some noise when held the tablet doesn't feel cheap or badly made, it does coast dangerously close though.

Thickness of the Latitude 10 (top) compared to the Microsoft Surface RT (bottom)
Like many Windows 8 tablets the Dell comes with a fairly standard screen resolution of 1366 x 768. This is the minimum needed to support the snapping functionality of modern WinRT apps, which is important when using the new Windows 8 touch user interface. Viewing angles from the IPS panel are very good, while color reproduction and brightness is similarly solid.

Physical Start Button, dock connector below.
What must be mentioned is that the screen bezel on the Latitude is rather thick, certainly thicker than on the Surface RT. Thick bezels always feel like a waste of space, and it's hard to fathom why Dell weren't able to achieve something thinner.
Sound is handled by the two small stereo speakers at the rear of the device. Loudness is acceptable and should be enough to deal with video calls and general audio tasks. Like many devices of this size you'll want to invest in some decent speakers if you want to spend time listening to music. For the business use to which this device is aimed the sound will more than suffice.
Software and Performance
A refreshing surprise with this Dell machine was the absence of bloatware on the factory image. On booting up the only modern app you'll see from Dell is a getting started guide to help with adjustment to Windows 8. On the desktop side there's no proliferation of trial software or unwanted anti-virus utilities, just a few minor Dell utilities. These include Dell Access, Dell Digital Delivery and Dell Backup and Recovery, some of which are actually useful.

Bundled Dell apps, bloatware nowhere to be seen
Like many small form factor Windows 8 tablets, the Latitude comes kitted out with Intel's 'Clover Trail' Atom CPU. This chip provides enough power to provide a consistent and rapid experience when using Windows 8; compared to the ARM based Surface RT it's actually a breath of fresh air, being able to cope with running multiple apps and switching without a myriad of slow-downs. When using a light mix of modern Windows 8 touch apps and a few desktop favorites the system copes quite well.
There are essentially two routes that can be taken when choosing a tablet PC. On one side there is long battery life with reduced performance, or there's great performance with lackluster battery life. The Atom devices are designed to give all day performance and drop the requirement for pesky things such as fans. If you're going to be running modern touch apps and do occasional work with Office then the Latitude 10 will serve you well.
In testing the machine was able to run Office, Photoshop and modern apps concurrently without problems, although it doesn't quite have enough grunt for large-scale photo editing, video editing or serious desktop gaming.
The combination of Windows 8 and Atom on a tablet is hard to beat.
When it comes to performance, battery life and compatibility, the combination of Windows 8 and Atom on a tablet is hard to beat. If you're expecting this to steam through heavy workloads and be a desktop or laptop replacement you're looking at the wrong device, but on the other hand if you expect this to be a highly capable companion device that's able to do most of the things you want then you might be surprised at just what this machine is capable of.
In normal use you can expect to get in around 10 hours of battery from a single charge. If you opt for the large cell battery then you can almost double that. In testing the device was used to run a variety of tasks from watching movies to editing documents and listening to music. With this type of battery performance the Windows tablet finally comes into its own as a trustworthy computing companion.
Accessories
Dock
As this machine is aimed at being a business tool rather than just something to just consume content, Dell have a range of accessories available. Unlike many Windows 8 tablets (including Microsoft's own Surface RT and Surface Pro), the Latitude has a docking station available.
The dock comes equipped with four USB sockets, HDMI, Ethernet and a headphone socket to allow for a quick transition from portable to desktop bound configuration. Once connected to the dock you can take advantage of larger screens and wide ranging compatibility with keyboards and mice. As many offices still don't allow for network connections to servers over Wi-Fi, the Ethernet addition will prove invaluable too.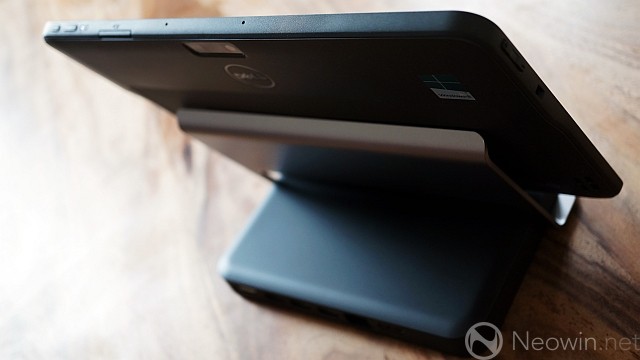 Good selection of ports allows for rapid transition to desktop configuration.
Stylus
The Latitude comes equipped with a Wacom digitizer so you can use a stylus as another form of input. While using the system is possible with your fingers the stylus takes it a step further allowing you to take full advantage of Windows stylus features. The pen input works really well and handwriting recognition in Windows 8 is excellent.
The stylus can also prove really useful when trying to use the desktop, it's just so much easier trying to hit targets with the pen than with a big finger. As well as Windows 8 inherent pen capabilities Office has inking built in, providing an easy way to draw or take notes. OneNote is built around pen input so if note taking in meetings is your thing then make sure to grab the stylus.
The optional stylus whilst cheap enough (cost-wise) feels very light and cheaply made - some real grip and weight would have improved the experience in leaps and bounds. It is also annoying that no provision was made in the body design to accommodate the pen when not in use.
Conclusion
As odd as it sounds, when looking at tablets for the workplace these days the main competitor could well be the iPad. While Microsoft and Intel have been taking their time creating the hardware and software to pull off decent tablet experience the iPad has snuck into the corporate world. The Latitude 10 therefore represents the first of a wave of devices that can help Windows regain some lost ground in this space.
Dell have done a good overall job with the weight and design of the tablet but construction can feel a bit weak overall. That said, the machine doesn't feel feeble, just that more could have been done to sure up the joins in construction. Some areas on the back seem as though they have voids which can lead to sponginess and flex. The display is excellent and the added ability to use a stylus for inking is neat.
While some express concern about performance of the Atom CPU compared to Intel's core i3 or i5 CPUs, in practice it's unlikely to bother a general office user. In testing it was more than capable of running multiple desktop apps and still provides a great overall experience. Can this device serve up enough performance to replace a modern laptop? The answer will depend on needs but in our testing the device seemed able to cope with general tasks without complaints.
The Latitude 10 represents the first wave of truly useful Windows 8 tablets. The machine provides similar battery life to the Surface RT while giving the choice to run legacy desktop applications. The form factor and comprehensive accessories should mean this device will be worthy of considering in an office setting. Performance with this generation of Atom chips may leave some people wanting more, so ensure you try before you buy.
Pros
all day battery good display stylus support docking station
Cons
thick bezel construction