It has been a while since I have properly used a Windows phone, as I use Android as my main daily driver. I first used the OS on the HTC 7 Mozart, and back with the original WP7 it wasn't that good: I found it to be missing critical features, the Mozart itself crashed frequently and the camera on the device was really bad. Needless to say my initial impression was pretty poor.
Today I'm reviewing the HTC Radar, kindly provided by MobiCity, which is the second generation of Windows Phones with upgraded specs, Mango preloaded and with it a whole lot of extra features. I was expecting to think poorly still of another HTC/Microsoft combination, but instead everything I originally thought about the OS and its devices was thrown out the window in a refreshing and surprising way.
Specifications
Essentially the HTC Radar is a step up from the HTC 7 Trophy, with upgraded processor, front-facing camera and a slightly different design. Below are the full specifications.
 
HTC Radar
Product Codes
C110e
Codenamed "HTC Omega"
GSM Bands
850 / 900 / 1800 / 1900
3G Bands
HSPA 900 / 2100
HSPA+ 4G (T-Mobile)
Display
3.8-inch 480x800 S-LCD
246 ppi pixel density
5-point capacitive multi-touch
Gorilla Glass
Processor
Qualcomm MSM8255 Snapdragon (S2) chipset
1.0 GHz single-core Scorpion CPU
Graphics
Adreno 205
RAM
512 MB
Storage
8 GB internal storage
6.5 GB available storage space
Connectivity
WiFi 802.11 b/g/n
Bluetooth 2.1 with A2DP
A-GPS
DLNA
FM Radio
Camera
5 MP rear camera with autofocus and LED flash
VGA front camera
720p video recording (rear)
Ports
MicroUSB (charging, data)
3.5mm audio jack
Sensors
Accelerometer
Magnetometer
Gyroscope
Light sensor
Proximity sensor
Battery
Li-ion 1,520 mAh non-removable
Launch OS
Windows Phone 7.5 "Mango"
Launch Date
October 2011
Size & Weight
120.5 x 61.5 x 10.9 mm
137 g
Screaming at me is one fault right here: no microSD expansion and only 8 GB of onboard storage, of which just 6.5 GB is useable. This will be a problem for people like me which enjoy having a lot of music and videos on their device at any one time.
Also, having no removable battery means that if you desire swapping batteries when they get low or using an extended battery, this is simply not possible. This may not be an issue for some people, and the battery life is pretty good (check out more on that in the battery life section), but for extreme power users this could be a disappointment about the Radar.
Review Index
This review is pretty lengthy, so if you only want to find out about certain features skip to the appropriate section below, or simply watch the video overview on the next page.
Introduction and Specifications
Video Overview
Design
Software
Performance
Camera
Media Playback & Call Quality
Battery Life and Conclusion
Video Overview
Below I go over some of the features of the HTC Radar in light detail for those of you who don't like reading massive reviews. If you want the full, expansive detail then read on.
Design
Pulling design cues from the HTC Trophy as well as HTC's extensive range of smartphones, the Radar is equipped with a very solid design. It was great to see that this device comes in white, and with a white review unit it felt refreshing to look at compared to the myriad of other black smartphones that are available on the market today.
The design is basically three parts: the aluminium unibody, soft-touch plastic highlights and the display. The metal aluminium unibody design is a trademark for HTC's newer devices and, as always, it feels great in the hand, looks sharp, strong and also expensive. The white-plastic parts give some interest to the design while allowing for a removable SIM card slot and also for the antenna.
The display is a 3.8-inch 480 x 800 (WVGA) S-LCD panel, which fits right in to the design and is crisp, bright and very usable. Surrounding the panel are the capacitive buttons with a glowing backlight (the effect looks very cool in the dark), sensors and the front-facing camera new to WP7 Mango. The 3.8-inch display was a perfect fit for my hands and wasn't too large or too small to be unusable, and works well in the mid-to-high range of WP devices.
Around the device is the power button and 3.5mm audio jack on top, volume rocker and two-stage camera button on the right hand side, microUSB port on the lower left hand side and microphone on the bottom. All buttons feel extremely solid and appear to be made out of metal, however at times the power button on the top can be hard to hit while you are using the device in one hand.
The design isn't revolutionary, to use an Apple-like word, and the white feels very similar to the HTC Flyer I used a couple of months ago, but it's a functional and practical design that works well for the phone. It's solid and doesn't feel like it's going to break any time soon, the plastic is in the right parts and the display is the perfect size. Not much to complain about here.
However, saying that, at times when you are in direct sunlight, the white bezel around the outside of the display can reflect a lot of light back into your face, creating either large amounts of glare or reducing the perceived brightness of the display. It's only a minor issue and for a white phone there is not much that can be done about it, but I noticed it a lot when using it in the sun. Perhaps you'll just have to use the Radar in the shade instead.
Again HTC hit the nail on the head with the Radar's design as they continue to produce devices with top-notch build quality and materials.
Software
The base operating system under the HTC Radar is, of course, Windows Phone 7.5 Mango. As what you get is very similar to other Windows Phones at this stage I recommend you check out our previous coverage of Mango to see what you will be getting on that front, rather than me listing out every feature and saying how good/bad it is.
Most likely if you're this far into the review you'll be interested in ditching whatever OS you're currently using and moving to Windows Phone, or upgrading your existing WP7 device. I do have to say that coming from Android directly to Mango was a surprise, because I remember using the half-baked original Windows Phone release that was missing too many features to be properly usable, and using it on a HTC 7 Mozart that crashed too frequently.
Finally, you don't have to use your Live contacts: you can fast app switch thanks to multi-tasking, you can integrate Twitter into your contacts, you can change many more settings and the OS is a lot more stable on the hardware. If you're still iffy about dumping say Android and coming to WP I suggest you go to a store and check out the OS in person – it's always better when you have a live demonstration there to use.
Enough on choosing Windows Phone and on the stock features of the OS; I bet you're wondering what software is specific to the Radar. Well to put it simply there aren't many pre-installed apps (thankfully, I hate spam apps), and all of the ones that are included are top-quality HTC apps that can also be found on other HTC WP7 devices.
You get the HTC Hub, a blend of weather, stocks and news – accompanied by a Live tile with weather – in a similar fashion to Sense on Android. It's a nice app which brings together business-related information, but unfortunately it can be a tad slow to browse when updating the content.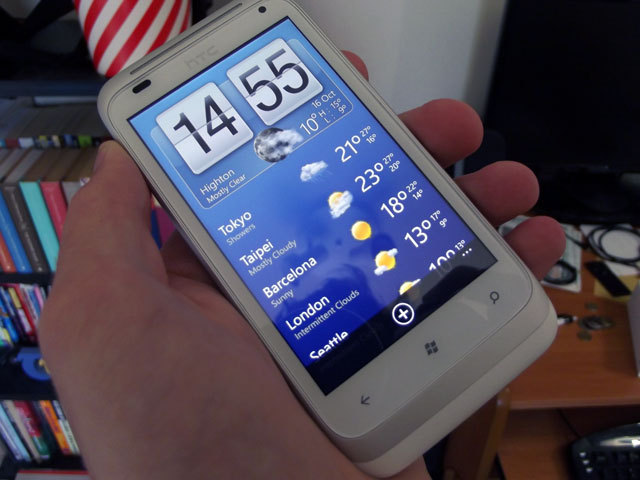 There is also the Photo Enhancer app, which is a basic photo manipulation app that can add a variety of filters to your already taken photos. You also get HTC Watch, and if you are in a compatible country you will be able to rent or buy movies from HTC's service. Unfortunately Watch doesn't work here in Australia so I can't really tell you whether it's good, but it's included nonetheless.
Oddly HTC included a Notes app, which is graphically nice but seems strange to have when Microsoft Office OneNote is included with Windows Phone and syncs to SkyDrive so you can access your notes anywhere. As with some Android phones, the Locations app is present so you can mark cool places you've been to and find new landmarks.
Finally there is the Connected Media app, which allows you to stream photos and videos from a media server on your WiFi network straight to your phone. It's a pretty basic app, but it works and could be useful to some users.
Apart from these few apps, Windows Phone is left untouched and unskinned, allowing you to enjoy all of Microsoft's hard work on visuals uninhibited and without Sense hindering your enjoyment. With 30,000 apps in the Marketplace and counting, you can simply enhance your Windows phone experience by downloading more apps, which are often of a very high visual and functional quality.
Performance
The first wave of Windows Phones all had a very similar chipset on the inside: the Qualcomm "Snapdragon" QSD 8250 with a 1 GHz single-core "Scorpion" processor and Adreno 200 graphics, usually accompanied by 512 MB of RAM. This was due to Microsoft's strict hardware requirement at the time to make it easier for developers to create apps for Windows Phone.
Just before the release of Mango, Microsoft increased these requirements to allow more powerful processors, and as a result the second wave of Windows Phones includes more powerful chipsets. The HTC Radar has the upgraded Qualcomm "Snapdragon" MSM 8255 chipset with a 1 GHz single-core "Scorpion" processor and Adreno 205 graphics coupled with 512 MB of RAM.
While on original inspection this doesn't look like much of an improvement, there are lots of underlying improvements to the processors between the first and second series Snapdragons. The die size has shrunk from 65 nm to 45 nm, providing for less heat output and less power consumption, along with the improvement of the GPU from Adreno 200 to 205. To put it in Android terms, it's the performance increase from the HTC Desire/Nexus One to HTC Desire S/HTC Desire HD. It's the same combination used in the Sony Ericsson Xperia Play as well.
Now obviously it's no dual-core processor as seen in series three Snapdragons (HTC Sensation, HTC EVO 3D), but for Windows Phone this phone represents a significant step up in performance from previous devices such as the HTC Trophy that came before the Radar. As a result, the smoothness of WP7 has improved, app loading is very quick and graphics get a considerable boost.
In real world testing we found no problems running applications or browsing the web. As most Windows Phone apps are made for the older series processors, everything simply flies. IE9 mobile, as included from WP7.5, has virtually no problems panning and zooming intensive websites such as Engadget or Neowin. This is mostly due to the zoom-first-render-after approach used (in comparison to real-time rendering in Android), however re-rendering the page is fast in most cases and only when scrolling intensively is there pop-in.
For synthetic benchmarking we used the application WP Bench and compared it to the results for the first-generation WP7 phone the HTC 7 Mozart.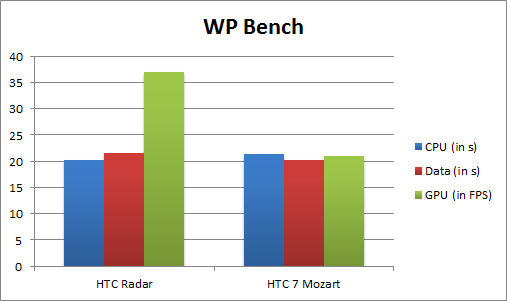 As you can see above, CPU and data performance are very close, with the CPU of the Radar coming in just below the 1 GHz processor in the Mozart. However the GPU sees a considerable jump from an average FPS reading of 21 to 37, which equates to an increase of 76%; all thanks to the improved Adreno 205 GPU.
Coming straight from a HTC Trophy or Mozart is somewhat hard to justify if you're basing your upgrade on performance alone, as the two perform similarly in CPU execution. On the other hand the GPU improvements are drastic enough that an avid WP7 mobile gamer should definitely consider it if they're after solid gaming performance.
Camera
The camera that you get on the back of the HTC Radar is not spectacular by any means, but it's not bad either. It's a 5-megapixel shooter with autofocus, F2.2 lens and LED flash, capable of 720p HD video recording. There is also a VGA front facing camera, suitable for video calls and that's about it.
For the camera application loaded onto the device you get a fairly standard Windows Phone app, as you would expect as the device is a Windows Phone. You get a couple of photo scenes you can choose from, a few effects and some settings to control the quality. While these aren't particularly impressive settings, I was happy to see that there is a fully functional panorama mode along with a burst shot mode.
Some of these settings carry over to the video mode, which at 720p is, again, not outstanding. Audio capture quality appears to be pretty good, but video quality suffers from many of the same issues that the standard shooting mode faces which I go into more detail about further down. You can check out the sample video quality below.
Focus quality (test shots below) of the HTC Radar's camera is pretty good. I managed to get the Radar to focus on an object as close as 3.5cm away, but occasionally it had trouble focusing on small objects close to the camera. It is possible to get some nice depth-of-field shots as well as close-ups of flowers.
The test for wide shots is to see how good the fidelity and crispness of the camera can be when there are lots of small objects in the capture area. In my test shots (below), the Radar managed to replicate the color of the sky well, but other objects such as the leaves were washed out. In the 100% crop you immediately notice that the Radar fails to take a particularly crisp shot, with details becoming blurred easily.
You can also see in the second image that the camera has slight contrast issues when there is a sun-lit area with a shadow: the shadow appears to be a lot darker than it is in real life.
Color quality (test shots below) from the HTC Radar is alright. As I mentioned above, the 5 MP camera manages to take good shots featuring the sky, and generally captured whites accurately indoors. Capturing the sky well actually means that all blues are very accurately represented throughout photos without being oversaturated, but this comes at the sacrifice of all other colors, which aren't nearly as strong as the blues. Reds appeared to be particularly affected.
Another thing about the color quality: don't be fooled by the display on the device while taking shots. The above photo of my bookcase looked much better on the Radar's S-LCD display than it ended up when I looked at it on my computer and when I printed it out (just to make sure it wasn't my display). It seems like the Radar's display makes reds brighter than they are.
Low-light performance (test shots below) is, again, okay. Performance with no flash is grainy in low light but still manages to focus, and when the flash is activated it typically washes out images with a yellow tone. It's not nearly as good as with the Xperia Ray I reviewed several weeks ago, but thanks to the flash it's still possible to photograph in the dark.
Luckily the Radar is not supposed to be HTC's highest-end Windows Phone; otherwise I would have been expecting more from the camera. But for the market that this device fills, what you get is not bad, but also not great, and it's a lot better than the HTC 7 Mozart's camera I used a while back. It also has a front-facing camera, which is a bonus and a great inclusion in Windows Phone 7.5 Mango
Media Playback & Call Quality
With media playback you have Microsoft's own Zune player installed on the device, which is a very nice player to use visually, and it also has enough functionality for an end user. It links to the Zune Marketplace as well, so you can easily expand your music collection on the fly.
HTC have always had "high-quality" rear speakers on their devices, trying as hard as they can to imitate being a real speaker. Unfortunately imitation is all it will be, as the rear speaker on the Radar sounds not that good; better than a lot of other phones and quite loud, but abrasive and horrible to use for anything other than a ringtone.
The first time I put headphones in the device to use it I was shocked at how awful it sounded. But alas, it was not the actual phone's fault as SRS enhancement had been turned on by default. Silly HTC, as it pushes a ridiculous amount of bass out and sounds so muffled that the richness of the sound is lost in clouds of terribleness.
Turn SRS "enhancement" off in the Sound Enhancer settings and suddenly music becomes listenable through headphones on the Radar. It sounded so much better I was astonished a second time at how bad SRS had made it. I honestly thought it was supposed to enhance the sound but it clearly didn't.
I'll stop complaining about SRS, because the sound quality through the audio jack on the Radar is pretty good. The only complaints I could make when comparing it to the sound of the Galaxy S, which in my opinion is the best of any smartphone I have tried, is that there wasn't as much bass as I would have liked. Not to worry though, as some of the equalizer settings can fix that for you, so overall I was pretty impressed.
Now for all my reviews so far I have used a specific set of seven video formats to test video playback. As with all Windows Phones you can only add content to your phone through Zune on your PC/Mac, it immediately threw out some of the formats as unsupported, so check out the results of the testing below.
Media
Result
Cordy Gameplay
SD 640x360 WMV
WMV3 video, WMA2 2ch audio
Perfect playback
The Big Bang Theory
SD 624x352 AVI
XviD video, MP3 2ch audio
Synced and perfect playback! Finally!
Epic Rap Battles of History 7
HD 1280x720 MP4
H.264 YouTube video, AAC 2ch audio
Perfect playback
TRON Legacy
HD 1280x720 MP4
H.264 video, AAC 6ch audio

Not recognized by Zune; wouldn't sync to device.
Interesting as Zune supports MP4 files, but it must be the 6 channel audio.

Black Swan
Full HD 1920x800 MKV
H.264 video, DTS 6ch audio
Not recognized by Zune; wouldn't sync to device
THX Amazing Life
Full HD 1920x1080 MT2S
H.264 video, AC3 6ch audio
Not recognized by Zune; wouldn't sync to device
MysteryGuitarMan
Full HD 1920x1080 MP4
H.264 YouTube video, AAC 2ch audio
Perfect playback
Despite not having a 1080p display or supporting 1080p video recording
Finally! A device that plays back XviD AVIs perfectly! Not even the dual-core HTC Sensation had that capability, so I was amazed to see the HTC Radar not only support but play back the file with no difficulty. It also played back 1080p MP4 files despite not recording in 1080p, which was nice to see.
Luckily all the unsupported codecs couldn't be synced so you don't waste time copying files that won't end up working. Despite the unsupported codecs I am very happy with the end result that has perfect AVI playback. I highly recommend the Radar if you have a large standard definition TV collection in AVI format.
Finally, as always the HTC Radar's call quality is good. On both ends calls are audible and there were no complaints about muffled voices or inaudibility. It's hard to find a device these days which lacks on this front, and the Radar is no exception.
Battery Life
When it comes to battery I was pleasantly surprised by the Radar. With light-moderate usage the device gave two days of usage without any issue, and this was with around 25 text messages, a couple of hours of web browsing and app usage along with some Twitter and full data sync. WiFi and location were turned on.
For heavy usage you could get around eight hours of use out of the device. This was with many photos being taken, many hours using apps, data over 3G, Bing Maps with GPS, games and all high-intensity battery-draining activity. As you're probably not going to sit around for 7-8 hours and use your phone, this is plenty for this device.
Unfortunately if you do decide to play with your Windows Phone all day and find the battery is not enough, you have no real choice for expansion as the device doesn't have a user removable battery. Along with no expandable storage this is a slight disappoinment, but really I don't think it will affect the majority of users.
While I didn't test it, if I really tried I believe the Radar is capable of a three-day battery life with WiFi data use and very low usage. The battery life seems very good for a smartphone and contrasts greatly to first-gen Windows Phones which I found to have just average battery life, so it's either improvements on the software end or HTC's own improvements that are helping (and in actual fact it's probably a mix of both).
Conclusion
The HTC Radar is a very good phone; good enough that I will miss it when I have to send it back in a couple of days. Windows Phone has matured with the Mango release to the point where I feel like all the necessary features have been included, which in turn makes the Radar more usable than the first batch of Windows Phones I used.
It's not only the better software that makes the second generation of Windows Phones a great buy, but the amazing build quality of HTC devices is again present on the Radar. It has been a long time since I've seen a bad-quality HTC-built phone, and the Radar is no exception. You get a solid, fantastic looking aluminium unibody casing that is practical and very usable along with a 3.8-inch display that feels right at home.
Performance of the HTC Radar is not a massive step up from first generation devices, so if you were an early WP7 adopter then perhaps wait for some of the upcoming 1.5 GHz devices. However, thanks to the considerably more powerful GPU, developers will hopefully start to develop more GPU-intensive 3D games for Windows Phone and accelerate it into the mobile gaming market, and with Xbox Live integration in WP7 it will only serve to help this process.
Going by MobiCity pricing (thanks to them again for shipping out a device for my review), the Radar is demanding a $130 price bump over the HTC 7 Trophy and Samsung Omnia 7 with its AU$530 price tag. It's also coming in at $110 more than the 4.3" HTC HD7 and 3.8" LG Optimus 7. Of course if you are looking for the top-end Windows Phone, the brand new HTC Titan is going for $220 more at AU$750 (on pre-order).
For those of you in the United States and not looking to buy the device outright, the 4G-capable HTC Radar will be available on T-Mobile during the holiday season, presumably for $200 on a two-year contract.
Despite this price gap, I would say that the benefits of a HTC-made second generation WP7 device are good enough to warrant paying the extra price, especially if you are willing to look past the few minor shortcomings such as no removable battery and just 8 GB of storage. If you're on a budget too tight for the Radar (and I hope not), now is also a good chance to pick up a cheap first-gen Windows Phone such as those I mentioned above.
Our HTC Radar was provided for review by MobiCity, and will be returned to them following the conclusion of the review. The device was fully updated (OS v7.10.7720.68) at the time of writing.