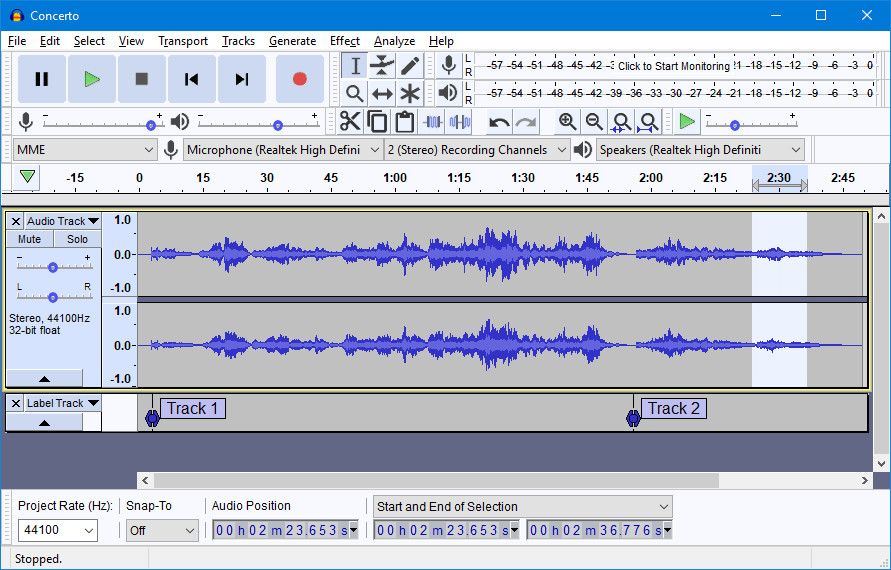 Audacity is a free, open source digital audio editor and recording application. Edit your sounds using cut, copy, and paste features (with unlimited undo functionality), mix tracks, or apply effects to your recordings. The program also has a built-in amplitude-envelope editor, a customizable spectrogram mode, and a frequency-analysis window for audio-analysis applications. Built-in effects include bass boost, wah wah, and noise removal, and the program also supports VST plug-in effects.
You can use Audacity to:
Record live audio.
Record computer playback on any Windows Vista or later machine.
Convert tapes and records into digital recordings or CDs.
Edit WAV, AIFF, FLAC, MP2, MP3 or Ogg Vorbis sound files.
AC3, M4A/M4R (AAC), WMA and other formats supported using optional libraries.
Cut, copy, splice or mix sounds together.
Numerous effects including change the speed or pitch of a recording.
Write your own plug-in effects with Nyquist.
And more! See the complete list of features.
Audacity 2.4.0 changelog:
Improvements
Audacity now runs on Mac Catalina.
A new Time Toolbar showing current record/playback time has been
split from the Selection Toolbar. It can be resized large.
Presets for more effects can be imported and exported.
A new Multi-View mode for tracks. In this mode both
spectrogram and waveform views are shown at the same time.
Opus available as a new audio export format on Windows and Linux.
Easier to convert labels between point labels and range labels.
New Loudness Normalization effect.
New RMS measurement analyzer.
New Noise Gate effect.
New Spectral Delete effect.
Over 100 bugs in 2.3.3 fixed, including
2237 - Equalization effects have no Import or Export for curves
2261 - Graphic EQ sliders have no frequency labels
2265 - Track heights are reset to default on project re-opening
2303 - Playback does not start at the saved cursor position on reopening a saved project.
2314 - Zoom in fail when playing
Changes in v2.4.1:
Audacity 2.4.1 fixes a serious bug in the briefly available Audacity 2.4.0.
With 2.4.0 we blundered. In 2.4.0 you'd get loss of and corruption of audio, when you had two projects open at the same time.
Thanks to Jack L from FreeBSD for alerting us to the problem so promptly, and giving us steps to reproduce it.
See also: 2.4.1 Release Notes
Download page: Audacity 2.4.1 | 26.0 MB (Open Source)
View: Audacity Home Page
Get alerted to all of our Software updates on Twitter at @NeowinSoftware