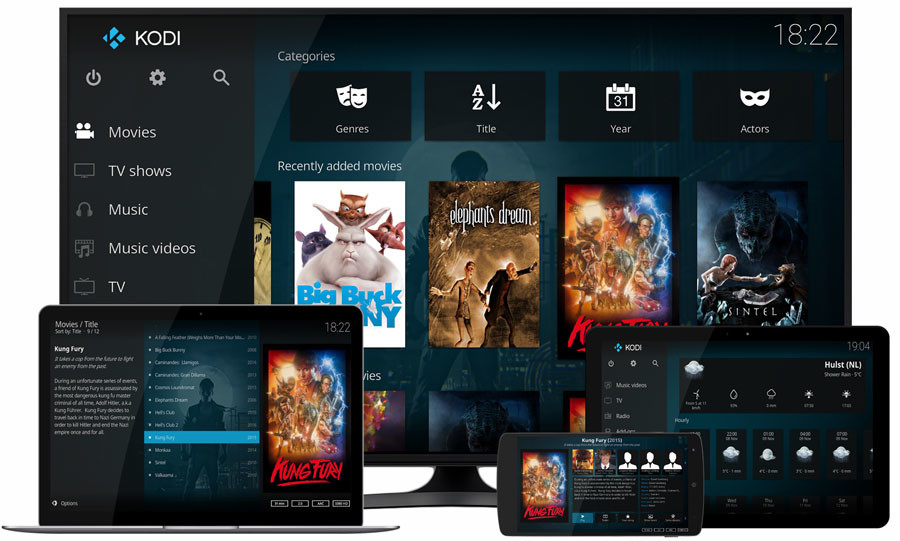 Kodi (formerly known as XBMC), is an award-winning free and open source cross-platform software media player and entertainment hub for digital media for HTPCs (Home theater PCs). Its graphical user interface (GUI) allows the user to easily browse and view videos, photos, podcasts, and music from a hard-drive, optical disc, local network, and the internet using only a few buttons.
Kodi can be used to play almost all popular audio and video formats around. It was designed for network playback, so you can stream your multimedia from anywhere in the house or directly from the internet using practically any protocol available. Use your media as-is: Kodi can play CDs and DVDs directly from the disk or image file, almost all popular archive formats from your hard drive. Kodi will scan all of your media and create a personalized library complete with boxcovers, descriptions, and fanart. There are playlist and slideshow functions, a weather forecast feature and many audio visualizations. Once installed, your computer will become a fully functional multimedia jukebox.
Most notable changes to mention in this Release Candidate:
Update documentation regarding Python and Skin develoment: Kodi Doxygen
Fix crash on certain music files that contain ID3v2 UFID frame
Do not list non-repo add-ons as "unavailable" in info dialog (the by default included ones)
Fix some interface info labels regarding music
Fix none responsive when minimising on Mac OSX
Fix path for looking up external subtitles
Replace vc140 redis with vc141 which fixes crashes on Windows (user should at least install this once)
Windows DXVA - fixed color values
Fix GUI Notifications rendering
Fix watched items in plugins (contains database upgrade)
Of course there are several more changes which are listed on the github repository found here: RC4 changes.
Fix crashes by pressing 'x' to stop DVD .iso image when "Player Process Info" is displayed
Screenshot: simplify logic and bail out if no folder is set
Android: remove mpeg4 HD restriction / use dts for unknown pts for mpeg4 (there might be some playback regressions that will be fixed along the way)
Change resolution (if required) on application starts (fixes XBXO resolution issues)
Android: Reset calibrations if GUI limit changes
Android: fix subtitle position problems
Fix resolution whitelist issues on Windows
Extend option to hide spoilers like text or images from the library view
Add support for new iOS devices
Download: Kodi 17.6 | 78.0 MB (Open Source)
Download: Kodi 18.0 RC5.2 (32-bit) | 57.9 MB
Download: Kodi 18.0 RC5.2 (64-bit) | 60.1 MB
Links: Kodi Home Page | Kodi for Android | Release Notes
Get alerted to all of our Software updates on Twitter at @NeowinSoftware