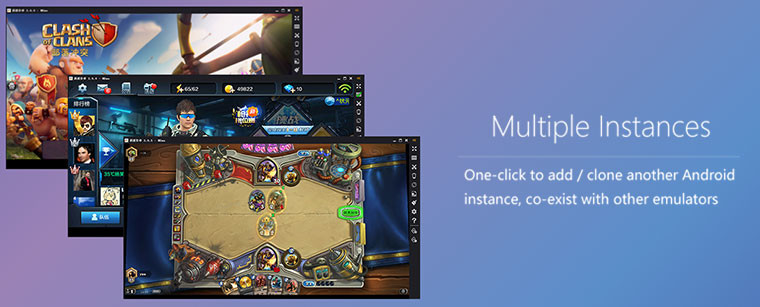 MEmu is a brand new FREE Android emulator that brings fun of the Android experience to Microsoft Windows devices. It runs on nearly all Windows devices (PC, notebook, 2-in-1 devices, tablets). Comparing to other Android emulators, MEmu provides the highest performance and greatest compatibility.
The richest features:
Full Android experience with an elegant desktop
Flexible customization (CPU#, memory size, resolution, device model, nav bar location, root mode, etc.)
Mapping the keyboard / joystick to screen touch for much better game experience
Passing through sensor data (e.g. accelerometer) to Android, so you can play car-racing like games intuitively
GPS location simulation
File sharing between Windows and Android
Fast APK installation by drag and drop
One-click Android system creation / clone / deleting, and you can run multiple Android instances simultaneously
Using MEmu, you can:
Have fun playing Android games on PC
Chat more conveniently by using keyboard in Whatsapp, Wechat, etc.
Watch live show and TV channels
Ten seconds to start
Directly open several Android Emulator windows
Release Notes for 3.0.7:
New logo
New installation package with overwrite install support
Switch to Android 4.4 as default
Add widget tool, like cleanup memory, weather forecast, change wallpaper, etc.
Add message box
Add support to keymapping for MOBA game, like Penta Storm and Realm of Valor
Add support to keymapping pre-setting
Add support to customize tool bar
Add support to record audio
Improve the compatibility with Context3D games
Improve the compatibility with old AMD CPUs
Improve the graphic quality of unreal4 engine
Improve the input method for some languages
Improve keyboard mapping for MOBA game
Improve shortcut keys, like boss key
Fix some tiny bugs
Notes:
Android 5.1 and 4.2 will be available through MEmuConsole.exe later.
It might take a while to install if you have multiple instances to overwrite.
Download: MEmu 3.0.7 Offline Setup | 330.0 MB (Freeware)
View: MEmu Home Page | MEmu Support