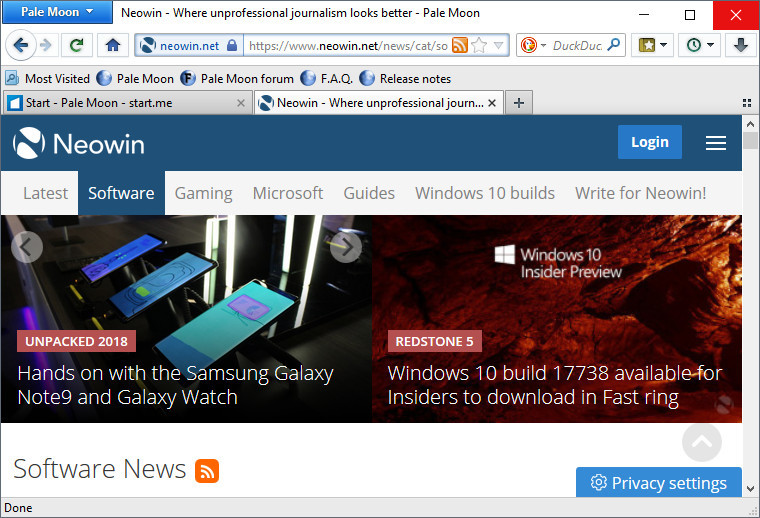 Pale Moon is an Open Source, Goanna-based web browser available for Microsoft Windows, Linux and Android, focusing on efficiency and ease of use. Make sure to get the most out of your browser!
Pale Moon offers you a browsing experience in a browser completely built from its own, independently developed source that has been forked off from Firefox/Mozilla code, with carefully selected features and optimizations to improve the browsers speed, resource use, stability and user experience, while offering full customization and a growing collection of extensions and themes to make the browser truly your own.
Features:
Optimized for modern processors
Based on proprietary optimized layout engine (Goanna)
Safe: forked from mature Mozilla code and regularly updated
Secure: Additional security features and security-aware development
Supported by our user community, and fully non-profit
Familiar, efficient, fully customizable interface
Support for full themes: total freedom over any elements design
Support for easily-created lightweight themes (skins)
Smooth and speedy page drawing and script processing
Increased stability: experience fewer browser crashes
Support for many Firefox extensions
Support for a growing number of Pale Moon exclusive extensions
Extensive and growing support for HTML5 and CSS3
Many customization and configuration options
Pale Moon 32.1.1 changelog:
Fixed a crash in CompareDocumentPosition with Shadow DOM.
Fixed a crash with display:contents styling.
Added a preference to disable the TLS 1.3 protocol downgrade sentinel (see implementation notes).
Changed the way large clipboard copy/paste operations are handled, improving privacy (see implementation notes).
Improved filename safety when saving files to prevent potential environment leaks (bis).
Improved sanity checks of MIME type headers.
Security issues addressed: CVE-2023-29545 and CVE-2023-29539.
UXP Mozilla security patch summary: 2 fixed, 1 rejected, 49 not applicable.
Implementation notes:
Some proxies and middleware boxes improperly handle the TLS 1.3 protocol handshake causing an insecure downgrade to TLS 1.2. With our recent update of NSS, Pale Moon no longer allows this kind of protocol downgrade when trying to establish a TLS 1.3 connection to a server. The resulting error is ssl_error_rx_malformed_server_hello with an inability to connect to the server. To enable users to still connect to the servers or devices in question, we've added an option to switch off the downgrade sentinel. To switch it off as a temporary workaround, set security.tls.hello_downgrade_check to false.
If copy and paste operations to/from the browser are performed, Pale Moon writes clipboard contents to disk in a temporary cache file if the copy/paste amount is particularly large, to avoid using large amounts of memory to hold this data. The average paste/clipboard size doesn't tend to hit this limit in which case it is just held in memory.
Previously, these cache files, while in the O.S. temporary file location (%TEMP% or /tmp), would not be consistently cleaned up, potentially causing privacy issues if persisted. This was changed to using auto-cleaning anonymous temp files, improving user privacy and relying less on the O.S. or user performing cleanup of temporary file storage. Thanks to Sandra for pointing this out and providing the patch.
Download: Pale Moon (64-bit) | Portable 64-bit | ~40.0 MB (Freeware)
Download: Pale Moon (32-bit) | Portable 32-bit
Links: Pale Moon Homepage | Add-ons | Themes | Extensions
Get alerted to all of our Software updates on Twitter at @NeowinSoftware