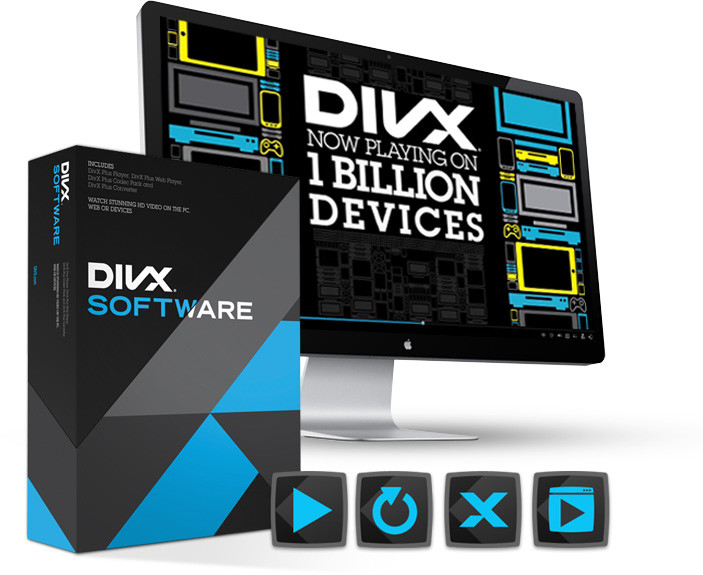 DivX Pro is now ad-free, with no 3rd party offers in the installer or banner ads. DivX Pro includes Video Pack, DTS-HD Plug-In, Dolby Audio Edition, Ad-Free option & Advanced Features. The DivX Pro (ad-free version) can be purchased from here for $19.99.
DivX lets you convert video between popular formats, including HD files, and enjoy an enhanced playback experience across all your devices, at home and on the go. It is all you need to create, play and stream high-quality video.
What's Included:
DivX Player delivers high-quality playback of videos in popular formats, including HEVC up to 4K. Transfer videos to disc or USB with DivX To Go or easily stream videos to nearby devices with "Stream To" and "Cast To" functions.
DivX Converter is an easy video converter that creates videos in the web's most popular video formats DivX, MKV, MP4 and HEVC to 4K. Converting videos into DivX ensures your files will play on more than 1 billion DivX devices.
DivX Web Player is a simple cross-browser web extension that streams all popular video formats, including HEVC video up to 4K, with progressive playback, adaptive bitrate and experimental live streaming technologies.
DivX Media Server can stream videos, music and photos to any DLNA-compatible device or Chromecast in your home. Accessible through DivX Player, choose "Stream To" for your DLNA devices or "Cast To" to stream to Chromecast.
Changes in DivX 10.5:
Video Trimming
DivX Pro now offers the ability to trim the duration of videos, giving you better control over your creations and easier sharing.
DASH HEVC 4K
DivX 10.5 now brings back DASH HEVC 4K playback into our Player and Web Player software. DASH is a standard for adaptive streaming over HTTP that is gaining traction. With DASH support, you will be able to enjoy streaming your media smoothly without interruptions due to buffering.
Here's a list of all that's new with 10.5:
Trimming support in DivX Pro
DivX ad-free plug-in
DASH HEVC 4K support
Full support for Windows 10 and OS X El Capitan (10.11)
Stability improvements to the DivX Media Server
Better error reporting in Converter
Various bug fixes for Converter, Player, and Media Server
Download: DivX 10.5 | 989 KB (Free, ad-supported version, ad-free installer available)
View: DivX Home Page | DivX Support