How prepared is the Department of Defense for modern warfare? Claim this complimentary eBook for free today and find out, before the offer expires.
What's it about?
The visualization of complex data, not to mention the ease of communication, control and coordination requires that data is shared across a wide range of historically incompatible systems.
Now that the data tools and platforms exist, the DoD can accelerate its time to fully operationalize a Joint All-Domain Command and Control (JADC2) capability. It could effectively predict and solve future problems with a strong data-driven platform that takes into account all of its assets.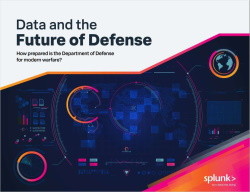 Download your copy of Data and the Future of Defense and discover how you can leverage the right data platform to ensure a data-first strategy that helps you:
Automate responses at machine speeds in near real time
Anticipate adversary tactics
Maintain a strong security posture in the cloud
Link every sensor to every shooter via a military IoT
How to get it
Please ensure you read the terms and conditions to claim this offer. Complete and verifiable information is required in order to receive this free offer. If you have previously made use of these free offers, you will not need to re-register. While supplies last!
>> Data and the Future of Defense - Free eBook
Offered by Splunk, view other free resources | Limited time offer
---
Not for you?
That's OK, there are other free eBooks on offer you can check out here, but be aware that these are all time-limited offers. If you are uncomfortable sharing your details with a third-party sponsor, we understand. Or via our preferred partner:
How can I disable these posts? Click here.
Disclosure: A valid email address is required to fulfill your request. Complete and verifiable information is required in order to receive this offer. By submitting a request, your information is subject to TradePub.com's Privacy Policy.