Today's highlighted deal comes from our Lifestyle section of the Neowin Deals store, where you can score a 3-Pack of MrBeast + MSCHF Everyone Gets A Car for $99. EVERYONE GETS A LAMBO… BUT WHAT SIZE LAMBO? The catch is you won't know if you'll receive a 1/64 diecast, remote controlled, ride'on, or the full-sized Lambo.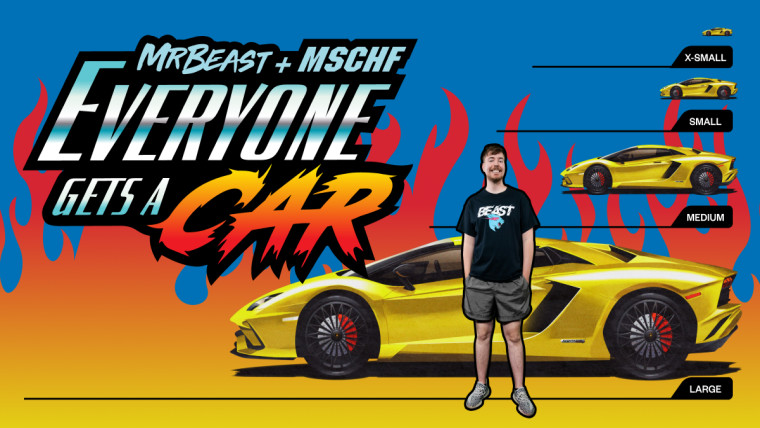 Everyone Gets A Car! Every purchaser receives a dope collectible 1/64 scale toy Lambo, plus a chance to win a toy RC Lambo, a kids ride'on . . . or even a real Lamborghini Gallardo or Aventador. You won't know what size until your Lambo arrives in the mail.
MSCHF & MrBeast have teamed up to ensure Everyone Gets a Car, and to give away 2,000+ in prizes:
1x pre-owned $250k+ Lamborghini Aventador Coupe
4x pre-owned $100k+ Lamborghini Gallardos ($100,000.00 each)
250x battery-powered kids rideable Lambos
2,500x 1/24 scale remote-control Lambos
Everyone gets a dope collectible 1/64 scale die cast toy Lambo!
MSCHF
MSCHF is a next-generation street art collective that's been described as "Supreme for the internet," and compared to Warhol and Banksy. MSCHF creates products and experiences that mashup hypebeast culture, art, luxury fashion, and social commentary.

MrBeast
MrBeast, a.k.a. Jimmy Donaldson, is an American YouTuber, entrepreneur, and philanthropist. He is regarded as being the first to create a YouTube video genre centered on pricey stunts. He currently has 75.2 million subscribers on his main channel and has over 13.2 billion views.
Important Details
It's a surprise! You won't know until your package arrives in the mail
We're working directly with MSCHF, the ONLY authorized seller of this product, to make this opportunity available
Only children 3+ should be allowed to play with the toy cars
You must be 18+ to be eligible to win
Sweepstakes begins 11/22/21 and ends 1/10/22
Ships within the US only
All sales final
For the full terms of this deal, and other pack sizes (between 1 and 10) please click the link below.
---
Not for you?
That's OK, there are other deals on offer you can check out here.
Get a Chance to Win from 25 Cents to a Million Dollars! Just Complete This Puzzle, Scan the Code, & Try Your Luck.
Neowin Deals · Free eBooks · Neowin Store
Disclosure: This is a StackCommerce deal or giveaway in partnership with Neowin; an account at StackCommerce is required to participate in any deals or giveaways. For a full description of StackCommerce's privacy guidelines, go here. Neowin benefits from shared revenue of each sale made through our branded deals site, and it all goes toward the running costs.