The latest CoolBrands index, published today, once again crowned Apple as the coolest brand in the UK, for the third year in a row. It was comfortably ahead of the next big tech company on the list - Google which, along with its YouTube brand, occupied sixth and seventh places respectively. Netflix, Instagram and Sony all made it into the top-20 too - but not a single Microsoft brand made the cut. 
Of course, this is just one brand survey, in one specific market - it can't be taken as entirely representative of how Microsoft is perceived around the world. But Microsoft branding has been very much in the spotlight in recent weeks, as the company begins making changes that will affect its portfolio of devices across the globe. 
The most obvious change for consumers will be the disappearance of the Nokia brand from its handsets. Microsoft has already begun the process of reducing its usage - for example, by launching a new Microsoft Mobile Devices site, and deliberately avoiding any mention of 'Nokia' at the recent unveiling of its Lumia 730, 735 and 830. 
Microsoft plans to focus on the 'Lumia' brand for its handsets, but what is not entirely clear yet is exactly how the Microsoft brand will come into play. The Microsoft logo may not be featured on its devices at all - in much the same way that its Surface tablets do not carry MS branding on the devices themselves. 
But whether or not its logo features on the actual handsets, these will be Microsoft smartphones in the future - and that presents an interesting question: will buyers actually want a Microsoft-branded phone? 
While many of Microsoft's most vociferous fans may well insist that the company is awesome in just about every regard, there is no doubting that that opinion is not widely shared.
For example, Microsoft's two largest products - Windows and Office - are widely used but among 'ordinary' users, they are not exactly beloved. On the hardware side of things, the Surface Pro 3 is an excellent, exquisitely crafted machine, but hordes of consumers did not spontaneously throng to Microsoft Stores in extraordinary numbers across the US on launch day, nor did they queue for days before it went on sale. Microsoft can certainly pull crowds in for a launch - but it usually has to do so with the promise of special offers, free gifts or celebrity guests. 
For most, Microsoft products are functional, means to an end, but the positive emotional attachment that Apple users have to their iPhones and iPads simply isn't there for the majority of consumers. Part of this surely comes down to the fact that, for many years, Microsoft products either just got out of the way of getting stuff done - thereby going largely unnoticed - or else got in the way of getting stuff done, immediately bringing to mind the Blue Screen of Death, and all the associated rage and frustration that goes with that. 

It's hardly fair - but for some, this is what comes to mind when they think of 'Windows phones'
Unfair as it may be, that's a tough reputation to shake off. It's even more difficult to be able to see past that kind of lingering perception to want a Microsoft handset running a Windows operating system. Many happy owners who have shown off their Windows Phones to friends or family will no doubt have encountered exactly that kind of negative reaction, perhaps even having to justify their decision to buy one, and explain why "it's not as bad as you think". 
Indeed, that perception problem remains a considerable barrier to Microsoft's success in the mobile space. That issue is arguably less significant in emerging markets, where buyers opinions will be less tainted by long-term negativity towards Microsoft products, and perhaps more easily won over by the high-value proposition of low-cost devices packed full of compelling features. In these markets, in fact, Microsoft stands to gain massively by attracting first-time smartphone buyers in particular, in the hopes that they will continue to stick with its ecosystem as they upgrade to newer devices over time. 
But in more mature markets, it's hard to imagine the Microsoft brand winning over the hearts and minds of consumers in great numbers any time soon, especially in the face of ever-stronger competition both at the high-end and the entry-level of the market.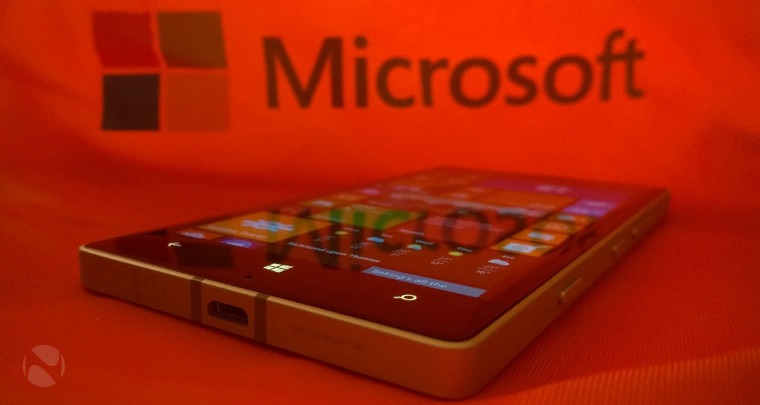 Would having the Microsoft logo on a phone really add to its appeal?
Microsoft, let's face it, is not a 'cool' brand. Microsoft does a lot of very, very cool things, and many of its products - including Windows Phone - are hugely impressive. But for many potential buyers, this is something that needs to be pointed out and explained, and most people have neither the patience nor the desire to learn about why Microsoft products are worth their attention, when it's simply so much easier to follow the herd to brands that are unburdened by such deep-rooted prejudices - including the likes of Apple, Google, Samsung, LG and others. 
The problem for Microsoft is that its brand is not one that many people are particularly willing to love; indeed, it's one that it's simply easier to hate - or, at the very least, to be completely indifferent towards. Given the obsessive attachments that people form to their phones - above all other devices - that makes the prospect of Microsoft-branded handsets rather more difficult to swallow. 
Would Lumia-branded handsets - sans Nokia or Microsoft logos - fare any better? Lumia has the advantage of being relatively unsullied by the stains of Microsoft's past, while still enjoying fairly wide brand awareness, thanks to the hundreds of millions of marketing dollars spent around the world over the last three years. Despite this, however, Windows Phone's global market share has remained stagnant at just 3% for some time - and over 90% of those sales are still made up of Lumia devices. Clearly, adopting that name as the primary (or only) brand on its handsets is hardly a guarantee of success in itself. 
Regardless of the details of how Microsoft decides to brand its future handsets, though, it will face the same challenges as it does today - and many of the obstacles that have hindered its success will not disappear with the change of a name. 
Nonetheless, there is some cause for celebration: the Windows Phone platform is growing significantly, with the addition of over twenty new handset brands already this year. 
For Microsoft, at least, that's pretty cool indeed. 
- - - 
Have your say on how you think Microsoft's handsets should be branded in the future: submit your vote in the poll, and be sure to share your comments with us below!