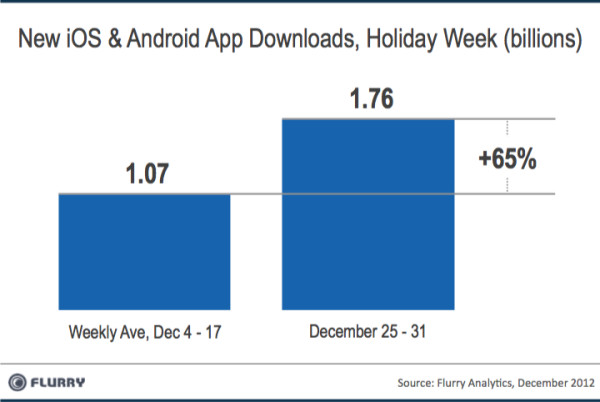 Last week, the online app ad network Flurry claimed that on Christmas Day 2012, 328 million apps were downloaded worldwide for iOS and Android devices. Today, the company released some new stats that they claim show that app downloads for those platforms set a new one week record for Christmas week.
The official Flurry blog stated that, based on the data they receive from over 260,000 apps that use its Flurry Analytics system, there were 1.76 billion downloads of iOS and Android apps between December 25th and 31st. This compares to just over one billion app downloads last year which was the previous one week record set during Christmas week of 2011.
The US had the most app downloads that week with 604 million, followed by China with 183 million downloads and the UK was third with 132 million app downloads. Flurry also says that during Christmas week 2012, over 50 million new iOS and Android devices were activated; 17.4 million of those activations happened on Christmas Day.
Based on their data, Flurry predicts that 2013 will see one billion downloads a week become the normal average worldwide and that we will see the two billion a week app download barrier broken sometime in the fourth quarter of the year.
Source: Flurry | Image via Flurry