Google is holding its I/O developer event today, and of course, that means we're getting new details on the upcoming release of Android 12, which has been available in testing with developer previews since earlier this year. The company announced some major UI changes that had already been spotted to some extent in a video from last week.
Android 12 will come with a new UI language Google is calling Material You, and the focus is on customizability at every level. Users can change the theme colors for multiple elements of the UI and system apps, but third-party apps will also be able to take advantage of these new theming capabilities.
One way users can easily change the theme colors across the interface is simply changing the background image on their phone. Android 12 will be able to choose theme colors from the image so you have a consistent-feeling experience.
There's more to it, though, because you can change more than colors. Google says you'll be able to change things like line thickness, size of UI elements, and more to make the UI more accessible and tailored to your preferences. There are also new widget designs that can be further customized with these options.
Google has also redesigned UI elements like the notification shade, so quick actions now have text next to them to make them easier to identify.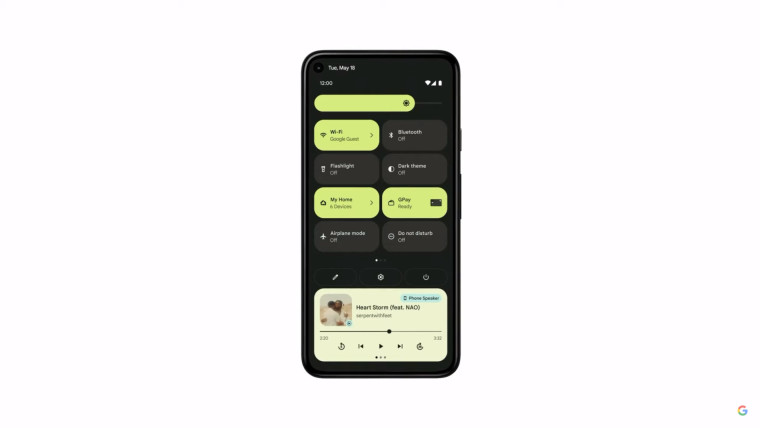 There are other, subtler UI changes, too, like new fluid animations. For example, when you press the power button, the display will light up starting from where the button is, and the lock screen is also being updated to make the clock bigger when there are no notifications. Google is also touting improved performance with this new release.
Android 12 also comes with some privacy enhancements, like a new privacy dashboard that lets you see how often apps have accessed things like your location, camera, and microphone in the last 24 hours. You can also see a history of access to these devices. Additionally, Google is adding two quick actions that allow you to disable camera and microphone access for every app at once. When an app asks for your location, you can also now to choose to give your approximate location or the precise data for each app.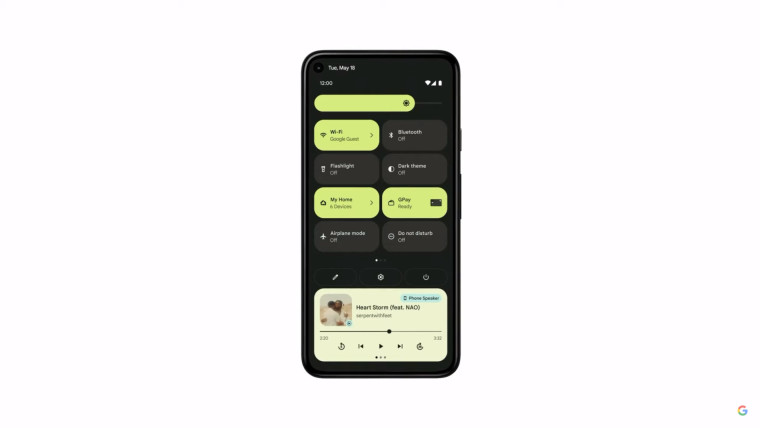 Google is also working to improve how devices work together, so it announced that it's partnering with car manufacturers to turn Android phones into digital car keys for more brands. It's also adding support for Fast Pair for more Bluetooth devices, and soon, Android phones will also be capable of controlling Android TV devices with a remote control feature.
If you want to try Android 12, Google also announced the Android 12 beta today, as it typically does. Google says you can try the beta on devices from 11 different brands including Xiaomi, OPPO, and Google Pixel. You should be able to do that from here, but the website for the beta program doesn't yet seem to be updated for the Android 12 beta.
Naturally, the Material You features will come first to Pixel devices, which are usually the ones to get new Android features first. Since every OEM uses their own Android skin, it may take longer for each of them to adopt the new design system.