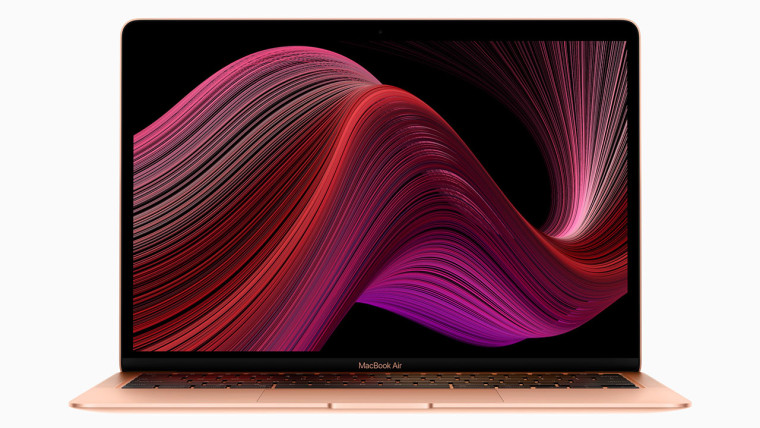 Today, Apple introduced the latest iteration of its MacBook Air, its first refresh of the product since it was redesigned and reintroduced in late 2018. Not only is there a wide range of improvements, but it also comes in at a lower price point.
First of all, it uses new 10th-generation 'Ice Lake' processors, which include Iris Plus Graphics. Iris Plus means it has 80% better graphics power, and the processors (as long as you don't get the Core i3) are quad-core now instead of dual-core. They also have a higher TDP, although Apple didn't make it clear if the CPU is Y-series or U-series.
The 1.2GHz base clock and the 3.8GHz Turbo Boost speeds that Apple described sound similar to the Core i7-1060G7, although it's not spot-on, but it's common for the Cupertino firm to have a custom chip made. For example, the previous MacBook Air had a custom Y-series chip with a higher TDP.
The other big improvement is the keyboard. Yes, it's ditching the universally hated butterfly keyboard and using the Magic Keyboard that debuted in the 16-inch MacBook Pro. Apple says that it will get you 1mm key travel.
"From students and consumers buying their first computer to customers looking to upgrade, everyone loves the Mac, and they especially love MacBook Air. Today we're giving it a huge update, with two times faster performance, the new Magic Keyboard, double the storage, a new lower price of $999 and an even lower price of $899 for education," said Tom Boger, Apple's senior director of Mac and iPad Product Marketing. "With its stunning, thin and light design, brilliant Retina display, all-day battery life and the power and ease-of-use of macOS, MacBook Air is the world's best consumer notebook."
Other improvements include double the storage in the base model, at 256GB, and support for 6K displays from the Thunderbolt 3 ports. The new MacBook Air is coming on March 26, starting at $999.
Apple also said that it's refreshing its Mac Mini, but only with more storage. The standard configurations have double the storage, so you get 256GB for $799 and 512GB for $1,099. They still use eighth-generation processors.