At CES 2023, Acer unveiled its new Acer Chromebook CXI5 and Enterprise CXI5 Chromeboxes alongside the Add-In-One 24 display to transform the Chromeboxes into all-in-one desktops. While ChromeOS devices have typically done well in schools, Acer is pitching these products for business and commercial institutions, Acer explains these devices can save space and simplify maintenance which should cause less downtime and lead to long-term cost savings.
"These new ChromeOS-based Acer systems are excellent choices for businesses and institutions that require reliable computers that are easy to setup, use, and manage while making the most of limited space environments," said Jeff Lee, General Manager, Stationary Computing, IT Products Business, Acer Inc. "Outfitted with the latest technology, including Intel vPro and integrated malware protection, these powerful devices are able to support the multitasking capabilities and tight security required in organizations today."
One of the notable aspects of the Acer Chromebox CXI5 is that it comes with a powerful 12th Gen Intel Core i7 processor. This should give great performance when doing everyday tasks and it even offers a 20% improvement over older generations of the processor. The CXI5 also includes the Intel vPro platform for additional hardware-based security.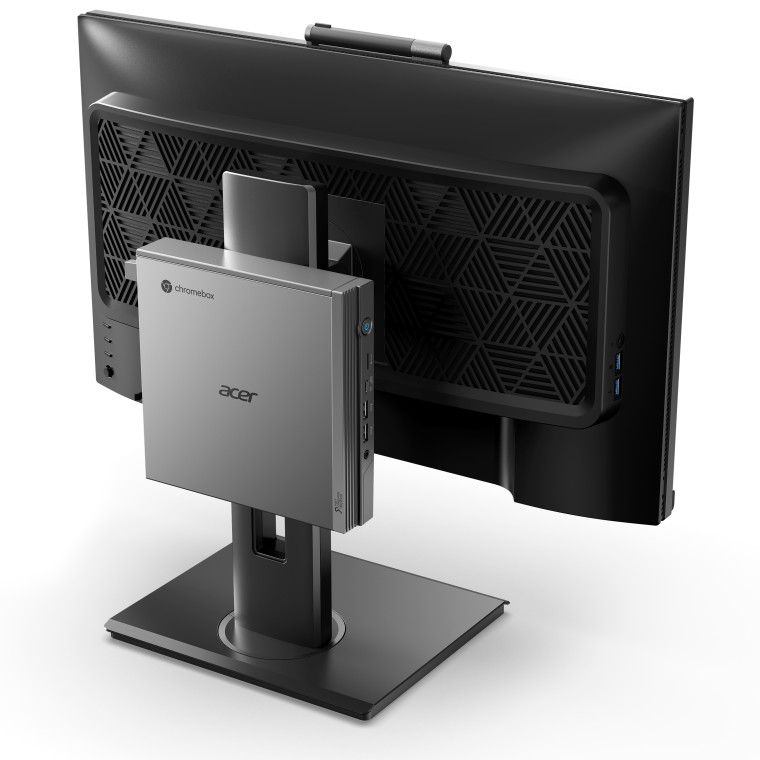 The Enterprise CXI5 is similar to the CXI5 but also includes 24/7 IT admin support and allows businesses to set Google Admin console policies. Acer said that the automatic security updates that run in the background also help to minimize interruptions.
If you buy the Add-In-One 24, you'll get an Acer Chromebox CXI5 (or the enterprise variant) which fits into a dock at the back of the monitor. The monitor is 24 inches and supports FHD 1080p. While that's certainly not the best by today's standards, it's still pretty decent. The display comes with a 115-degree wide-angle 5 MP webcam, dual microphones, and dual 4-watt speakers to enable high-quality video conferences. It also has artificial intelligence working in the background to help suppress background noise for clearer audio. For those of you who like to put sticky tape over the webcam, this monitor includes a camera shutter.
The Acer Chromebox CXI5 will be available for $290 in North America in the first quarter and in Europe, the Middle East, and Africa it'll be available in March for €349. The Add-In-One 24 will be available in North America in the first quarter for $610 and in the EMEA region from March at €799.