It's been almost four months since we got our first official look at Cortana, Microsoft's digital personal assistant, at the launch of Windows Phone 8.1. Since then, she's been available to users of the 8.1 Preview for Developers and, more recently, on devices that have so far received the Windows Phone 8.1 update that's now rolling out worldwide.
But Cortana has been available only in the United States… until now. Today, Microsoft announced that the assistant is rolling out to the United Kingdom and China, finally bringing localized support to those markets.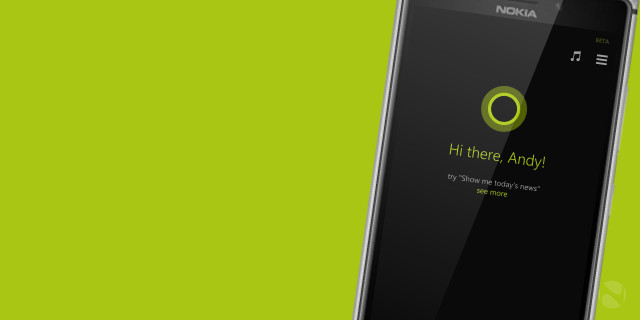 Cortana has been extensively reworked and enhanced for her début in these parts of the world. While considerable work was obviously needed to provide support in Chinese (Mandarin), the transition from the US to the UK may seem simple by comparison. Even so, Microsoft's development teams still had their hands full when it came to the task of bringing her to Britain.
A shared language was clearly a strong foundation on which to build, but Cortana has also had to be reworked to support the rich variety of regional accents to be found across the UK, for example. Different parts of the country also use words that are not widely used elsewhere, and these too must be integrated into Cortana's vocabulary to allow her to interact with users everywhere – not just those in certain areas.
This was a considerable challenge for the team behind Cortana, and it's one that they will continue to face as they prepare to roll out the assistant to other markets. But the development work that they put in for the UK and China has been invaluable in helping them to prepare for future releases in more countries, as Marcus Ash, Group Program Manager for Cortana, noted in a tweet a couple of weeks ago.
The UK also gets British spelling customizations, and more localized content, such as sports results, travel information and stocks. Crucially - and, perhaps, controversially - Cortana also gets a British accent, rather than the more familiar American version, voiced by Cortana voice actress Jen Taylor from the Halo games. 
In China, Cortana gets a new look, ditching the twin-circle logo in favour of a cartoon face, nicknamed 'Xiao Na', along with different animations and sounds. As in the UK, she gets special localized content, including air quality information and details of driving restrictions. The development and engineering work to get her ready for Chinese users was done in China itself. 
Just like in the United States, Cortana's rollout to the UK and China is officially a beta, so the system won't be perfect just yet, and you should expect to encounter a few misunderstandings and glitches here and there. But Cortana's international travels don't end with the UK and China. 
Microsoft announced today that users in Australia, India and Canada will shortly be able to try out Cortana, through an early adopter program that will give them access to an 'alpha' version of the assistant. This will be available in English only, using the English language models built for the US and UK. 
For users in the United States, new features are also being added to Cortana from today, including improved natural language support, added personality features and better in-car Bluetooth support. 
Availability will be tied to the upcoming Windows Phone 8.1 Update 1 release, which Microsoft also announced today. It will begin rolling out next week, and continue over the weeks and months ahead. It will be available as part of the Preview for Developers within the next week or so.