When I reviewed Dell's XPS 13 from late 2017, I called the design uninspiring, and I called out the webcam placement and the lack of facial recognition. In fact, the webcam placement below the display has become something of a joke, among both reviewers and Dell's competitors.
Well, now Dell can make fun of it too, as even someone from the firm told me at CES. The webcam is finally above the display, and the company used a tiny camera module to do it.
The design is also much sexier. The aluminum body color is called Frost, and it has an all-white interior. If you want the old gray body with the black carbon fiber interior, you can still get that. There's also a Rose Gold model with the same white interior. The point is that Dell took a laptop that used to be somewhat bland and made it sexy.
Specs
CPU
Intel Core i7-8565U (8MB cache, up to 4.6GHz)
GPU
Intel UHD Graphics 620
Body
11.9x7.8x0.3-0.46in (302x199x7.8-11.6mm), 2.7lbs (1.23kg)
Display
13.3-inch UltraSharp 4K Ultra HD (3840x2160) InfinityEdge touch display, 100% sRGB color gamut, HDR-ready enabled by Windows HD Color, Dolby Vision, 400- nits, 1500:1 contrast ratio, 178° wide viewing angle - 89° / 89° / 89° / 89°, touch – antireflective
Ports
(2) Thunderbolt 3 with power delivery and DisplayPort (4 lanes of PCI Express Gen 3)
(1) USB-C 3.1 with power delivery and DisplayPort
Micro-SD card reader
3.5mm headset jack
wedge-shaped lock slot
RAM
16GB LPDDR3 Dual Channel SDRAM at 2133MHz
Storage
512GB PCIe 3 x4 SSD
Material
CNC machined aluminum in Frost with arctic white woven glass fiber palm rest (UV-resistant and stain resistant coating)
Edge-to-edge Corning Gorilla Glass 4 on touch panels
Battery
52Wh
Connectivity
Killer 1435 802.11ac [2x2] + Bluetooth 4.2 Miracast capable
Audio
Stereo speakers professionally tuned with Waves MaxxAudio Pro; 1W x 2 = 2W total
Widescreen HD (720p) 2.25mm webcam with 4 array digital microphones; Far Field Cortana capable
Windows Hello
Fingerprint sensor in the power button
OS
Windows 10 Home
Price
$1,649.99

The Dell XPS 13 actually starts at $899.99, and there are loads of customization options. The base model includes a Core i3-8145U CPU, 4GB RAM, and 128GB of storage, along with a 1080p display. While the consumer model comes with Windows 10 Home, you can get it with Windows 10 Pro or even Ubuntu. If you get Ubuntu though, the fingerprint sensor and Waves MaxxAudio Pro won't work.
Day one
Design
I enjoy pretty gadgets. There's something about them that makes them more pleasant to carry and to use. After all, if you're going to shell out a couple grand for a new PC, you don't want it to feel dull. The Dell XPS 13 does not fall short on that. This is a beautiful machine.
As usual, the outer shell is made out of aluminum, although there are Frost and Rose Gold colors, rather than the standard grayish-silver. The palm rest is made up of woven glass fiber that has a stain-resistant coating to keep its Arctic White color over time. Naturally, if you still want that grayish-silver color, you still get the carbon fiber black palm rest.
It's funny, because the Frost color really doesn't look all that different from a regular old silver, aluminum laptop. You know, the MacBook clones that we've seen so many of. It's a bit of a lighter shade though, and it's a really nice touch.
This machine is made from a single block of aluminum, and Dell says that that means it's stronger than a device that's made from separate pieces. The build quality certainly feels solid, although Dell isn't boasting and MIL-Spec testing.
As far as ports go, I'm sad to say that there's no USB Type-A anymore. Personally, I feel like it's still worthwhile to keep one of these things around, even if I didn't find myself missing it. It's the same story as with the webcam; you don't have to use something often to miss it when you do need it.
On the left side of the device, you'll find two Thunderbolt 3 ports, either of which support speeds of up to 40Gbps, or they can power up to two 4K displays. Of course, if you run four 4K monitors off of the two ports, don't blame us when the integrated graphics can't handle it. You could, however, use an external GPU with one of those ports.
To the right of the two USB Type-C ports, there's a battery indicator. This is a pretty cool feature. Just press the button and a number of those five LED lights will tell you how much battery you have left. It's a nice and easy way to see if you need a charge before leaving your home.
On the right, there's a USB 3.1 Gen 1 Type-C port, a 3.5mm combo audio jack, and a micro-SD card reader. Other than the absence of USB Type-A, the selection of ports is pretty sweet. I appreciate having a micro-SD card reader, as I feel like it's one of those features that gets the chop when trying to hit a certain size and weight.
Display, and there's a webcam on top of it
As I've mentioned a few times, the webcam is above the screen now. Dell's XPS lineup has always been about creating an immersive experience, with narrow bezels that measure 4mm on the sides and 5.98mm on top. That's why the webcam has historically been on the bottom. The company favored immersion over proper webcam placement.
When I'd bring up the subject, folks from Dell would simply ask me how often I used my webcam. The answer is, of course, never. We all use our phones for video calling now. Other companies mocked the placement of the camera, calling it a nostril-cam. While I agree with the sentiment of prioritizing immersion over a part that's rarely used, it's still something that you want to work properly when you use it. Now, you can have the best of both worlds.
For comparison, the late 2017 model that I reviewed had 5.2mm bezels on the top and sides, so the top bezel is slightly larger. Still, it's not nearly as big as it would be if there was a full-sized webcam.
And then there's the actual display, which is 13.3 inches and has a 3840x2160 resolution. If you want better battery life, go for the 1080p model, but this definitely provides the better experience.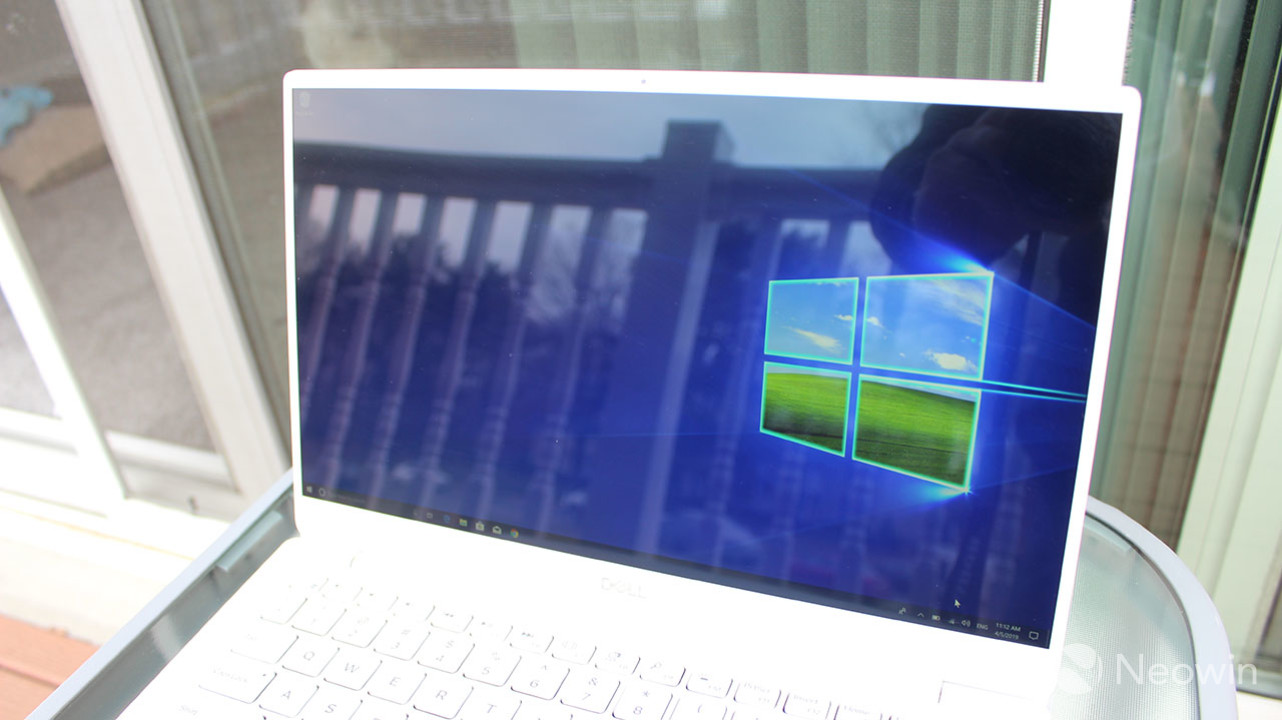 It's probably one of, if not the best laptop displays on the market. It uses Dell Cinema, a combination of CinemaColor, CinemaSound, and CinemaStream. CinemaColor utilizes Dolby Vision HDR, providing a wide dynamic range of colors. CinemaSound utilizes Waves MaxxAudio Pro, and CinemaStream uses Killer Wireless to prioritize streaming video over other apps.
The UltraSharp screen supports touch, and it has a 178-degree viewing angle, or 89 degrees from any side. It also has a 1500:1 contrast ratio and brightness goes up to 400 nits.
As mentioned, the narrow bezels enhance the experience, making it feel more immersive. And the good news is that you don't have to sacrifice webcam placement to get that anymore.
Keyboard
The keyboard has the standard chiclet-style, backlit keys that we're used to in Dell XPS laptops. The key travel is 1.3mm, which is pretty standard these days. It used to be 1.5mm, but shallower keyboards are becoming more and more common.
These don't feel too shallow though, which is really good news. With Dell's XPS 15 2-in-1, the company used a new MagLev design, which was really shallow and hard to use. I'm glad to see that they haven't brought this over to the XPS 13.
Overall, the keyboard is pretty standard though. It's comfortable to use, and it's accurate, but there's nothing about it that stands out to me like with Lenovo's ThinkPads or HP's new EliteBooks. It definitely gets the job done.
The keys are a bit loud though. If you're a hard typist, you'll want to keep this in mind or you'll end up annoying people that sit near you.
The trackpad definitely gets the job done as well. It uses Microsoft's Precision drivers, so it gets great performance and supports all of the gestures that you're used to. This is actually pretty important, as most of HP's laptops do not have Precision trackpads, and it's my biggest complaint about them. I'd call HP's use of Synaptics drivers its "webcam under the display", or that one big problem that keeps its devices from being nearly perfect.
And of course, let's not forget about the woven glass fiber palm rest, which is quite nice. The textured feel is different from the rest of the pack, it's comfortable, easy to clean, and it won't stain. On a side note, Dell says that the total glass fibers in one palm rest stretch 117,500 miles, which is almost five times around the Earth, or almost halfway to the moon.
Fingerprint sensor and the lack of an IR camera
Sometimes I wonder about companies and their roadmaps. This is one of those times. Last year's XPS laptops included an IR camera for facial recognition, and they were the first to do so. This year, with the webcam being moved above the display, that feature is gone.
I have to think that last year, when the facial recognition feature was introduced, Dell was already working on its shrunken-down webcam, and they probably knew it was coming this year. So, the company added the feature and then killed it in the following generation.
The XPS 13 does still support Windows Hello with a fingerprint sensor in the power button. First of all, the fingerprint sensor works fine. Unlike laptops from Huawei and LG, you still need to scan your fingerprint after the machine boots up, which is a disappointment to me. With a Huawei or LG laptop, it actually scans your fingerprint when you press it, automagically signing you in when it boots up.
Dell told me that they think that would be a security risk. The company has a certain benchmark, and if Windows takes longer than that to boot, it assumes that you could have walked away from the laptop in that amount of time.
I still believe that facial recognition is the most natural way of biometric authentication for a laptop, unless you can automatically sign in by pressing the power button. But that's why it frustrates me so much that Dell added it last year just to take it away this year.
Performance
The Dell XPS 13 that was sent to me includes an Intel Core i7-8565U, 16GB RAM, and a 512GB SSD. If you want an awesome experience, get that. You can get it with a Core i3 or i5, also from the Whiskey Lake family, and Dell still sells the last generation models with Kaby Lake R.
It's also worth noting that Dell makes an XPS 13 2-in-1, and one thing is not like the other. The XPS 13 2-in-1 uses Intel's 5W Y-series processors, as opposed to the 15W U-series chips. The Y-series is dual-core instead of quad-core as well, and you're sacrificing a lot of power if you get the convertible.
I mention this because most OEMs these days put U-series processors in both their clamshell laptops and their convertibles. That's not the case with the Dell XPS 13 and the XPS 13 2-in-1.
As far as general performance goes, the XPS 13 is great. It's similar to any ultrabook with a Whiskey Lake Core i7 and 16GB RAM. It's great for productivity-related tasks, and even some light creative tasks like photo and video editing. I always describe it as if you want to edit video all the time, get something with a dedicated GPU, but you can use this to edit video in a pinch.
As far as battery life goes though, the XPS 13 was really a mixed bag. There were times when I'd get as little as three hours, and times when I'd get over eight hours. The strange thing is that I really can't tell you what I did differently on the times that it got less battery life. Obviously, doing heavier tasks will shorten the time, but it all seemed pretty random. You'll want to have a power cable with you.
For benchmarks, I used PCMark 8 and PCMark 10. PCMark 8 provides three tests: Home, Creative, and Work. The Home test checks common tasks like video chat, web browsing, casual gaming, and more.
This score is a bit lower than some competitors, such as the HP Spectre x360, which got 3,531. Still, it's fine. The Creative test checks more GPU intensive tasks like video editing and mainstream gaming.
This one was about the same as the HP. Finally, the Work test focuses on productivity-related tasks like writing and spreadsheets.

I also ran the general test in PCMark 10, just to see how it does there.
The PCMark 10 test narrowly outperformed the Spectre x360, which got 4,036.
Conclusion
The Dell XPS 13 is a great all-around clamshell laptop, with a beautiful design and a small footprint. My biggest complaints are that there's no IR camera - particularly that Dell gave us facial recognition and then took it away - and there's no USB Type-A. Most consumer laptops still keep at least one USB Type-A port, and this one does not.
Other than the beautiful design, one thing I really love is the display. Like I said, it's one of the best on the market, with its Dolby Vision HDR and narrow bezels. With Dell Cinema, it makes for an incredible media consumption experience.
And that's what it's all about. It provides a great work experience, and a great play experience, all in a body that's pleasant to look at and won't weigh down your bag. Unless you're looking to buy a convertible, the Dell XPS 13 is definitely worth checking out in a laptop.