HP today announced the newest member of its Spectre family, the Spectre Folio. The firm promised to reinvent the PC, a bold claim. The body of the device is made entirely of leather, with a Corning Gorilla Glass display and a metal keyboard. The leather body isn't just covering metal too; it's actually made of leather.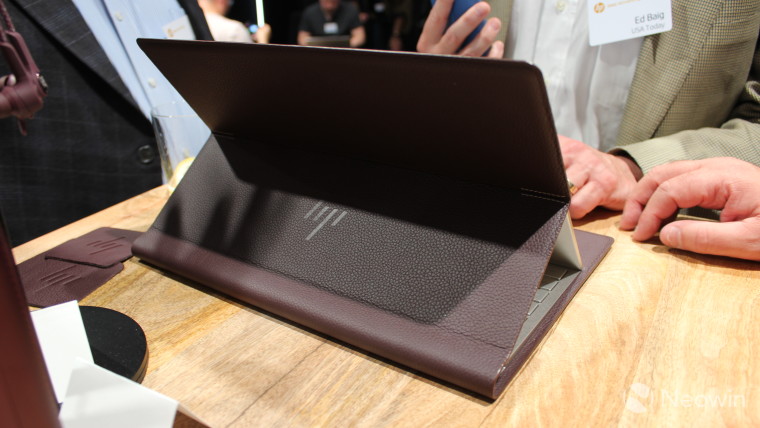 I was at the event, and I got a chance to check out the new PC. What's interesting is that this adds another dimension to the traditional convertible form factor. You can use it as a tablet, as a laptop, and in tent mode, but now you can bring the screen over the keyboard too.
And of course, the question is if this will be useful in any meaningful way. The movement of the unit feels natural and easy to use. Despite the tablet being able to move, it attaches to the back of the leather to turn into a full laptop.
What's really cool is that the hinge in laptop mode feels natural. It doesn't feel weak like you'll find on devices with detachable keyboards like the Surface Pro.
There's good news and bad news about the Folio's internals. The good news is that it comes with a Core i5 or i7, and the bad news is that those are Y-series CPUs. They're 5W processors that allow for a fanless design, and they're considerably less powerful than U-series variants, which are what you'd find in standard ultrabooks.
I asked about this, as the Y-series is known as being underpowered. HP told me that the 8th-gen 'Amber Lake' chips are much better than they used to be, back when this CPU would have been referred to as a Core m7. I'll be excited to try this out when it's time to review it.
The 13.3-inch screen comes in either 1080p or 4K. The display does look lovely, but I do worry about how well the Intel UHD Graphics 615 will handle the higher resolution.
The general usage of the device seems fine. It appears to be much more lappable than other tablet-style devices, like a Surface Pro. That's because this actually feels much more like a laptop when it's in that mode, and it's not as tall as a Surface because it uses a 16:9 aspect ratio.
The leather is pretty sexy, although I'm always skeptical of leather devices. It comes in two colors: brown and burgundy. The burgundy is definitely the one that looks better, although I suppose that that's a subjective statement.
The HP Spectre Folio starts at $1,299, which is a pretty hefty price tag for a device with its specs. Remember, you can get a Surface Pro or Laptop for that price that includes a Core i5 U-series, 8GB RAM, and 256GB SSD. The value proposition to the Folio is going to be its form factor.
My biggest takeaway is that this device is extremely well-engineered. HP put a lot of care into the design, though my one worry is the Y-series processor. I can't wait to review it.