At first glance, Huawei's new Honor 7X looks like an expensive, premium handset. Then, you'd notice that the price tag is only $199. The Honor brand has always been about providing value for a low price, and the 7X is no different.
For that price, you get a sleek aluminum body, a 5.93-inch nearly bezel-less display, a dual-lens camera, and more. Indeed, for all intents and purposes, it feels quite premium. Here's our review:
Specs
| | |
| --- | --- |
| CPU | Octa-core HiSilicon Kirin 659 (quad-core 2.36GHz ARM Cortex-A53 + quad-core 1.7GHz ARM Cortex-A53) |
| GPU | Mali-T830 MP2 |
| Display | 5.93 inches, 1080x2160, 407ppi, IPS LCD |
| Body | 156.5x75.3x7.6mm, 165g |
| Camera | Back - 16MP + 2MP, Front - 8MP |
| Video | Back - 1080p - 30fps, Front - 720p - 30fps |
| Aperture | f/2.2, Front - f/2.0 |
| Camera features | Phase detection autofocus (PDAF), LED flash |
| Storage | 32GB |
| RAM | 3GB |
| Battery | 3,340mAh |
| Price | $199 |

Design
As mentioned, the Honor 7X features an aluminum unibody design, giving it a sleek look and feel. It comes in black, blue, gold, red, and gray, so you have your choice of how you want the device to look. I think the red one is about as sexy as it gets, but I was also sent the black model, which is quite nice as well.
The front of the device is almost entirely covered by the display from left to right. On the top, there's enough bezel room for a speaker and camera, while the bottom bezel has enough room for the Honor logo.
On the back, you'll find both camera sensors on the top-left, along with an LED flash next to it. Centered is the fingerprint sensor, placed slightly below the camera module. Along the top and bottom are horizontal antenna lines, something that you can expect from a metal phone.
The right side of the device is where you'll find the volume rocker and the power button, and on the bottom is the micro-USB port. That's right, it's micro-USB and not USB Type-C. I find this to be disappointing, because it really feels like everything should be Type-C at this point, and a Type-C port would allow you to use the same charger that your laptop uses, assuming that you've got a modern laptop. Finally, next to the micro-USB port is a speaker grille, and on the other side, a 3.5mm headphone jack.
All-in-all, it's really a nice-looking phone, and it certainly doesn't look like something that costs under $200.
Display
That bit about it not looking like it costs under $200 includes the display as well, which is a key part of the user experience. You probably won't be able to tell the difference between this screen and one on a phone that costs over $500. The colors are vibrant and bright, and the resolution is high enough so that there's no pixelation.
The Honor 7X uses a 5.93-inch 1080x2160 IPS LCD, giving it an 18:9 aspect ratio. This longer screen is becoming more common on premium devices than the previous 16:9 displays. This also means that 5.93 inches doesn't mean the same thing that it used to. Especially given the narrow side bezels, the Honor 7X fits in the hand quite nicely, whereas a 5.93-inch 16:9 display would be wider, and would have a greater surface area.
I actually think that the display is one of the key parts of the Honor 7X that makes it valuable for the price. It has a high resolution, the colors are vibrant and bright, and the glass has an oleophobic coating that prevents fingerprints and gives it a premium feel.
Rear camera
The Honor 7X contains a 16MP RGB sensor and a 2MP monochrome sensor. The latter is meant for gauging depth, and creating a bokeh effect when in depth effect mode. But there's also a wide aperture mode.
Portrait mode and wide aperture mode pretty much produce the same effect, but are meant for different purposes. Portrait mode gives a bokeh effect when you're taking a picture of a person, and wide aperture mode works on anything else. To me, it feels a bit redundant, but I can appreciate that both features are achieved by different means.

To be clear, I'm not a big fan of bokeh effects that are produced by dual-lens cameras. Ultimately though, the camera on the Honor 7X is really good given the price point. You can see that it handled low-light situations pretty well.
Focusing on different parts of an image will adjust the lighting, due to the way that the image is metered. As you can see from the images in the beginning, the lighting isn't distorted by much, which is a good thing.
There's also a new feature of the camera called AR Lens. This adds filters that were created by Huawei. It's certainly not something that I'm into, especially given that most of them include whiskers of some sort. You can add a filter to your face, or you can add a background, but you can't add both (although some backgrounds have both).
But don't worry. I took one for the team and took some samples anyway.

It's cool, if that's what you're into. It's nice that companies are adding these types of features to their phones, but keep in mind that the filters available are static. With services like Snapchat, these are updated in the cloud, so the company can provide new filters as often as it would like. On-device filters will require a software update.
Performance
The one area where the Honor 7X doesn't feel premium is performance. Don't get me wrong, it still feels like it costs more than it does. But there is lag in certain areas of the UI, such as when playing games, or apps taking a bit longer to load.
As far as real-world performance goes, I do think that most people will be satisfied, but just don't set your expectations too high. The device uses a Kirin 659 chipset, which has an octa-core big.LITTLE CPU. All eight cores are ARM Cortex-A53, with four clocked at 2.36GHz and four clocked at 1.7GHz.
The way that big.LITTLE works is that tasks that require more power are handled by those more powerful cores, and other tasks like background notification syncing and such are handled by the little cores. There just isn't a huge difference between the big and little cores. While clocked differently, the architecture is the same. ARM Cortex-A53 is what's often used in little cores for higher end CPUs.
For benchmarks, I used AnTuTu, Geekbench 4, and GFXBench. First up is AnTuTu, which tests a little of everything.
A score of 81,318 is decidedly mid-range, which is fine. For comparison, the Moto X4 scored 70,312, and that has a Qualcomm Snapdragon 630. The Moto X4 also costs twice as much as the Honor 7X, so we're in pretty good shape.
Next up is Geekbench 4, which tests the CPU.
Again, it seems best to compare it to the Moto X4, which scored 870 on single-core and 4,156 on multi-core. This is because all eight cores of the Snapdragon 630 are clocked at 2.2GHz, so that results in the higher multi-core score, but might also be harder on battery life.
Finally, GFXBench tests the GPU.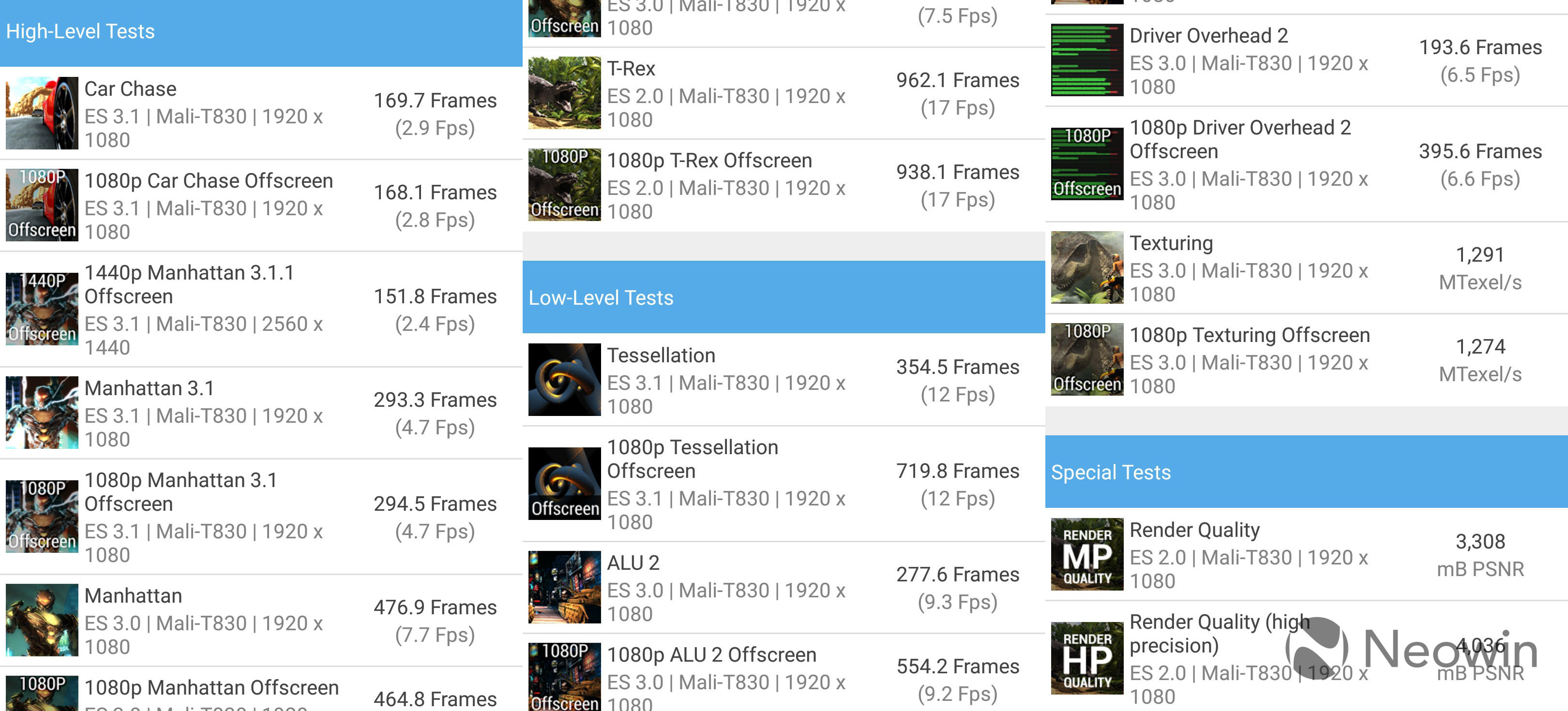 This is one area where Qualcomm's Adreno 508 GPU comes out on top in almost every test, defeating the Mali-T830 MP2 that's included in the Kirin 659.
EMUI software
It seems to be the consensus among Android users that stock Android is the best Android. I am not one of those people. I think that the ability to provide different experiences across different devices all while living in the same app ecosystem is what makes Android special.
And if you are one of those stock Android lovers, this device is most certainly not for you. Huawei uses a pretty heavy skin on its devices, which it calls EMUI. The Honor 7X uses EMUI 5.1, which means that it's Android 7.0 Nougat. At some point, it should receive an OTA update to EMUI 8 and Android 8 Oreo.

You can see that much of the UI is styled after iOS, such as the Settings menu and the notification center. This isn't surprising, as Huawei has often imitated Apple's design, and isn't ashamed to admit it.
There are a lot of pre-installed apps on this device that you really won't see elsewhere, such as Compass, a Downloads app, Files, Flashlight, FM Radio, HiCare, Health, Mirror, Recorder, SIM Toolkit, Support, Themes, and more. It's really meant to provide Huawei's experience, rather than Google's. Naturally, the Google Play Store is still there and you have access to Google apps, but this goes against the trend of using Google apps rather than proprietary apps.
That's not necessarily a bad thing, although some of the pre-installed apps seem useless, like Mirror. Mirror is exactly what it sounds like; it uses the front camera to show you you. There are features like a frame and double-tap to zoom, but it doesn't really provide value over what everyone else uses for that, which is the Camera app.
Conclusion
Here in the United States, there's a big gap in the phones that people buy. Most customers either buy a premium handset that costs over $800 - usually on an installment plan from a carrier - or they buy something that costs under $200 and pay full price. The Honor 7X fits quite nicely in the latter, because I'm not sure that there's anything better for the $199 price point.
The only area where the device starts to struggle is performance, which isn't even all that bad. The aluminum unibody is beautiful, and the edge-to-edge 1080p display makes it an all-around pleasant smartphone to use on a daily basis. The camera is pretty good as well, and stands apart from many other smartphone cameras that come in at this price point.
If you're looking to spend less on your next smartphone, the Honor 7X is definitely something that you should be looking at.