HP's Elite Dragonfly is a sort of successor to the last EliteBook x360 1030, not that it's discontinuing the EliteBook. This is a new product, rethinking what a business convertible can be. Rather than the standard aluminum, the Elite Dragonfly is made out of magnesium, making it extremely light.
But that's not all, because it doesn't make compromises to hit that weight. It uses a full U-series processor, has options for a UHD display or an FHD privacy screen, and it has powerful B&O speakers. There's also an option for 4G LTE.
Specs
CPU
Intel Core i7-8665U vPro processor (1.9 GHz base frequency, up to 4.8 GHz with Intel Turbo Boost Technology, 8 MB L3 cache, 4 cores);
GPU
Intel UHD Graphics 620
Display
13.3" diagonal FHD IPS eDP + PSR BrightView WLED-backlit ultraslim direct bonded touch screen with Corning Gorilla Glass 5, 400 nits, 72% NTSC (1920 x 1080)
Body
30.43x19.75x1.61cm, starting at 0.99kg
Memory
16GB LPDDR3-2133 SDRAM
Storage
512GB PCIe Gen3x4 NVMe M.2 SED SSD TLC
Audio
Bang & Olufsen, 4 Premium stereo speakers, multi array world-facing microphone
Connectivity
Intel XMM 7360 LTE-Advanced Cat 9; Intel XMM 7560 LTE-Advanced Pro Cat 16; Intel AX200 Wi-Fi 6 (2x2) and Bluetooth 5 Combo, vPro (Compatible with Miracast-certified devices.
Ports
(2) Thunderbolt 3
(1) USB 3.1 Gen 1 Type-A
(1) HDMI 1.4
3.5mm combo audio
Nano-SIM
Camera
720p HD webcam; HD Privacy IR webcam
Battery
HP Long Life 4-cell, 56.2 Wh Li-ion polymer; HP Long Life 2-cell, 38 Wh Li-ion polymer
OS
Windows 10 Pro
Material
CNC-machined magnesium
Price
$2,079

This is the best description of the model that HP sent me that I could come up with. Mine isn't 2.18 pounds though, as that's what you get with the two-cell battery. The one that was sent to me has the four-cell battery, so it's 2.5 pounds.
Day one
Design
Again, the HP Elite Dragonfly starts at just 2.18 pounds. That's a category that I like to call wildly light. There are lighter laptops, but this is a convertible. I don't know of a single lighter 13-inch convertible. HP does this by making it out of magnesium, a much lighter material than aluminum, which is actually one of the heaviest materials found in laptops.
Magnesium laptops, while incredibly light, often feel cheap and plasticky. I've noted this in my reviews of LG's gram and Acer's Swift 7 series. HP made the Elite Dragonfly feel more premium and less plasticky by machining the magnesium, and it gets the job done. I don't think it feels as premium as aluminum does, but it does feel good to use, and it feels good to carry.
The color is Dragonfly Blue, not to be confused with Poseidon Blue, which is what's on the Spectre convertibles. The lid is stamped with a silver HP logo, and the whole package is a welcome departure from the standard silver business laptops that we see so many of.
When compared to the previous EliteBook x360 1030, HP says that the keyboard is 26% lighter, the trackpad is 36% lighter, the display cover is 22% lighter, and the keyboard deck is 32% lighter. All-in-all, it's clear that there was a lot of engineering work to get this thing under a kilogram.
On the left side of the device, there's a single USB 3.1 Gen 1 Type-A port, a power button, and a nano-SIM slot. It's disappointing that the Type-A port is USB 3.1 Gen 1 rather than Gen 2. After all, it's a brand new device, so it's not like HP is borrowing the design from an older iteration. The nano-SIM slot doesn't use a pin, as the tray pops out when you press it.
On the right side, there are two Thunderbolt 3 ports, a 3.5mm combo audio jack, and an HDMI 1.4 port. Like USB 3.1 Gen 1, HDMI 1.4 is disappointing, since you can't output at 4K 60Hz. If you're connecting to a 4K monitor, you'll have to use one of the Thunderbolt 3 ports.
I think HP did a fantastic job with the design. For a business PC, it makes sense to make one that's beautiful, but also not flashy. If you want flashy, you can always get a Spectre x360.
Display and audio
The HP Elite Dragonfly has three display options. There's a beautiful 4K HDR400 display with 550-nit brightness, and there's also a 1080p model with HP's Sure View Gen3 privacy screen. The one that the company sent me though is a 1W 1080p display with 400-nit brightness. Naturally, this is the one that you want for the best battery life, and that's why HP sent it to me.
Personally, I'd have preferred the 1000-nit Sure View screen. 400 nits sometimes isn't enough for using in direct sunlight, and it's very possible that you might be using it outdoors with the freedom that 4G LTE provides.
On the other hand, Sure View keeps people from being able to see what's on your screen. If someone is looking over your shoulder, they'll just see a dark screen. That's what's new about Gen3, as previously, you'd see a white screen. It's a phenomenal feature, and it's a shame that HP doesn't seed it in review units, especially since it's one of the key features of the device.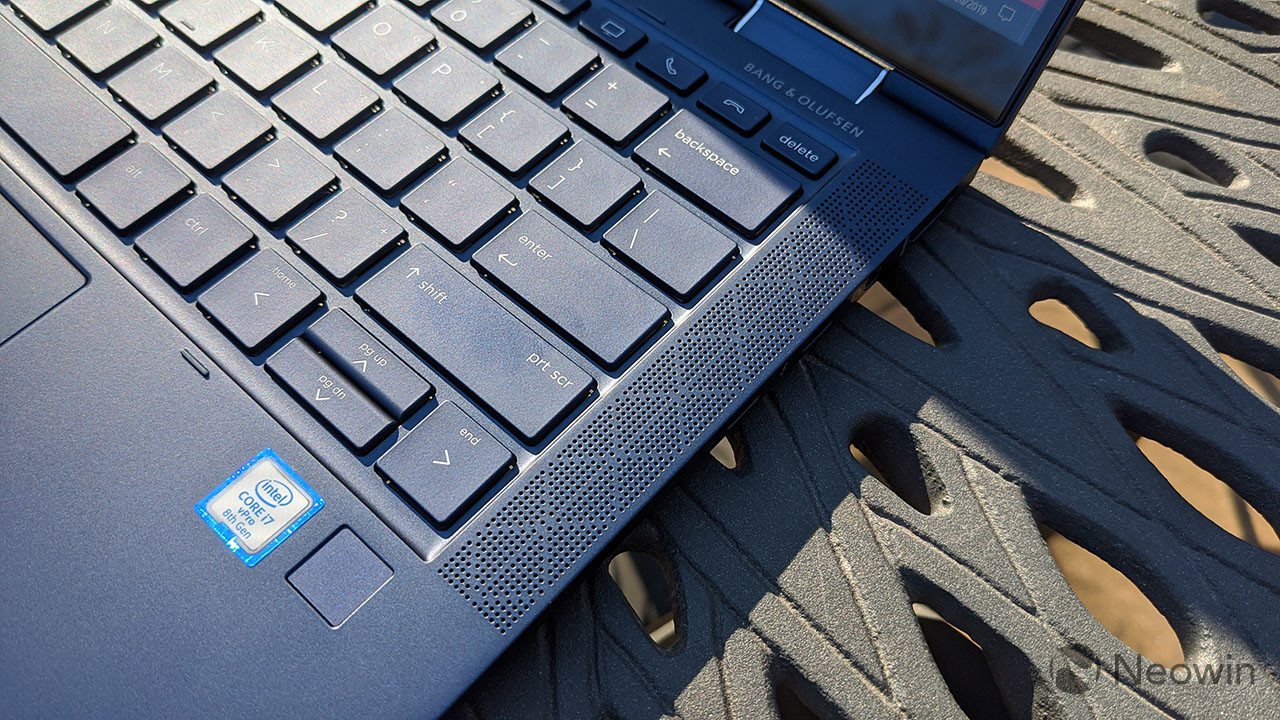 HP continued its partnership with Bang & Olufsen for this device, once again including speakers next to the keyboard on either side of it, so you always have sound firing right up at you. They sound excellent. They're loud enough to fill the room, and they're crystal clear. You can really hear the depth of the audio with these speakers.
One other thing to note about the display is that it has a privacy guard built into the webcam above the screen. There's also an IR camera for Windows Hello, something that I've come to expect from HP laptops.
Keyboard and trackpad
When I reviewed the HP EliteBook x360 1040 G5, I noted how much I loved the keyboard. It's my new favorite over Lenovo's ThinkPads, which is really saying something. The Elite Dragonfly is just as good, and I'm very happy to see HP's continued emphasis on great keyboards. After all, I type for a living, so this is something that absolutely matters to me.
There are two main things that I look for in a keyboard: comfort and accuracy. This keyboard has both. It's not too deep or shallow, and the resistance is just right. It's also accurate, and I didn't end up double-typing any characters or anything like that. Another third, yet slightly more minor thing that I look at is volume. This keyboard is quiet to type on, so you won't be the noisy person in the room when you're typing.
I really wish that HP would bring this keyboard to its Spectre consumer PCs, or at least that the Elite and Spectre teams would work more closely on what makes sense to use in both lineups.
The glass trackpad uses Microsoft's Precision drivers, which is probably the most important thing. It's fast and responsive. It's also pretty large, making use of the available real estate. If you happened to be worried about it in such a light device, it's still clickable, as HP didn't make those kinds of sacrifices here.
There's also a fingerprint sensor to the bottom-right of the keyboard. It's nice to have the option of facial recognition and a fingerprint sensor for Windows Hello, especially since facial recognition doesn't work if the webcam privacy guard is closed.
Performance and battery life
The model that HP sent me includes an Intel Core i7-8665U CPU, and let's clear the air about that right now. Yes, it's an eighth-generation CPU. The reason for that is because this is a business PC, and there are no 10th-generation vPro processors out yet. That's coming next year.
You're not really missing anything though. Even if this did use Intel's 10th-gen 14nm 'Comet Lake' family of CPUs, there's not that much of a difference. It's still an excellent productivity machine, with the added security and manageability features that vPro offers.
Like I said, it's for productivity. Naturally, you can use this convertible as a tablet and in other form factors with pen support, so it does do more. I like to use the pen for taking handwritten notes, but you ca also use it to draw, to mark up photos, to sign documents, and so on. I always appreciate this new world of convertibles when someone sends me a document to sign and I can simply fold back the display, sign it with the pen, and save it.
Some Adobe CC apps also support pen use, although this might not exactly be the machine for that. You're getting into dedicated graphics territory there, or at least Intel Iris Plus territory. If you really want a business PC like this one with Iris Plus, you might want to wait for Ice Lake vPro.
The HP Elite Dragonfly also has an option for 4G LTE connectivity, something that I always appreciate. There's nothing better than the freedom to connect to the internet from anywhere. You don't have to worry about signing into public Wi-Fi or the security issues that might come with it, or ending up on some mailing list because you had to give up your email address.
Unfortunately, the Intel 4G LTE on this machine is very buggy right now. The 4G LTE driver seems to keep disconnecting and reconnecting. I actually had to turn the sound off because the Windows chime for when a device gets disconnected or reconnected is so annoying. And remember how great I said the audio is, as you can't exactly enjoy music or video while this is going on. HP did send me another driver to use, but that didn't fix the issue. The good news is that this will eventually get resolved. These things always are.
Battery life is pretty good, although HP did send me the model that gets the best battery life. I found that for real-world usage, you can easily get about eight hours. Naturally, that will go down if you have the lighter two-cell battery, or if you go for the 4K or Sure View displays. I do wonder how bad the battery life must be on those units, since HP rarely ever sends them out to reviewers.
For benchmarks, I used PCMark 8 and PCMark 10, as usual.
| | |
| --- | --- |
| PCMark 8: Home | PCMark 8: Creative |
| | |
| | |
| PCMark 8: Work | PCMark 10 |
| | |
| | |

The benchmarks are exactly where you'd expect them to be for a Core i7-8665U. It definitely gets the job done for a productivity-centric machine.
Conclusion
The HP Elite Dragonfly is going to go down as one of my favorite PCs of the year, and that's for the same reason that I loved the EliteBook x360 1040 earlier this year. It's just great all-around, with a good screen, fantastic audio, and one of the best keyboards on the market.
One thing I missed, which was on the EliteBook x360 that I just mentioned, was the anti-glare display. I really wish HP included that on this model. It didn't have washed out colors like many other anti-glare screens that I've seen, and it would have been a great addition, considering that this one can be a struggle to use outdoors at 400 nits. The other issue I had with the Elite Dragonfly is, of course, the buggy 4G LTE, which I assume will be fixed sooner rather than later.
But this is a 13-inch convertible that weighs in at 2.5 pounds (starts at 2.18 pounds), which is incredible. It makes it so much easier to carry around. It's one of those PCs that you can put in a backpack and it feels like nothing is there at all. And at that weight, it's not making compromises, still including a phenomenal keyboard, great speakers, and so on.
If you want to check out the Elite Dragonfly, you can find it on HP.com here.