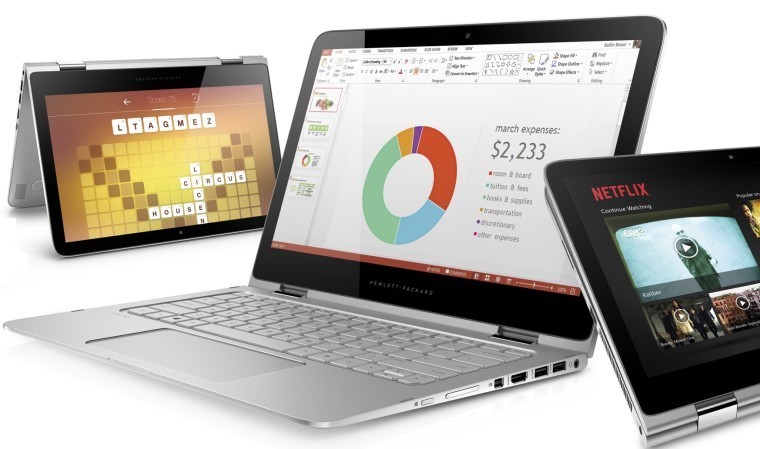 HP is looking to wow customers with its latest notebook, a touch-enabled, hybrid device called the Spectre x360. Featuring a machined-aluminium body, a thin profile, powerful internals, and long-battery life, the Spectre looks set to impress.
Hybrid devices have been a staple of the Windows 8 era but the new laptops coming onto the market seem to just now be coming into their own. That's thanks to better than ever battery life, and improvements in screens and CPU power optimizations.
The Spectre x360 fits into this market very well, and HP seems to have focused heavily on the design and aesthetic of this machine. The device features a 0.6-inch profile and a clamshell formfactor.
However, the 13-inch FHD/QHD touchscreen display can bend over backwards, up to 360 degrees. Users can change the screen orientation depending in which way they use the machine, alternating between regular laptop and tablet styles of use.
HP is also touting the new hinges that the device uses, claiming they'll last for the lifetime of the laptop without any of the problems that are traditionally found on this type of device.
One of the most important aspects that the manufacturer is touting, is the Spectre's battery life. HP claims that the combination of efficient screens, CPU and Wi-Fi optimizations will allow the device to go more than 12 hours without a charge. Of course, this claim will need a lot of testing once the device hits markets.
Here are the Spectre x360's main specs:
Dimensions: 12.7 in (W) x 8.6 in (D) x 0.6 in (H)
Weight: 3.26 lb (1. 47 kg)
Intel Broadwell i5 -5200U CPU at 2.2 Ghz
8GB DDR3 RAM
256GB SSD (upgradeable to 512 GB)
13.3-inch Full HD/Quad HD display
3x USB 3.0 ports, HDMI port, MiniDisplay port
The HP Spectre x360 goes on sale today on the manufacturer's website, and will also be arriving on BestBuy after the first half of this month. As for pricing, that all depends on which specs you opt for. The base i5 model with a 1080p screen starts at $899.99, while a range-topper i7 with a QHD screen and a 512GB SSD will end up costing you $1399.99.