If you've been thinking of getting a fitness tracker but you've been on the fence due to price concerns, I have good news. Huawei's Band 3e costs less than $30, and it does a whole lot more than you'd expect it to.
The most obvious feature in a fitness band is step-tracking, and it does sleep-tracking too. You'll get a pop-up when your phone gets a notification, and you can even use it to find your phone. All of this comes in an inexpensive, but stylish package.
Specs
Size
Band body: 40.5 mm x 14.8 mm x 11.2 mm
Wristband: 226.15 mm x 17.4 mm
Weight
Band body: 6 g
Wristband: 11 g
Display
PMOLED, 0.5 inches
RAM
384KB
Storage
1MB
Battery life
~14 days
Water resistance
5ATM (50m water resistant)
Colors
Black, pink, orange, grey, and cyan

Design and display
I reviewed the Huawei Band 3 Pro last month, and while that's a better device overall, there are things I actually like better about the Band 3e. The main thing that I like is that it's actually a small device that's inserted into the wristband and can be easily removed. That means that you can have a variety of wristbands, although I've not been able to find any actual wristbands for sale. You'd probably just have to buy the Band 3e in different colors; it's cheap enough. It's just a little over half the price that Apple sells one of its Apple Watch Sport bands for.
But what you can do with it is carry the Band 3e with you however you like. It comes with an attachment that lets you put it on your shoelaces, or really, you can just carry it in your pocket if you want. Sometimes it's just not comfortable to wear a wristband.
The wristband itself is pretty stylish though. There's nothing bulky or uncomfortable about it.
The PMOLED display is nothing to write home about. In fact, I couldn't even find the actual resolution. It's monochrome too, and all of this is really fine. If you're looking for full-color, you'll probably want the Band 3 Pro. Honestly, while you can cycle through the display to view your steps, your sleep, or to find your phone, you'll probably just be using it to see the time.
You can take the device out of the wristband to put it in a charger, which is a holster that plugs into USB Type-A. There are two pins on the bottom of the device for charging.
Something else worth noting is that this thing is water resistant up to 50 m, so you really don't ever need to take it off except to charge it. Huawei promises two weeks of battery life, and that's accurate. You really don't have to worry about charging the Band 3e. Not having to take it off when going in the shower was great; in comparison, I'm used to taking off my Apple Watch because it charges every night.
Usage
The main display shows the time and the battery life, and you can tap the button underneath it to cycle through the different screens. The first four screens are steps, distance, calories burned, and sleep, in that order. They'll all show you how much you've achieved in each category.
The next one is the option to find your phone and below that is settings. For both of these, you can hold the button to activate it. When finding your phone, it will ring your device. For settings, it will take you to a section where your only options are to reboot the Band 3e, power it down, or view device information.
You can actually adjust the order of these screens, and you can add more like standing and moderate to high intensity, or you can remove some.
One other thing that you can do with the Band 3e is get a message when your phone gets a notification. You can control which apps will display notifications, but the Band 3e itself will not show you the content of the notification, or even which app it's coming from. This actually got pretty annoying and I just turned off the feature.
Huawei Health
As was the case with the Band 3 Pro, any real interactions or insights go through the Huawei Health app, which is available for iOS and Android. As I noted earlier, the settings menu on the Band 3e only provides options to reboot the device or to power it down, so to change anything else, you need to use the Health app.
You can use it to set alarms, including smart wakeup. The do not disturb settings can be timed, so you don't have to manually turn it on and off when you go to bed. Notifications are there, where you can control which apps can show notifications, if any.
Huawei Health also tells you more about your fitness information. The Band 3e only tells you things like how many steps you have today or how much you slept last night. Health goes deeper into it; for example, with sleep tracking, it tells you how much light or deep sleep you got. There are also weekly, monthly, and yearly views that tell you how much sleep you got on average.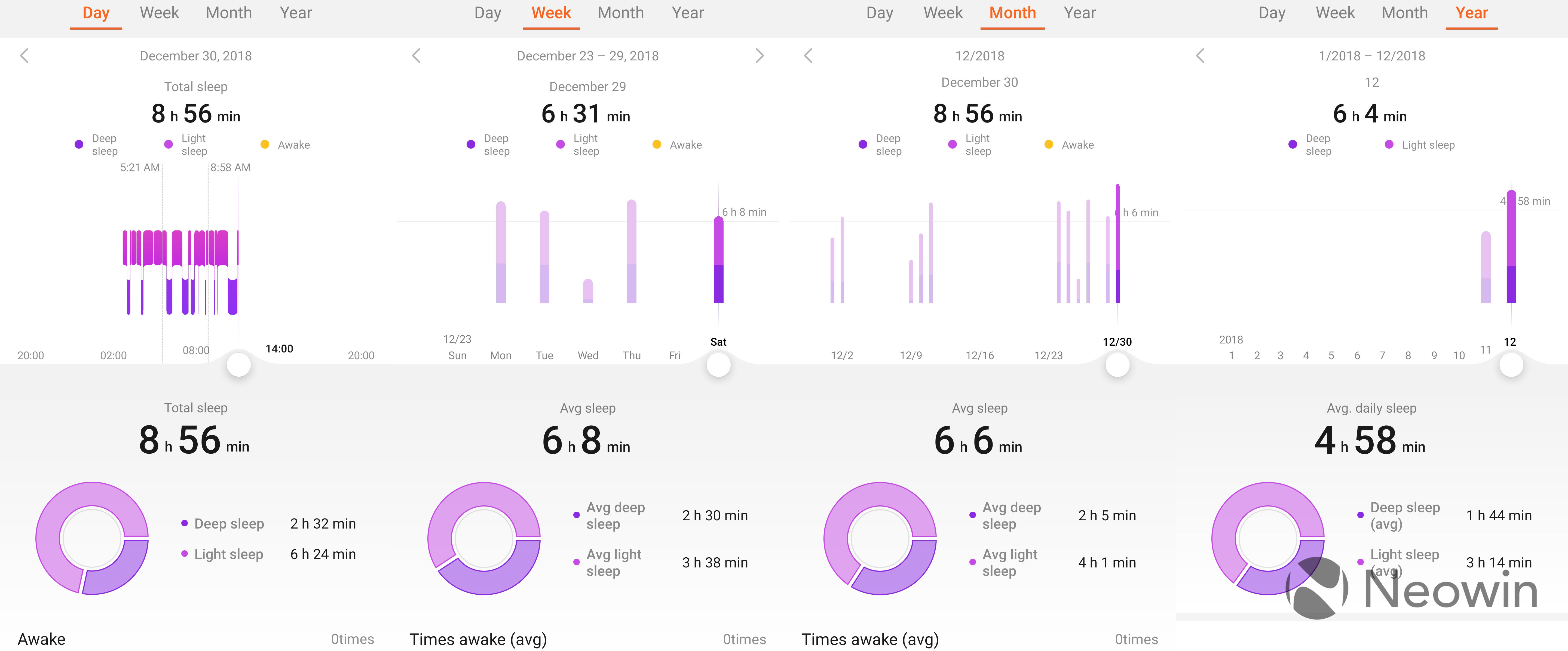 Unfortunately, the Band 3e seems to think that I never wake up in the middle of the night, which is completely inaccurate.
It does the same kind of thing with step-counting. It tells you how much you were running, walking, or climbing, also providing total and average steps.
What's also cool is that you can slide that little dot across the screen to view more details. On the daily view, it will show you by hour. On the weekly and monthly views, it will show you by the day, and in the yearly view, it will show you by month.
Conclusion
Honestly, there's just not much to say about the Huawei Band 3e because it's such a simple device. However, it's the simplicity that makes it great. It's not trying to pack in features that you don't need or aren't useful. It only has 384KB RAM and 1MB (that's an 'M', not a 'G') storage, and the performance is great. I never found it lacking in terms of performance, because it just does what it was built to do.
The one thing I really hated was how notifications are delivered. It just tells you that your phone got a notification, so you have no idea if it's worthwhile or not. Proper notification delivery is something that I look for in any wearable, so this was disappointing.
But if you don't care about notifications, then the Band 3e is great, especially considering the price of $29.99. If you've been thinking about a fitness tracker but the price of a Fitbit is keeping you on the fence, go for the Huawei Band 3e. Honestly, even if the price isn't keeping you on the fence, this is still a great device.
You can find the Band 3e on Amazon here. Right now, the black variant is on sale for $27.03.
Pros
Value for price Form factor Huawei Health
Cons
Notification delivery