During what would have been Mobile World Congress, LG today announced the V60 ThinQ 5G, its latest flagship smartphone. Obviously, it comes at a time where the Korean firm would typically announce something new from the G-series, but that's presumably coming later.
Like it did last year with the G8X, LG is offering a Dual Screen accessory, and it has exactly the same screen as the phone itself. Both screens are P-OLED, but they're a bit bigger now at 6.8 inches with a 20.5:9 aspect ratio, and they come with an FHD+ resolution.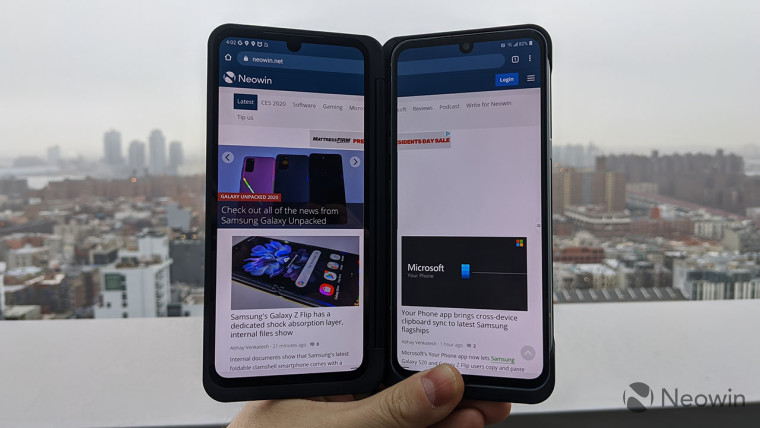 You can use the Dual Screen for all sorts of things. One screen can serve as a larger keyboard, it can be a gamepad, or you can even use some apps over both screens; in fact, LG also announced that Google apps are getting dual-screen support.
As far as the guts go, it comes with Qualcomm's latest flagship chipset, the Snapdragon 865 5G, which comes with the Snapdragon X55 5G modem, and it also has 8GB RAM and 128GB of storage. For the 5G, it's only going to support sub6 bands on the AT&T, T-Mobile, and U.S. Cellular models, while there will be a separate V60 ThinQ 5G UW model on Verizon that will support both mmWave and sub6.
With the Snapdragon 865 comes a whole bunch of new camera features, such as 8K video recording with HDR10+, something that we've previously seen in the Samsung Galaxy S20 series and will continue to see throughout the year, as we see more Snapdragon 865 devices. The main sensor is 64MP f/1.8, which uses quad pixel binning for 16MP images.
There's also a 13MP f/1.9 ultra-wide sensor, but LG opted to not include a telephoto sensor this time around. The company says that you can still get 2x lossless zoom though simply because it has such a high-resolution main sensor. On top of that, there's a time-of-flight sensor and a 3D camera, for a new 3D photo feature.
And it's absolutely worth noting that the LG V60 ThinQ 5G includes a 3.5mm audio jack, using the company's 32-bit Hi-Fi Quad DAC. In other words, it's not just a headphone jack; it's a good headphone jack.
"Between blazing fast 5G speeds for high quality streaming, two displays for more multitasking, and a large display and large battery to maximize productivity, LG V60 ThinQ 5G with Dual Screen transforms how we interact with our smartphones," said Chris Yie, head of LG Mobile, North America. "Our customers have loved finding new and exciting ways to use LG Dual Screen, and the purposeful innovation of V60 ThinQ 5G will bring that enjoyment to a wider audience this spring."
The LG V60 ThinQ 5G will be out some time next month on AT&T, T-Mobile, U.S. Cellular, and Verizon, and you'll have to check with your carrier for more details, such as pricing.