Google's Stadia service is set to officially go live next week for those that purchased the Founders Edition, and the team took some time to answer user question through a Reddit AMA (Ask Me Anything). During the Q&A session, Google revealed what features will and won't be available when Stadia launches.
Starting with which devices you can play on, you'll be able to play on your phone (as long as it's on the list of supported phones), or a computer running Chrome. To play on a Chromecast Ultra, you'll need to have the one that comes with the Founders Edition or wait for a future update to enable Stadia on the Chromecast Ultra you already have. The team also didn't provide any timeframe for when Stadia will work on iOS, so if you have an iPhone, you could be in for a long wait.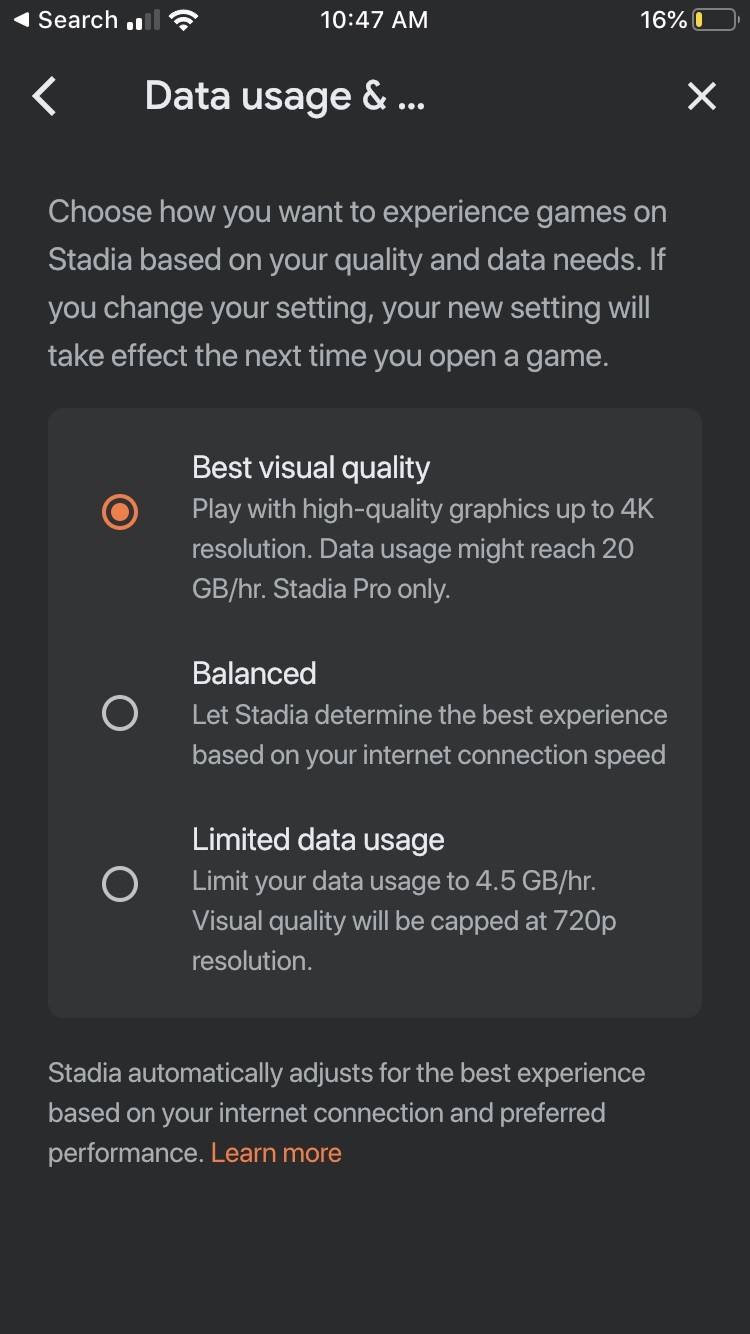 At launch, Stadia will allow you to choose the quality of the stream you want to use, but 4K, HDR, and Surround Sound 5.1 will only work on the Chromecast Ultra at launch. Support for these high-end settings will be available on PCs in 2020. Google also shared a screenshot showcasing the data usage settings, showing that the highest-quality option will use up to 20GB per hour, while the "limited data usage" setting, which restricts you to 720p, should use around 4.5GB per hour.
The Stadia team also clarified that the Stadia mobile app will be the hub for all of your Stadia settings across devices, so if you want to choose what streaming quality you want to aim for, that's the place to do it. You'll also need a phone for the initial setup with your Chromecast Ultra, or if you want to take your account to a friend's house.
Stadia also promises a lot of exclusive features, but many won't be available next week. Stream Connect, which allows players to connect to each other's streams, is expected to show up before the end of the year. State Share and Crowd Play are planned for sometime in 2020. Google Assistant support will also be limited at launch, letting you launch a game of your choice. Support for the Assistant in the Stadia home screen will arrive soon for Chromecast, and later on for other devices. The ability to use the Assistant during games will be coming even later.
Stadia also won't have an achievements UI at launch, but the backend will still be there, so all the achievements you get while the UI isn't available will still be registered. Once the UI launches, they'll all be visible.
Google addressed some other questions regarding the service. For one thing, Family Link will be supported so parents can control their children's use of Stadia, but Family Sharing won't be available on day one. For those that got the Founders Edition, the Buddy Pass will be available a couple of weeks after you get your own bundle. Google also said that Stadia Founders will be able to change their Stadia names without having numbers appended to them in the future, as long as they're still available.
Regarding game prices, Google said it will try to be competitive with other platforms, and for Pro members, it didn't say which games will be available for free, but the company believes it has a good lineup. Google also didn't reveal how often Pro subscribers will be getting new games, but it said users should expect them regularly.
While many features won't be available at launch, the team said it expects to add more capabilities on a weekly basis after launch. Finally, Google also said it will be launching its own phone holder grip to use with the Stadia controller sometime after launch. The service will be launching on November 19 with a library of 12 games.