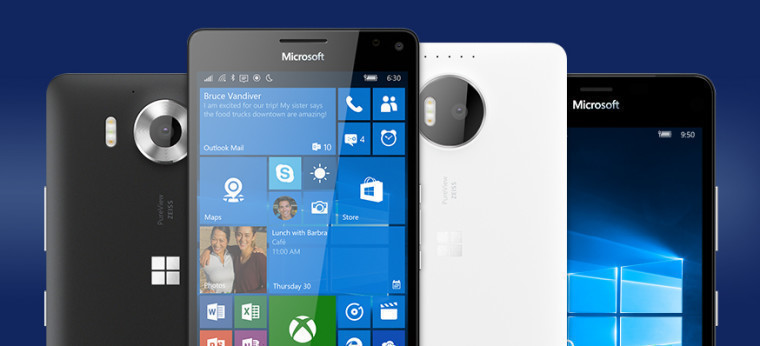 Microsoft has again cut the prices of its Windows 10 Mobile flagships in the UK, combining the reductions with an additional limited-time offer.
Until recently, the 5.2-inch Lumia 950 was sold on the Microsoft Store for £399.99 SIM-free and unlocked, while the 5.7-inch Lumia 950 XL was priced at £469.99. Microsoft has now cut around 17% off the price of both devices, bringing the 950 down to £319.99, and the 950 XL down to £399.99.
It appears that this may be a permanent price cut too. Nothing on the Lumia 950 store listing indicates that this is a temporary discount; the Lumia 950 XL listing refers to a "price reduction" ending on June 30 - but that small print has actually been in place since an earlier price cut on January 22, and it seems that Microsoft simply hasn't updated the listing to reflect its latest pricing adjustment.
In addition to the price cuts, Microsoft is continuing to offer a free Display Dock, worth £79.99, with either device until June 30. The Display Dock allows users to connect a mouse and keyboard to their phone, and then hook up the phone to a larger display, effectively turning the device into a mini-PC, complete with a desktop-style Start menu and interface.
Both handsets also include a free one-year Office 365 Personal subscription, worth a further £59.99.
---
Timeline: Lumia 950 and 950 XL pricing in the UK
Microsoft and its retail partners have been steadily reducing the prices of its Windows 10 Mobile flagships in the UK since before the devices even went on sale there. This timeline shows how the prices have fallen since launch.
October 6, 2015: Microsoft unveils the Lumia 950 and 950 XL in New York City.
Mid-October: Microsoft lists the Lumia 950 at £499.99 SIM-free, and the Lumia 950 XL at £549.99, on its UK Store.
October 24: Microsoft quietly cuts its prices before pre-orders have opened, reducing the 950 to £449.99, and the 950 XL to £529.99.
November 10: Amazon slashes its pre-order prices, cutting £20 off the 950, and £50 off the 950 XL.
November 16: Amazon trims its pre-order prices again, reducing both handsets by a further £10.
January 13, 2016: Amazon and Carphone Warehouse both reduce the Lumia 950 to £399.99.
January 22: Amazon's pricing for the Lumia 950 falls again, to £389.99. Microsoft also cuts its official UK prices for both flagships; the 950 falls by £30 to £419.99, while the 950 XL drops by £60 to £469.99.
February 2: Expansys reduces the Lumia 950 to £379.99.
April 6: Expansys cuts the 950's price to £369.99, and lists certain variants of both the 950 and 950 XL as having "been discontinued".
April 8: Amazon reduces the 950 to under £344, but its pricing later returns to around £370.
April 21: Microsoft announces that it has sold just 2.3 million Lumia Windows Phones worldwide during the first quarter of 2016. In its earnings call, the company's chief financial officer admits: "Sell-through of our Lumia products was weak, and we exited the quarter with relatively high channel inventory."
April 25: Four days after revealing the extent of its poor handset sales, Microsoft launches a deal in the US and Canada, offering a free Lumia 950 with purchases of a Lumia 950 XL.
April 28: In lieu of a similar buy-one-get-one-free deal in the UK, Microsoft instead offers £40 off the Lumia 950 when purchased with a Surface device.
May 24: Microsoft announces it will be giving away a free Display Dock with either handset in the UK.
Today: Both the 950 and 950 XL reach their lowest UK prices so far, falling to £319.99 and £399.99 respectively.