Microsoft has pretty much given up development on Windows Phone - which includes Windows Phone 8.1 losing mainstream support in July 2017, and Windows 10 Mobile no longer being a focus for the company, according to Joe Belfiore in October 2017.
Now, Microsoft has also announced that it is discontinuing several apps developed by the company for Windows phone devices.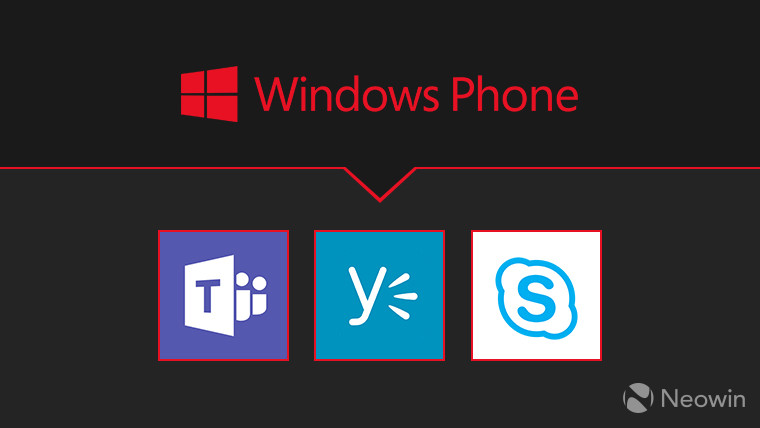 The following three apps are being officially discontinued by Microsoft:
Skype for Business
Microsoft Teams
Yammer
The Skype for Business app was made available to Windows Phone users in August 2015, and it made its way to Android and iOS later as well. Microsoft Teams replaced Skype for Business in September 2017, while Yammer made its way to Windows Phone way back in 2013.
However, all three apps are being discontinued for Windows Phone on May 20, 2018, and will not be available to download from the Store after the aforementioned date. Microsoft has also clarified that it will not be offering support or updates for the apps.
After May 20, existing users of Skype for Business and Yammer Windows phone apps will continue to work, but Microsoft offers no "guarantees" after the date. Meanwhile, Teams will stop working altogether, and users will be greeted by an error message when they try to connect.
As such, Microsoft has recommended that Skype for Business users migrate to Android, iOS, or the desktop applications for the service. On the other hand, Teams and Yammer users have been advised to utilize the services in their mobile browser.
While the company has offered no specific reason for killing support, it has stated that Microsoft "continues to support Windows 10 Mobile, we are not focused on building new features for the system". The firm will now be focusing its efforts on the Android, iOS, and desktop counterparts of all three apps.
Source: Microsoft via Dr. Windows