The market for tablet devices is certainly filling up. Apple's iPad may still have the lion's share of sales and profitability, but it's facing increased competition from the likes of Amazon's Kindle Fire, the Samsung Galaxy Tab range and Motorola's forthcoming Xyboard slates. Manufacturers seem to be practically tripping over each other in the frenzy to get their devices on sale.
So it's interesting to learn of comments on the subject of tablets made to Finnish broadcaster YLE by Nokia's CEO, Stephen Elop. When asked about Nokia's plans for this market segment, NASDAQ quotes him as explaining that "Nokia does not have an exact plan, but we are studying the markets carefully."
Information was widely reported last month that Nokia was already developing a tablet that would be released in mid-2012 running the new Windows 8 operating system, but Elop's comments appear to cast doubt upon that rumour. If the company had any prospect of launching Windows-based tablets next year, Elop would surely have at least confirmed that Nokia does have a clear plan for its tablet products (even if he still chose not to reveal any details about the roadmap), if only to reassure investors who have seen Nokia's share price lose almost a third of their value in the last month alone.
Elop didn't completely rule out the possibility that Nokia could eventually launch a tablet, stating: "Perhaps we will come [to market] one day." That's about as non-committal as you can get, really.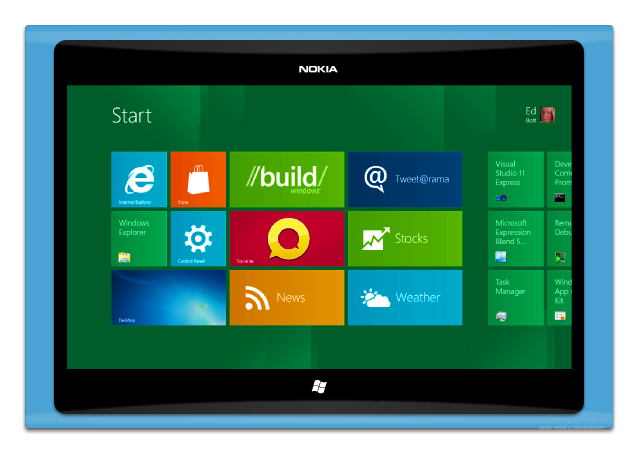 Will they, won't they?
Given the scramble to launch tablet devices among other manufacturers, Nokia's apparent indifference towards that segment may seem out of touch with market trends. However, this could prove to be a smart move in the long run.
Nokia already has an uphill struggle on its hands with getting its new Lumia Windows Phone handsets noticed by consumers who are largely entrenched in an iPhone-or-Android mentality. Focusing and consolidating its efforts on the leviathan task of turning the attentions of buyers towards its new products isn't necessarily a bad move. Nokia may also be looking towards the sad example set by Research In Motion, which rushed its BlackBerry PlayBook tablet to market, and expected buyers to pay over the odds for a weak, unfinished product; RIM recently announced a $485m one-off charge to cover costs associated with its appalling PlayBook sales.
While many of us will be disappointed at the news that Nokia probably won't be unveiling a new tablet anytime soon, it may ultimately be prudent for the company to ensure that it doesn't overreach and end up crashing and burning, RIM-style.