A few weeks ago, the Lumia 630 became the first handset to go on sale with the very latest update to Microsoft's mobile OS, Windows Phone 8.1. Despite slotting in the range above the cheapest Lumia 520 – which has seen promotional pricing drop as low as just $40 off-contract – the Lumia 630 is the company's new entry-level Windows Phone 8.1 device… at least until the rumoured Lumia 530 arrives.
The Lumia 630 has already gone on sale in some parts of the world, including India, various Eurozone markets and the United Kingdom, as well as Brazil, which exclusively enjoys a special version of the handset featuring integrated digital television.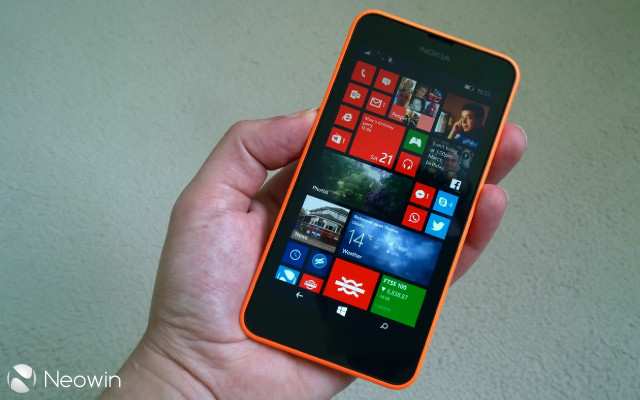 Over the last few weeks, we've been testing the Lumia 630 extensively, putting it through its paces in the real world so that we can deliver the kind of in-depth review that we know you appreciate here on Neowin. Over the next couple of weeks, we'll be taking a closer look at various aspects of the Lumia 630 – from its display and battery life, to gaming and design, and plenty more besides.
Just as we did with Microsoft's Surface Pro 3, we aim to bring you the most thorough and comprehensive coverage of each aspect of the new low-cost Windows Phone to help inform your decision on whether or not to buy it, before we bring everything together in our full in-depth review.
And once our review is published, one lucky reader will have the chance to win the Nokia Lumia 630 in our upcoming giveaway!
Today, though, we begin our exploration of the device with a broad overview of what it has to offer.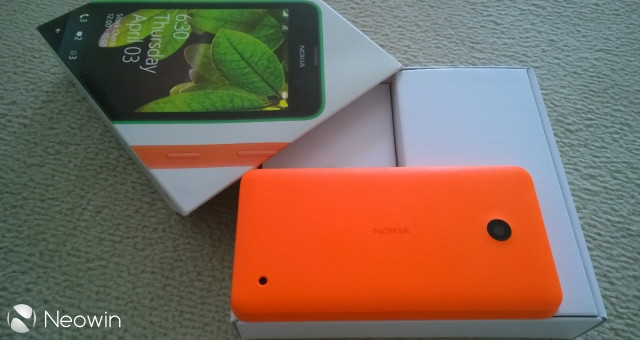 As you would expect of a device in this price range – its recommended retail price is $159 off-contract, before taxes – the Lumia 630 doesn't have the kind of spec sheet that will worry the flagships of the smartphone world. But it's not supposed to; this is a device intended to target buyers on a budget – those who don't care about the latest specs, and those who perhaps can't afford the newest top-of-the-range handsets.
So if you're expecting the 630, or any other similarly priced handset, to be in the same league as a Samsung Galaxy S5 or LG's G3, you're mad. But if you've got more sensible and realistic expectations, the low-cost Lumia may just surprise you.
On paper, there's a lot to like. The device features a generously sized 4.5-inch IPS LCD, protected by Corning Gorilla Glass 3, and it's reasonably light too, weighing in at 134g, in a body that's 9.2mm thick.
You'll also get a 1.2GHz quad-core Snapdragon 400 processor, 1830mAh battery and 8GB of onboard storage, along with a microSD slot supporting cards up to 128GB, as well as a 5MP rear camera. Not too shabby at all for such an affordable device. But it's not all good news.
That 4.5-inch display offers only FWVGA (854x480px) resolution, well below the HD (1280x720px) display of Motorola's Moto G, for example, which costs just $20 more. You'll only get 512MB of RAM on the 630 as well, which means that certain apps – higher-end games, especially – simply won't run on the device.
On top of this, the rear camera has no flash, and there's no front-facing camera at all, ruling out selfies and Skype calls. There's no 4G on the 630 either – that's exclusively available on the more expensive Lumia 635, which is identical apart from added LTE support, for $189. You don't even get a pair of headphones in the box.
So the Lumia 630 isn't flawless, by any means, but this exposes the underlying reality of buying such a low-cost device: the need for compromise. The cheaper a device gets, the fewer bells and whistles its manufacturer can afford to attach to it, and for buyers, that can be a bitter pill to swallow.
Over the next couple of weeks, we'll be considering whether Nokia made the right choices in deciding what should, and should not, be included in the Lumia 630, and if the compromises that it made to keep costs down perhaps went too far. For now, we'll just say that the Lumia 630 certainly managed to impress in many areas – but in others, it was far from perfect.
We'll explain more about that in the days ahead, so stay tuned!