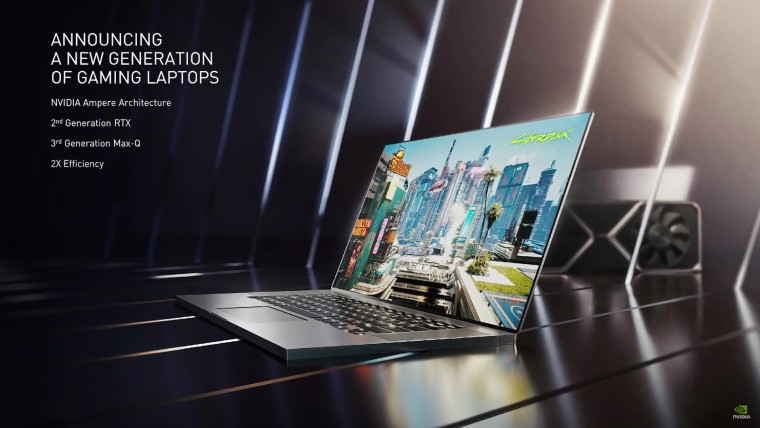 As you may have noticed, a few laptops have already been announced with RTX 30 series GPUs, and now, Nvidia has made it official that its second generation of RTX GPUs is coming to laptops. Yes, the RTX 30 series is now coming to laptops, including an RTX 3060, 3070, and 3080.
Each of the cards brings a performance upgrade, and naturally, the 3080 is the fastest. Nvidia says these will be the world's fastest laptops, promising over 100 frames per second at 1440p with RTX on for "popular graphics-intensive games". For e-sports titles such as Overwatch and Fortnite, the GPU promises framerates upwards of 240FPS. RTX 3080 laptops will start at $1,999.
As for the other cards, Nvidia says the new RTX 3070 laptops should be up to 50% faster than the RTX 2070 and deliver around 90 frames per second at Ultra settings and 1440p, and they'll start at $1,299. Finally, RTX 3060 laptops are compared to the PlayStation 5, promising up to 30% more performance. Nvidia promises 90FPS for games at 1080p. These laptops will start at $999.
For desktop users, Nvidia also revealed the GeForce RTX 3060 for desktop PCs, bringing the latest technologies from Nvidia's more expensive cards down to a $329 price point. The RTX 3060 naturally supports RTX, DLSS, and AI-powered features like Nvidia Broadcast. Nvidia is also debuting support for Resizeable BAR alongside the launch of the GPU, which is also enabled on RTX 30 series laptops and existing GPUs.
Aside from the new GPUs, Nvidia also announced new monitors and mice with Nvidia Reflex Latency Analyzer from brands such as ASUS, Acer, AOC, Corsair, and more. It also announced DLSS support for new titles such as Call of Duty: Warzone.