In their initial leg, generative AI tools like ChatGPT have begun to shoulder much of our grunt work. Despite its impressive (and invariably eerie) conversational abilities, ChatGPT draws information from pre-curated and outdated data instead of fetching it from the internet in real-time. This may soon end, as OpenAI now announces support for web browsing on ChatGPT. In addition, ChatGPT plugins are now more widely available.
OpenAI recently updated its release notes for ChatGPT, announcing the chatbot is now getting internet access. Meanwhile, plugins — or tools which allow you to access third-party services through ChatGPT — are now moving from the alpha to beta phase and will now be available for all ChatGPT Plus users, i.e. those who pay to use extra features in the chatbot.
Notably, plugins were first made available to insiders back in March 2023 with services including OpenTable, Zapier, Expedia, Instacart, KAYAK, Shopify, and more. OpenAI says ChatGPT Plus users will now have more than 70 plugins to use, and Twitter user @DataChaz shares a list of available applications.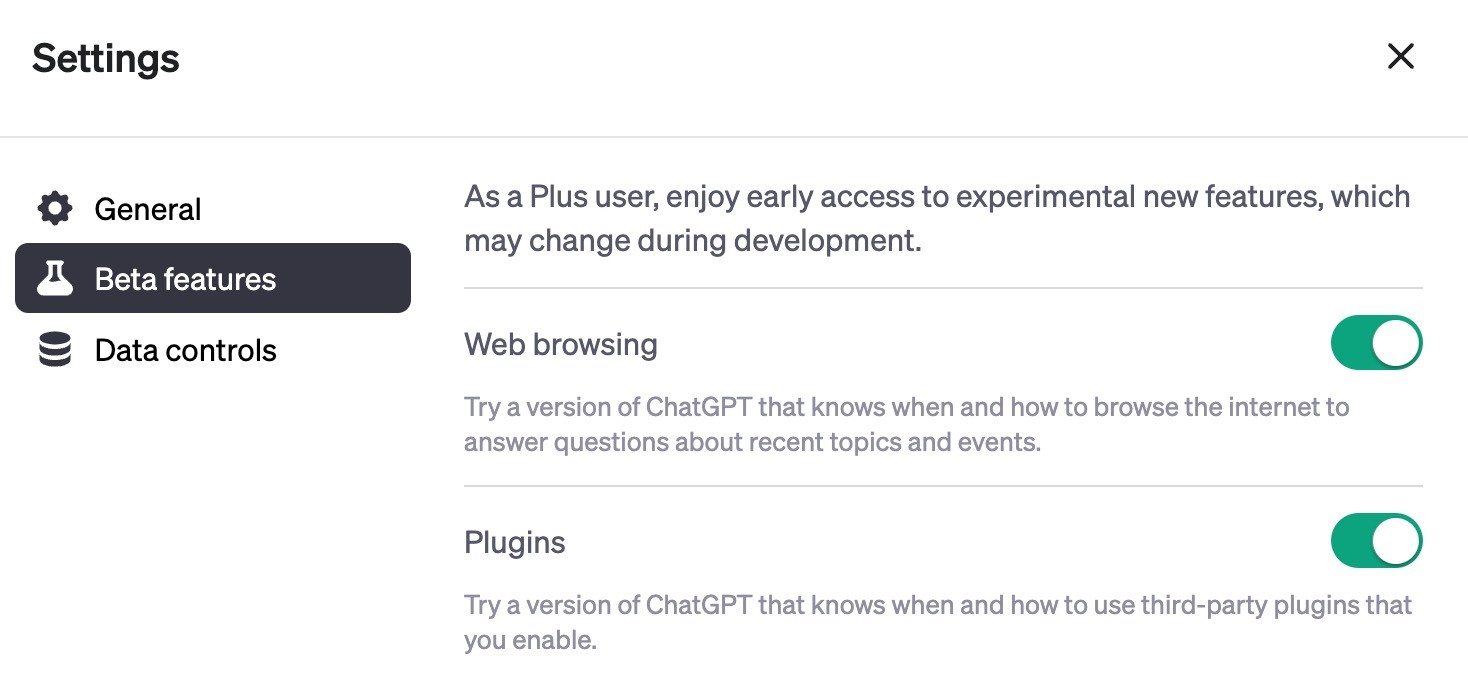 If you're a ChatGPT Plus subscriber, you can access web browsing and plugins by heading to ChatGPT Settings from the bottom left corner of the chatbot interface. Under Settings, go to Beta features and enable Web browsing and Plugins.
After you enable the toggles, you will find Plugins accessible from the top of the chat window, where you can install the desired extension, as demonstrated by Twitter user @DataChaz:
OpenAI does not explicitly reveal when users in the free tier will have access. If you're a developer and want your application(s) to be accessible through ChatGPT, you can join the waitlist here.
The announcement comes roughly a week after Microsoft opened up its AI chatbot for a public preview. The company also announced significant updates to its Bing AI chatbot, including image generation, support for images and videos besides text as prompts, a persistent Edge sidebar for AI functionality, and more. Additionally, Microsoft said plugins are coming to Bing chat soon, and details will be announced at the upcoming Microsoft Build conference scheduled from May 23 to 25.