Earlier this year, OPPO announced its 40W AirVOOC wireless charging technology with the Reno Ace 2 that could charge the device wirelessly in just under an hour. Three months later, the company is ready to push the boundaries of wireless charging even further with the 65W AirVOOC.
The company claims that its 65W wireless charging solution can charge a smartphone with a 4,000mAh battery in just 30 minutes, making it faster by around 26 minutes from its existing 40W solution. The wireless charging speeds offered by OPPO's AirVOOC is now similar to what its 65W wired charging solution SuperVOOC 2.0 offers.
OPPO has been able to achieve such fast wireless charging speeds by using a parallel dual-coil design. It is also using an output of 20V/2A and 20V/1.25A on the phone and charger to achieve these speeds. The catch here is that the phone must be placed vertically on the charger so that both coils are in contact with the phone. When placed horizontally, the phone will charge at 25W wirelessly. The technology is also compatible with the existing Qi standard.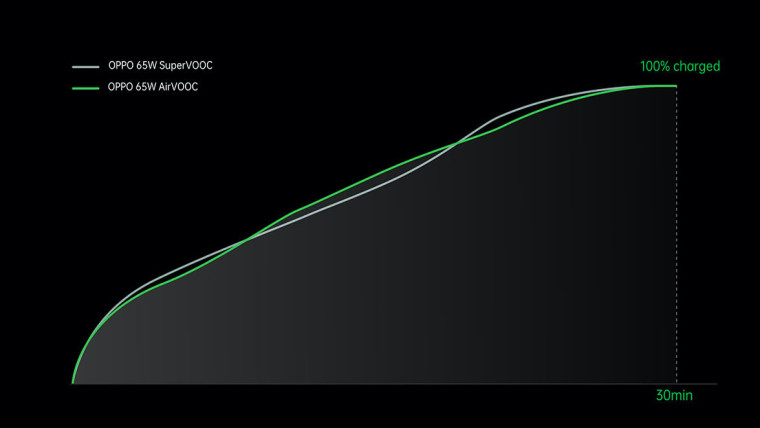 Heat is going to be a major issue when a phone is charged so rapidly wirelessly. For this, OPPO keeps the phone's temperature under 40°C when charging by using a semiconductor cooling system under the coils. The company has taken a different approach here as we have seen the likes of Samsung and OnePlus include a small fan in their wireless charger to cool their devices when charged wirelessly. OPPO claims its solution is more efficient as well by up to 2°C. The company does include a fan in the wireless charger though to keep it cool and to dissipate the heat generated from it effectively.
Additionally, OPPO also announced a 125W wired charging solution that can charge a 4,000mAh battery from 0-41% in just five minutes and up to 100 percent in just 20 minutes. This makes the solution nearly 10 minutes faster than the 65W SuperVOOC 2.0 wired charging solution it debuted with the Reno Ace that can charge a device from 0-100% in just 30 minutes.
The company also claims that its charging solution has been designed not to degrade the battery lifespan considerably. Its new "6C" battery features an updated structure and optimized charging algorithms that will allow it to retain an 80% efficiency after 800 charging cycles. The 125W charger has a USB-C interface and features three parallel charge pumps to deliver such a high amount of power with a 98% efficiency. Thankfully, despite the bump in power output, the charger is only slightly bigger than OPPO's existing 65W charger. For cross compatibility, the charger also supports 65W USB-PD and 36W Quick Charge support.
Lastly, OPPO also unveiled two new mini SuperVOOC charger based on GaN technology. By using Gallium Nitride, the company was able to make its SuperVOOC chargers extremely compact and allow one to carry them in their pocket. The charger will come in 50W and 110W versions, with the former having the size of a business card holder and the latter being similar in size to existing 18W chargers. The 110W mini SuperVOOC charger also supports 65W USB-PD and 36W Quick Charge.
OPPO did not provide any details on when the 65W AirVOOC and 125W flash charging technology will make their debut inside its smartphones. However, going by the company's previous track records, a consumer product should not be far away.