If you follow my reviews, you know that I come across a lot of premium ultrabooks and convertibles. Then of course, there's the occasional gaming laptop or mobile workstation. But Panasonic's Toughbook 55 is something that's entirely different from the rest.
Panasonic is an industry leader in the rugged PC market. That means that you can take a Toughbook into the field and not worry about it getting damaged. When I was briefed on the Toughbook 55, which is considered semi-rugged, I was given the example of a soldier in a battlefield. After I received it, I proudly showed a friend that I could drop it on the floor without worrying about it. There wasn't even a scratch.
But there's so much more to this PC. Almost every part of it is upgradeable or repairable, and it has three bays for modular accessories, called expansion packs. Along with the PC, Panasonic also sent me a variety of expansion packs. Everything about it is customizable to the user's needs.
Despite the fact that it's heavier and thicker than most PCs that I come across, the Toughbook 55 is just awesome.
Specs
CPU
Intel Core i5-8365U vPro processor 1.6GHz with Turbo Boost up to 4.1GHz, 6MB cache
GPU
Intel UHD Graphics 620
AMD Radeon Pro WX 4150 (expansion pack)
Body
10.7x13.6x1.3 inches, 4.9 pounds
Display
14 inches, 1920x1080, 1000 nits, touch, anti-reflective/anti-glare, day/night mode
Audio
Integrated dual speakers (up to 92db)
RAM
8GB DDR4-2133
Storage
256GB M.2 SSD
Battery
6500mAh
Ports
(2) USB 3.1 Gen 1 Type-A
(1) USB 3.1 Gen 1 Type-C
MicroSD
HDMI
Gbps Ethernet
3.5mm audio
Nano-SIM
Windows Hello
IR camera, optional fingerprint sensor (expansion pack)
OS
Windows 10 Pro
Material
Magnesium alloy
Price
Starts at $2,099

Design
Looking at the Toughbook 55 from the outside, it looks more like a briefcase than a laptop. In fact, I never even carried it in a bag. Along the top edge, there's a handle, so you can easily carry it around, and that's exactly what I did.
The Toughbook 55 is meant to be, well, tough. It's considered to be 'semi-rugged', so it can handle a three-foot drop. Panasonic told me that it dropped the PC 26 times from every conceivable angle to test it out, and it's actually MIL-STD-810H certified. MIL-STD-810H is the successor to MIL-STD-810G, and the company says it's the first to use 'H' on a PC.
The top lid is silver-colored, although the PC has a two-tone design with black sides. It's actually pretty stylish in a unique way. The Toughbook logo sits right in the middle of the lid, with the Panasonic logo above it. But none of that is the exciting part.
You'll find a selection of ports on the right side, including barrel charging, USB 3.1 Gen 1 Type-A, USB 3.1 Gen 1 Type-C, Ethernet, a microSD card slot, and a 3.5mm combo audio jack. All of these ports are covered, so you have to flip open the lid to use them. Obviously, this helps to protect from the elements.
There's also a pen in its own housing, and I have to ask about this. Pen support is rare enough in a clamshell form factor, but to include it built into the device is unheard of. Panasonic told me that customers asked for it, and that's the end of the story.
There are more ports in the back, including HDMI, another USB 3.1 Gen 1 Type-A port, and a nano-SIM card slot. The nano-SIM slot is covered by a metal guard that can be removed with a Philips-head screw.
That brings us to the bottom panel, which is even cooler. You'll notice from the image above that there are several panels down there, and that makes everything easy to remove, including RAM and storage. You'll also notice that there are some empty screw-holes. That's so you can secure parts of the PC if you want to.
On the left of the image above is where you'll find the SSD. Below it is a switch, which you can use to pull out the storage. It's that easy.
And then there are the expansion bays. There's one big one and two small ones, which can be used with different expansion packs. For the big one, I used mainly the GPU pack and the SSD pack, which can be used for exactly what they sound like. The only problem is that you can't use both. I'd have really appreciated two of these bays, although that would obviously take up more real estate. You can also use this bay for things like a DVD drive or Blu-Ray drive.
There are two smaller bays, one of which will always be used for a battery. Naturally, you can use the second one for a second battery, allowing you to swap out one while the other is still powering the PC. There are a bunch of other things you can use in this bay though, like an I/O pack, an RFID reader, a fingerprint sensor, and so on. All of the modular accessories can be removed by a switch on the bay.
I mainly used two batteries and the GPU pack. Of course, the more expansion packs you add, the more weight they add to the PC. I didn't care though. This thing is so much fun that it's worth it. Also, I don't notice the weight as much carrying it by a handle than I would carrying it in a bag.
Display and audio
The 14-inch FHD is just as much fun as the rest of the PC. It goes up to 1,000 nits of brightness, which is just wild. I actually set up the Toughbook 55 in a dimly-lit environment, and I wasn't briefed on the product yet. It was a bit shocking on my eyes. It actually goes down to two nits though, which is the minimum for night vision.
There are several night vision settings on the Toughbook 55 too. You can set it to green, red, orange, grayscale, and you can invert any of those. You can also cut down blue light by 20% or 40%.
You can also set it to automatically turn on night mode depending on how bright it is where you are, between one and 10 lux. Or you can put it on a timer. All of this can be done in Panasonic's PC Day Night Mode Utility.
As far as audio goes, this thing gets loud, up to 92 decibels, in fact. The idea is that you'll have to be able to hear it in any environment, and the Toughbook 55 delivers. The speakers are placed on both sides of the keyboard, so they fire right up at you.
Keyboard and trackpad
The keyboard is quite good, even if Panasonic's key shapes are weird. If a standard square-shaped key is considered Chiclet-style, then I'm going to start calling this Tic Tac-style. See the Tic Tac logo for more on this.
The key depth is longer than it would be on an ultrabook, but it's pretty standard. The keys feel sturdy enough though, and it has the right resistance for the depth. I was a bit worried about keyboard quality on a device like this, since I wouldn't think that this is made for long periods of typing. I had no problem writing articles on it though.
The keyboard is backlit, and you can choose any color you want for it. By default, you can choose between red, blue, green, and white in the Backlit Keyboard Settings Utility, but that's just the default selection. You can add any color from the spectrum to it.
On a side note, there's a PC Settings Utility that can act as a central hub for all of the separate settings apps, like Day Night Mode, Backlit Keyboard, Camera, Asset Tag Entry, and more. You can also use this app to control other settings. For example, you can turn off pen support, you can turn off touch and leave pen on, and you can change it to touch support that works with gloves.
This is also where you can turn on or off always-on charging, and there's an important one: 802.11a Wi-Fi. When I set up this PC, I 5GHz Wi-Fi networks didn't show up as options to connect to. At first, I thought Panasonic sent me a laptop without dual-band Wi-Fi support, but I soon learned that I had to turn it on in the PC Settings Utility.
But back to the Precision trackpad, which is not clickable. Below it are two physical buttons, which is a setup that I'm starting to get used to on laptops. Physical buttons make it really easy to drag and drop things. The trackpad itself is a bit small, but it's kind of understandable with how much is going on here. It's all down to preference though; you can have a larger clickable trackpad or a smaller trackpad with physical buttons.
4G LTE
Any time a company sends me a PC that has 4G LTE, I'll give it a shout-out in the review. This is 2019. All devices should be connected to the internet all the time.
From a user standpoint, 4G LTE is awesome. You're connected from wherever you are, and you don't have to worry about the hassles of public Wi-Fi. When you're at Starbucks, you don't have to hand over your email address that will put you on a mailing list. When you're in a crowded place, you don't have to worry about the slow speeds of the congested network. When you're in an airport lounge, you don't have to look around for the Wi-Fi password. It just makes life easier to just be connected.
From a business standpoint, 4G LTE is more secure. Public Wi-Fi networks are notoriously unsecure, so that's one less thing to worry about. Also, someone in the field might not have access to public Wi-Fi.
Cellular connectivity is just a great feature. Yes, it still comes at a premium, both in the form of more expensive hardware and a monthly fee from the carrier, but it's totally worth it.
Performance and battery life
The Toughbook 55 that Panasonic sent me includes an Intel Core i5-8365U, which is the vPro Core i5 from the Whiskey Lake U family. It's a quad-core CPU with eight threads and a 15W TDP. Of course, you can also choose a Core i7-8665U, which is the same kind of chip.
It comes with integrated UHD Graphics 620, but if you want dedicated graphics, there's the GPU expansion pack. You can pop a dedicated GPU in there any time you want, although it's recommended that you power down before swapping it out. And that's the really cool thing about the Toughbook 55. It's just so customizable. The only real thing that you can't swap out easily is the CPU itself.
As far as real-world performance goes, it's fantastic. It got the job done from wherever I was, especially considering that it comes with cellular connectivity. For productivity tasks, it flew. For GPU-intensive tasks, it struggled a bit, although the GPU pack isn't exactly an RTX 2080. Still, it gives you that extra boost when you need it.
Battery life is incredible, especially when you're using both batteries. Panasonic says it gets 20 hours, or 40 hours with two batteries. That's based on MobileMark 2014. In real life, you're looking at all-day battery life, which is what counts. And that's with the GPU pack installed, 4G LTE turned on, and brightness turned up. If that's not enough though, you can hot-swap the battery. When one of the two batteries is dead, you can pull it out without powering down the PC.
For benchmarks, I used PCMark 8 and PCMark 10. PCMark 8 had three tests: Home, Creative, and Work. PCMark 10 has an all-in-one test.
| | |
| --- | --- |
| PCMark 8: Home | PCMark 8: Creative |
| | |
| | |
| PCMark 8: Work | PCMark 10 |
| | |
| | |

The benchmark results are right about where you'd expect them to be for a U-series Core i5. Like I said, the performance is great, especially for productivity tasks.
Conclusion
Like I said in the beginning, the Panasonic Toughbook 55 is just so cool. It's a geek's dream. You can easily swap out components, there are modular accessories, there are different night vision modes, and you can even make the backlight of the keyboard any color you want.
Of course, this really isn't made for geeks. It's made for businesses, and their workers that are heading out into the field, sometimes in extreme conditions. It's for people that might not have access to Wi-Fi where they're going, or even access to power. If you buy one just to geek out over the cool features, I wouldn't hold it against you though.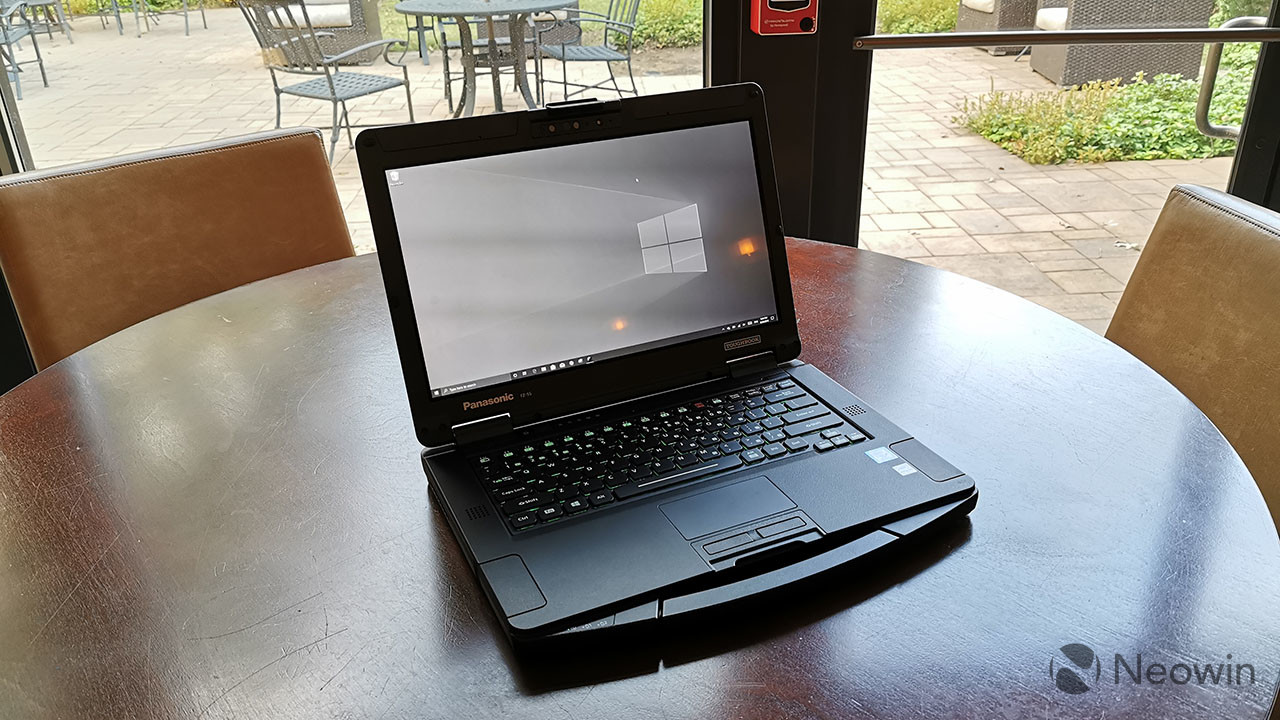 This is usually where I say the things I don't like about it, but here really isn't much. It's heavy and thick, but that comes with the territory here. The trackpad is a bit small and it's not clickable, but that's not a deal-breaker.
The good far outweighs the bad with the Toughbook 55. Aside from the modular accessories, you get 4G LTE, an awesome display, a semi-rugged design, and more. It starts at $2,099, and you can check it out on Panasonic's website here.
Pros
Modular accessories Swappable parts Customization options 1000-nit display Battery life
Cons
Thick and heavy Trackpad small and not clickable