We currently live in the age of the consumer, there is no limit to what you can buy. The recent years have seen the advent of various monthly subscription services in the world of gaming. Big names like Microsoft, Sony, Apple, Google and Amazon have all jumped on board and released similar products.
Such gaming services can be quite convenient as they provide users with value for money and can usually be cancelled at any time. Today we will consider two subscriptions provided by Sony, PlayStation Plus and PlayStation Now, which cater to PlayStation and PC users. While the former has been around since 2010, the latter came around about four years later.
A very common question that so many PlayStation owners are plagued with - myself included - is "Which subscription should I choose?". To help our readers solve this conundrum, we will analyze both options and tell you which one is the right choice for you.
What each subscription offers
PS Plus is a subscription which offers members two free games for the PS4 and recently, one extra for the PS5, exclusive PS Store discounts, exclusive added content, 100GB of cloud storage and access to a collection of 20 classic games only on the PS5. It also enables online gaming and is a requirement for almost all multiplayer games except for free-to-play titles like Apex Legends or Fortnite. Once the PS Plus subscription expires, members lose access to their PS Plus library until they activate their subscription again.
PS Now is a cloud gaming subscription which allows users to stream or download select titles from the PlayStation 2, PlayStation 3 and the PlayStation 4 on the compatible platforms. Like PS Plus, once the monthly pass expires, players no can no longer access any of the games that they may have downloaded or streamed before. PC users need a DualShock 4 or any other compatible controller to play, and can only stream games from the service, not download them.
Price and platforms
The PS Plus subscription costs $9.99 per month, $24.99 for three months, or $59.99 for 12 months. Initially, the PS Now service used to cost more but the prices changed in October 2019. Following the change, PlayStation Now costs exactly the same, $9.99 for one, $24.99 for three or $59.99 for 12 months as the PS Plus.
While the PS Plus membership is limited to the PS4 and PS5, PS Now is available on both the Sony consoles as well as PC.
Collection of games
PlayStation Plus offers three free titles each month. Apart from that, it also has a library of 20 games that players can download. This library is called the PS Plus Collection and it's only available on the PS5. All games can only be kept as long as they are active members.
The PS Plus Collection has the following list of games:
Bloodborne
Days Gone
Detroit: Become Human
God of War
Infamous Second Son
Ratchet and Clank
The Last Guardian
The Last of Us Remastered
Until Dawn
Uncharted 4: A Thief's End
Batman: Arkham Knight
Battlefield 1
Call of Duty: Black Ops III – Zombies Chronicles Edition
Crash Bandicoot N. Sane Trilogy
Fallout 4
Final Fantasy XV Royal Edition
Monster Hunter: World
Mortal Kombat X
Persona 5
Resident Evil 7 Biohazard
The PlayStation Now Library, on the other hand, has over 800 games in its arsenal. However, these games don't always stay in the collection permanently. From time to time, new games are added and old ones are given the boot. All of them are playable on the PS4, PS5 and PC.
Some of the current titles on the PS Now Library are:
Call of Duty Black Ops III
Detroit: Become Human
Ratchet and Clank
Uncharted 2: Among Thieves
Uncharted 3: Drake's Deception
Uncharted: Drake's Fortune
Darksiders Genesis
WWE 2K Battlegrounds
The Crew 2
Frostpunk
Surviving Mars
Little Nightmares
Horizon Zero Dawn
Darksiders III
The Surge 2
Wreckfest
Metal Gear Solid V: The Phantom Pain
Mafia III
A comprehensive list of all PS Now titles in the collection at the moment can be found here.
Requirements
It goes without saying that an internet connection is required to access both PlayStation services. When it comes to PS Plus, users can download their games and play them offline unless they are playing online multiplayer titles. So once the games are downloaded, users don't really need a connection.
Unfortunately, for most of the PS Now titles, subscribers need to stream the game. Therefore, at least a minimum speed of 5Mbps is required at all times. Only a few games from this collection can be downloaded while most of the games, including some popular titles like God of War and the Uncharted franchise, are only available to stream.
Availability
The Playstation Plus service is available in 73 countries around the globe. Different regions have different content depending on the rules and demands of the area. The full list of regions where people can purchase PS Plus can be found here.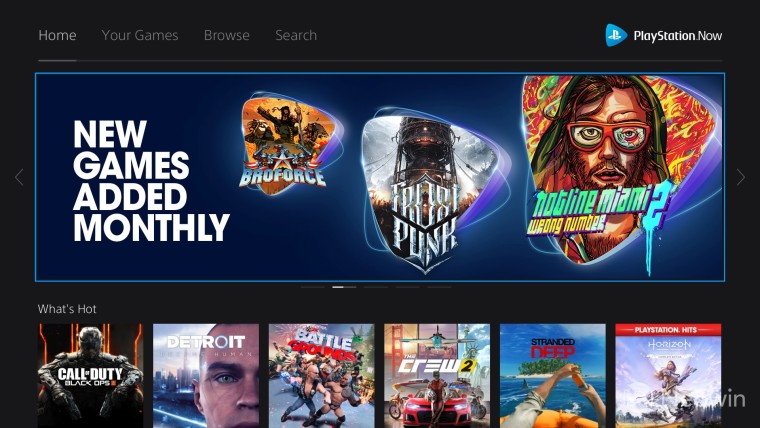 Meanwhile, PS Now is available in far lesser territories than PS Plus. As of March 12, 2019, the PlayStation Now service is only available in 19 countries. These are Austria, Belgium, Canada, Denmark, Finland, France, Germany, Ireland, Italy, Japan, Luxembourg Norway, Portugal, Spain, Sweden, Switzerland, the Netherlands, the UK and the U.S.
Conclusion
So, after considering all the above factors, which one should you choose? Well, the answer actually varies from person to person. Obviously, if you are situated in a region where either or both gaming subscriptions aren't available, you can't get them. However, if you have both options available, you'll need to consider your gaming needs to select the right one.
Our recommendation is that if you don't play online multiplayer, like to play on the PC as well as console and have a really good internet connection, go with PlayStation Now. It has a huge selection of games that you can play as long as they're in the library. You may not be able to download them all, but that's a small price to pay for access to such a large collection. The service provides true-blue bang for your buck.
On the other hand, if you play online multiplayer, frequently purchase games or lack a stable internet connection, opt for the PS Plus service. Although it doesn't offer many games, it does give you three games per month, access to 20 classic titles on the PS5, 100GB of cloud storage, a ton of discounts, and exclusive content.
If you have a nice fat disposable income and both offerings have something essential to you, we would suggest you choose both of them! An active PS Plus subscription is mandatory for almost all multiplayer on PlayStation consoles so it's a very logical choice. In fact, both monthly memberships complement each other as the cloud storage of the PS Plus helps you store your PS Now games. If you can afford it, why not?
Which subscription service - PlayStation or otherwise - do you prefer? Do you think we missed out on any important factors? Let us know in the comments below!
As an Amazon Associate, Neowin may earn commission from qualifying purchases.