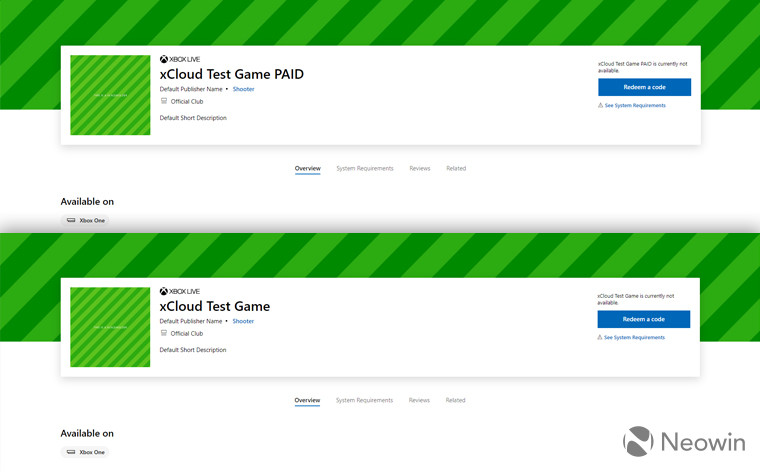 With xCloud's second round of public testing scheduled for August at gamescom, the reveal of more details is to be expected, either via official, or not so official means. One such detail pertains to what is possibly a tiered solution for Microsoft's upcoming game streaming network.
As a refresher, back in October of 2018, Microsoft announced its take on the shift towards game streaming, Project xCloud. Since then, it has talked about the service technically supporting over 3,500 games, what's inside a server blade powering xCloud, as well as offering public hands-on sessions at E3 2019. Another tidbit revealed at this year's E3 was that xCloud would enter its preview stage in October.
As gamescom draws near, there's a new bit of information that comes courtesy of WalkingCat on Twitter, who points to a duo of xCloud-related Microsoft Store listings.
While quite sparse in terms of detail - due to their placeholder nature -, the listings do differentiate between paid and presumably free xCloud test games. This could mean that Microsoft is taking a similar approach to Stadia, offering both free and paid tiers, though there's obviously nothing to go on in terms of price.
One thing to keep in mind is that Microsoft is already offering a combo subscription dubbed Xbox Game Pass Ultimate which brings together Xbox Game Pass for PC, Xbox Game Pass for Console, and Xbox Live Gold at $15/month. It's possible that the company could integrate xCloud in the subscription too, if it so desired.
What's your take on the tiered game streaming offering? Sound off in the comments below!