I have to admit that, even though I appreciate what Forza is and how important the franchise is to Xbox, I've never fully played a single game. One of the reasons is that my smaller friends list is rarely populated by Forza players but, more importantly, I've never been patient enough to get good at any of the games and see them through to the end. That's not a knock on Forza so much as it is a testament to my laziness when it comes to digging into games outside of my comfort zone, and Forza is outside of my comfort zone. Perhaps that's why Forza Horizon 3 is the perfect racing game for me.
Having played bits and pieces of a few different Forza games, most recently the Fast and the Furious mod that stemmed off of Forza Horizon 2, I know exactly what I'm getting into when I fire up Playground Games' latest racing title. I expect gorgeous and exotic cars and variable terrain with a gated liberty in how I shape some big racing event that is going on around me. While Forza Horizon 3 is exactly that, it's also so much more.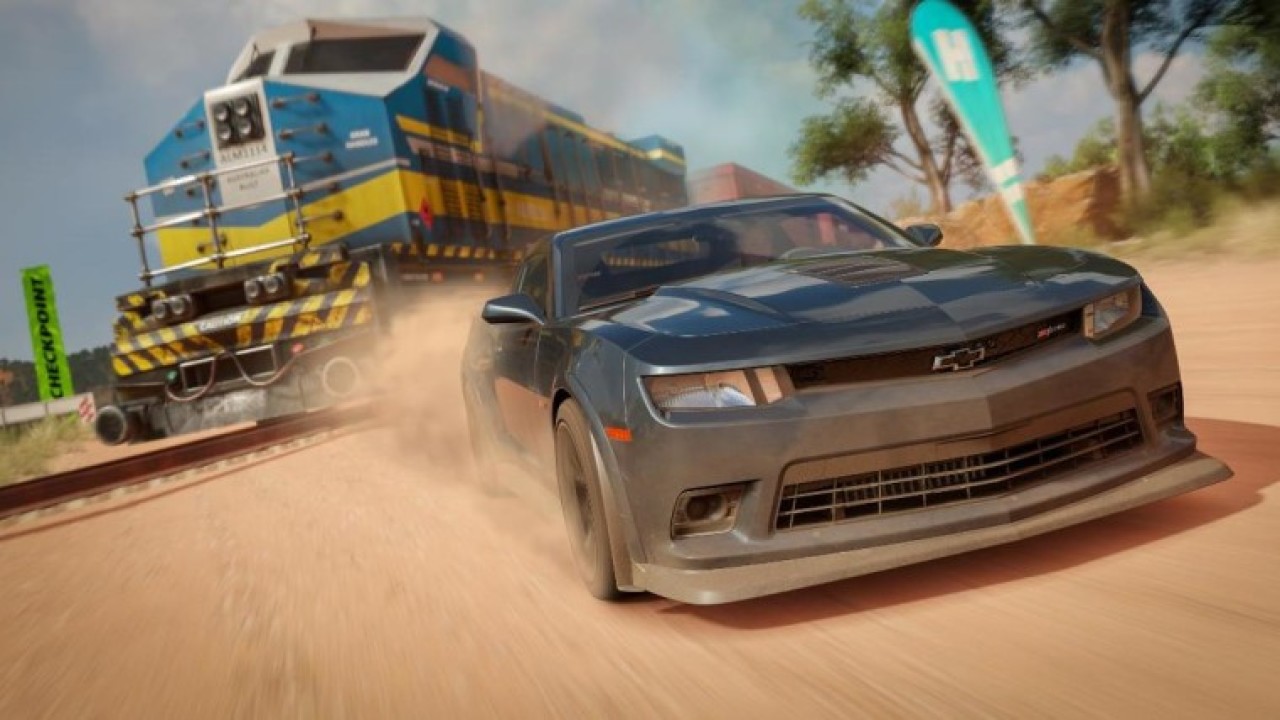 As the franchise has matured, Playground Games has honed its craft and really tapped into the available hardware on the Xbox One. When the console first launched, it was Forza 5 that lead the charge graphically, alongside Ryse: Son of Rome. Those two titles were a showcase of what the Xbox One could do in its infancy but both took a serious amount of work to get to where they ended up - something other games early on failed to replicate. The graphical output of 1080p and maintaining a framerate of 60 FPS is a heavy task for any studio trying to put together something as rich, vibrant and real as Forza on an Xbox One, but the fact that the XB1 version is limited to 30 FPS doesn't hurt the visual appeal of Forza Horizon 3 and keeps things par for the course when the game's predecessors also kept to 30 FPS. If you play the Windows 10 version, there is no frame cap and there's 4K support (OMG Horizon 3 is gorgeous on PC).
Forza Horizon 3 also carries over nearly every aspect of its control schemes and handling/feel from previous games. That is an important bit of information for anyone that isn't familiar with what Forza Horizon is. Yes, there is a lot of openness and off road fun to be had, but it still behaves like the racing simulator that Forza is. As a result the game can be a huge turnoff for anyone that isn't willing to be trained to be a good driver. It's not like other popular racing franchises that allow you to take sharper corners at 120 mph or cut through grass like it's pavement. If you go off road, you're going to slide a LOT more than you do on pavement. If you hit a large pool of water, you're going to lose a lot of speed.
Forza Horizon 3 is good about utilizing your Xbox One controller's four vibrating motors to give you immersive responses, when applicable, that let you know you may not be on the best racing surfaces. While the game isn't overly harsh or 100% realistic in everything, there's no denying that impatient or heavy-footed drivers are going to find themselves off-road or in a front yard of some house frequently until they can learn to drive in every scenario the game throws their way. It may not be as immediately fun but you will find more pleasure from mastering a Forza game than other racers.
While Forza Horizon 3 is very much a racing simulator, it sets itself apart from other games in its class with the go anywhere/do anything mentality that's found in each Horizon game. That open-world approach has proven more and more successful in bringing in the gamers that aren't hardcore racing fans. That open-world approach also allows for some creativity to take place during your races, like daring shortcuts where you can assess whether the risk of leaving the road is worth the reward of cutting time off of your lap.
For instance, I undertook a Rivals event to enlist a new driver in my Racing Lineup (Comprised of Drivetars, real people's racing profiles, that help you progress through the game faster) and, instead of driving the 1.8 mile route the GPS asked me to follow, I literally drove through a field of long grass and over a set of train tracks to the finish line that was maybe just over 1/4 of a mile away. I beat the Rival with great ease because I cut a huge portion of the race and avoided crashing into the trees that could have stopped me completely. That's a big part of what makes this version of Forza so awesome: being able to play outside the traditional style of pro racing.
Granted, not every event allows you to go your own way. Sometimes cutting corners will hurt your odds of winning a race. Though the freedom is there, it doesn't mean you should always embrace it. Still, there's so much variation that can detail a race, like storms that roll in during a race or the way a track is laid out. These elements should help Forza Horizon 3 stay fresh for players for many months after jumping into the game for the first time.
While there are many carry-over features from previous Forza games, there are a few new elements to it that open up the playbook when it comes to how/where/what you race. That's because Forza Horizon 3 let's you be the boss of a Horizon event instead of just another participant. Instead of being another race war in beautiful locales, Forza Horizon 3 asks you to create a popular event as well as participate in it. You're able to set up events with a fair amount of detail and play out those events to earn credits and experience. You're guided through the process, just like many other aspects of the game early on, so that you can be a competent race creator as the game progresses.
There are some fun, smaller features in Forza Horizon 3 as well. One of my favorites is the inclusion of a Cortana-like voice assistant for the game, named Anna. If you have a Kinect hooked up to your Xbox One or Windows 10 PC, you can ask for directions with your voice to the next nearest event or ask for suggestions on what you should do next. It's not something every gamer is going to take advantage of because, let's face it, there are many gamers that don't have a Kinect, though the assistant can be accessed through the D-pad as well. For the ones that do embrace voice interactions with Anna: it's a cool way of streamlining information and guidance without having to disrupt the flow of the game.
As you complete more races and earn more experience, you'll not just unlock new cars but new skills as well. Forza Horizon 3 features a Skill Shop that enables you to gain access to new abilities that will assist you in earning more credits/XP as well as help you find hidden items or improve the effectiveness of something like a Skills Multiplier. Forza Horizon 3's Skills Shop is definitely borrowed from systems that make RPGs popular, and for good reason: you're making the experience your own and building your racing career your way. Good on Turn 10 for embracing those kinds of ideas to grow the franchise in meaningful ways.
Playing these kinds of games with friends only enhances the experience. That's no secret and Playground Games definitely made sure to improve its online multiplayer experience, which is why Forza Horizon 3 incorporates the franchise's best online setup to-date. You can be heavily focused on a race and, before you know it, a chopper is dropping in a friend's car to pick up and compete with you for the remainder of the event. I have to give props to Playground Games because it's not just cool to be able to join a friend's race in progress, it's done with great style. You can also join a friend while they're free roaming the game just like previous Horizon titles and cruise around as you see fit. Not everything has to be a race.
While there's so much more I can say about Forza Horizon 3, you really need to experience it for yourself. This is a game that focuses heavily on refining what was already there and only a little bit on exploring new ideas. Yes, the world you'll race around in is much bigger than before and there are a few more things you can do in that world than previous games, but it's the precision in which everything operates in Forza Horizon 3 that makes this game so great.
The only detractor I could come up with is the fact that the is hardly any narrative to follow in this game. Traversing the open regions of Australia is great fun but I would like to have a little more substance to why I'm building a race event. If Playground Games had found a way to invest for in that area I think this would have been the greatest racing game for me, ever. The lack of story doesn't kill the experience and keep everyone away but it could prevent some from ever embarking on these adventures through the Outback. What won't prevent gamers from embracing Forza Horizon 3 is the quality at which everything in the game is executed - from the way everything looks to the way everything behaves under various conditions, Forza Horizon 3 may very well be the best Forza yet.
Pros
Beautiful scenery Freestyle racing Great multiplayer features Everything is customizable
Cons
Vague narrative Won't appeal to everyone