The ongoing pandemic and the resultant economic difficulties have inversely affected smartphone sales this year. Shipments for Q2 2020 reportedly fell by 20%, marking one of the worst declines in recent history. However, a new report from research firm Strategy Analytics (SA) – obtained by Korean news outlet, Pulse – forecasts that the overall shipments for 2020 could fall by 11%, amounting to 1.26 billion units. The numbers are part of a revised report, which earlier pit the decline at 15.6%.
The research firm adds that the revised predictions are thanks to "higher-then-expected recover rates" in markets like the U.S., Europe, and India. While the overall yearly shipments in 2020 are expected to be lower than 2019, the firm predicts a 9% market growth in 2021. However, sales are expected to match trends from 2019 only in 2022.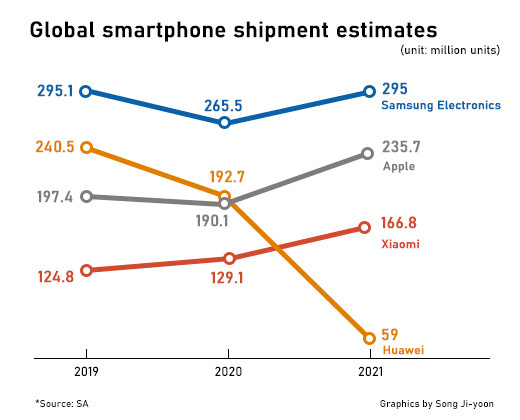 The research note also includes OEM specific market share details. Though Samsung has been hit the hardest this year, the South Korean giant is expected to maintain global market leadership – contributing to 21% (265 million units) of total market share. Apple is expected to overtake Huawei for the second spot, gaining 15.3% market share with shipments of 192 million units. The chart, however, seems to have an error, as it displays Huawei at the second spot.
For next year, however, Huawei could lose a larger percent of its share, falling to just 4.3%, due to problems with procuring components for its chips. Apple and Samsung are expected to cash in on the lack of supply, with Samsung recovering lost volumes in 2021 and Apple gaining a significant increase in volumes. Other China-based OEMs such as Oppo, Vivo, and Xiaomi are also expected to benefit from increased sales opportunities in the lower-end and mid-range smartphone market.
Source: Pulse