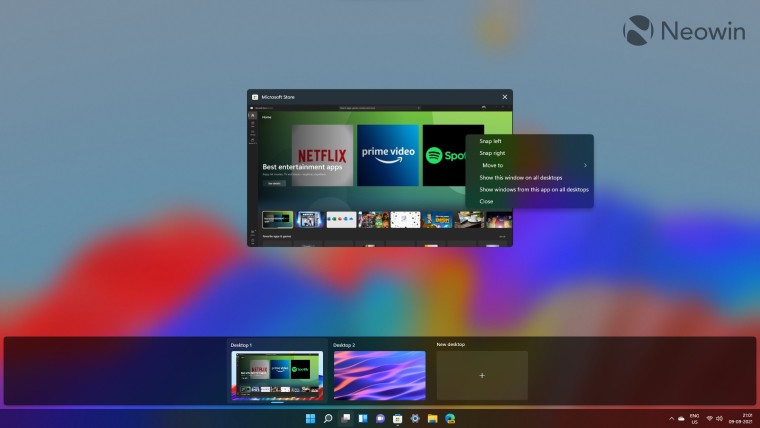 Windows Virtual Desktop Helper is a small utility that is meant to provide a bit more convenience when one is using virtual desktops. The app works in Windows 11 and Windows 10, but with the latest version 1.8 update, it now supports Windows 11 Insider builds as well.
Here are the salient features of the app followed by the changes and bug fixes in the latest 1.8 release:
Features

Show desktop number in notification area
Show desktop name when switching desktops
Show prev/next desktop by clicking icons in notification area
Autostart with Windows
Simple and lightweight
Configurable
Free

Changes

Improved fallback attempts to other Windows APIs if initial guess doesn't work

Fixes

Support Windows 11 Insider builds
In testing the new version in Windows 11 Dev channel build 25247, it seems to work nicely. The default position of the overlay is in the center (as shown below), but one can move it up or down, left or right, inside settings. The settings also provide options to make the overlay translucent, add fading effect, and choose the overlay duration.
Bear in mind though that the Windows Virtual Desktop Helper app is new and unsigned at the moment, which means Windows Defender and other anti-malware solutions will block it. If you don't trust it enough, it is perfectly fine to skip it, but the code is available on GitHub and hence can be fully scrutinized.
Via: Deskmodder