Today, Microsoft announced that the Windows 10 April 2018 Update, or version 1803, is fully available. Since it was first released in the beginning of May, it has been installed on over 250 million devices, including PCs, Xbox One consoles, HoloLens, IoT devices, and more.
The company says that to reach the milestone of 250 million devices, it took less than half of the time as the Fall Creators Update. It's also worth noting that Windows 10 was installed on over 600 million devices as of late November, and now it's approaching 700 million.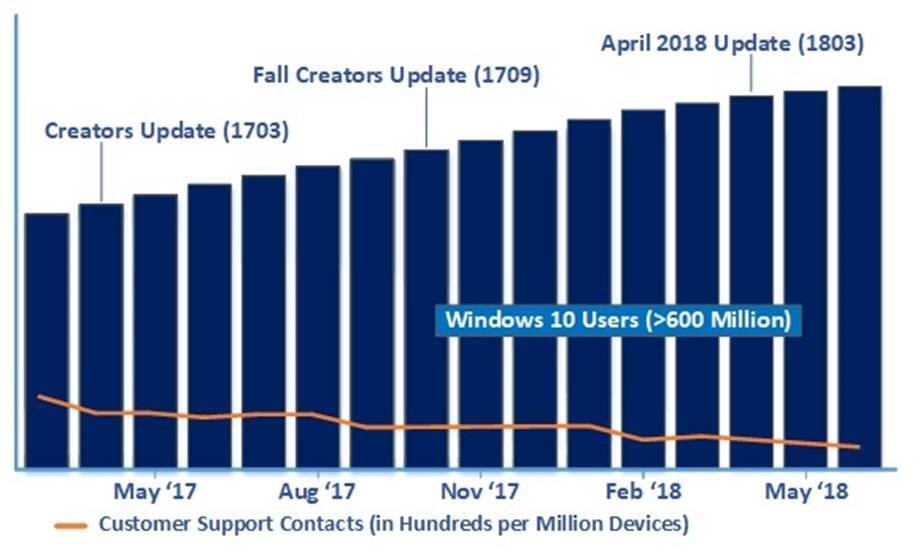 Microsoft gives the credit to artificial intelligence. With Windows 10 version 1803, it says that based on feedback on certain devices, it automatically delivers the update to similar devices, rather than having actual people test it out.
What the firm didn't mention, however, is that it drastically changed the way that updates are delivered with this version. Previously, if you hit 'Check for updates' and the feature update was offered, that meant that Microsoft had decided that your hardware is ready for it. This was the nature of a staged rollout, and if you didn't want to wait that long, you could use the Update Assistant or Media Creation Tool to force the process.
What's changed in version 1803 is that now, if you hit 'Check for updates', Windows Update assumes that you want to force the process. It's long been recommended that users install security updates on Patch Tuesday, but on May 8 when cumulative updates were offered, anyone trying to get them through Windows Update ended up with 1803, unless they waited for them to be delivered automatically or downloaded them manually through the Microsoft Update Catalog.
Microsoft didn't make a note in its blog post about how many people running the Windows 10 April 2018 Update likely initiated the installation by accident, causing problems for their device. No, the credit all goes to artificial intelligence, as the feedback from those users is what created the basis for other installations, and today's decision to make the update broadly available to all compatible devices.
And the company said that due to its new process, it's seeing "higher satisfaction numbers, fewer known issues, and lower support call volumes compared to previous Windows 10 releases." An example provided is when customers were noticing a black screen issue, Microsoft spotted the issue in its support forums (not telemetry, or even the Feedback Hub, for that matter), and within 24 hours, it blocked PCs that might be affected from upgrading to the new version.
If you want to upgrade your PC to Windows 10 version 1803, it should now be waiting for you in Windows Update.