Windows Store Weekly is a weekly round-up of what's been going on in the world of Windows apps, from the most prominent and anticipated, to the bolted and patched, and the fresh and promising, while also scooping up leaks, both official and unofficial.
The last week has been pretty exciting for the Windows Store, and this week is no different. There is some bad news that is bound to lead to a bit of frustration, but there are lots of good things to talk about too, so kick back and read on.
If you've been waiting for the official rollout of Windows 10 Mobile to your Windows Phone 8.1 device, it's finally happening, and Microsoft has built an app called Upgrade Advisor that you have to use in order to start the process, as it is currently opt-in.
The bad news is that not all Windows Phone 8.1 devices will get an official upgrade to Windows 10 Mobile as initially promised, however that doesn't mean you're out of options, as you can still upgrade using our guide here. Note however that this only works with devices with at least 8GB of internal storage that were previously eligible for the Windows 10 Mobile Insider Preview.
Microsoft has also dropped the latest Windows 10 Redstone build for desktop and mobile Windows Insiders in the fast ring, and besides the introduction of new features like extension support for Microsoft Edge, the Insider Hub and Windows Feedback apps have been fused into a single app called Feedback Hub. It's not a Store app, but it is worth mentioning as it can also be used to improve Microsoft's own apps that are available in the Windows Store.
The Feedback Hub app does come with a few new things of its own, such as improved layout that greets Insiders with the latest headlines and quests, and a search box to jump right into searching and upvoting feedback by other users. Another interesting change is that Microsoft engineers can now comment on your feedback, too, instead of just being able to stamp the boring 'Received' on your post.
A big piece of news for the Windows Store is that later this summer, the Xbox Store will be merged into the Windows Store, allowing Xbox users to run UWP apps, albeit in a staggered approach. This convergence is part of a bigger strategy meant to improve the Xbox experience and drive developer interest in UWP, and we'll likely find out more at the upcoming Build 2016 conference later this month.
Twitter's Windows 10 app was only available for desktop until this week, when it finally landed on Windows 10 Mobile. Now you can not only enjoy a redesigned UI on phones, but also get a much-improved experience and several important features that have been missing for far too long, such as Moments:
Find the best of Twitter in an instant with Moments. Follow top stories through immersive pics, clips and conversations. Get insights and perspectives you won't find anywhere else.
Group Direct Messages: Have a private conversation with a group of your favorite people.
Quote Tweet makes it easier to add your own comments to other people's Tweets.
Now you can shoot, edit and share video on Twitter. Capture life from your perspective, and share it with a global audience — instantly.
Conversations have a new look! They're easier to find and fun to join. A blue line in your home timeline indicates a conversation between people you follow.
Microsoft has updated the Office Mobile apps that mostly improve the inking features introduced earlier this month, but OneNote and Sway were the ones to receive more significant updates. After updating Word Mobile, PowerPoint Mobile and Excel Mobile, you should be greeted with a few screens that showcase the recent changes.
The updated OneNote app features support for embedded video, easier management of handwritten notes, collaboration within shared notebooks, and you can now bring the interactive Sways that you make directly into your notes as simply as just pasting a link:
Play your favorite videos from YouTube, TED, Office Mix, and more in OneNote! Paste the link into a note, grab some popcorn, and enjoy the show.
Create your own interactive web story with Sway and then embed it in your notes by pasting a link.
Right-click a selection of handwritten notes or drawings to group them together.
After that it's easy to move them around as one piece. See who's working with you in a shared notebook.
We listened. If you only use OneNote at the office or in class, you can now sign in with just a work or school account.
The Sway app has received a slew of updates, some of which were announced earlier this month. The changes include support for additional languages, the ability to add Living Images made with the Windows Camera app in Windows 10, and UX improvements - such as easier editing, the ability to navigate a Sway story in multiple ways, improvements to rendering performance, and preventing your device from going to sleep while viewing a presentation in full-screen mode:
New Languages — Sway now supports 14 additional languages.
Living Images — Sway now supports Windows 10 Living Images, bringing more life to your stories.
Viewing Navigation — While viewing any Sway, you can now select your preferred navigation style.
Recent Documents — Using your Microsoft Account, it's now easy to find documents on your OneDrive sorted by work you've done most recently and then drag and drop them right into your Sway.
Faster Viewing — Viewing Sways with multiple photos is now a faster, more fluid, and responsive experience.
Recycle Bin — Any Sways that you delete are now moved to the Recycle Bin, so you can recover them again for up to 30 days.
Full-Screen Improvements — Your device won't go to sleep while presenting or viewing a Sway in full-screen mode.
Preview Edits — Making quick edits to a Sway directly in Preview mode is now improved with the full set of text editing options.
Emphasize Cards — It's now easier to change the emphasis level of Cards to showcase content and make it stand out.
Miscellaneous — We've fixed several bugs in this release.
Another Microsoft app to receive the Windows 10 treatment this week is the Outlook Groups app, which now has a UI more in line with the new design guidelines, including support for an inverted theme and high contrast. The collaboration app for Office 365 groups also features improved stability and support for multiple attachments, along with a better conversation view.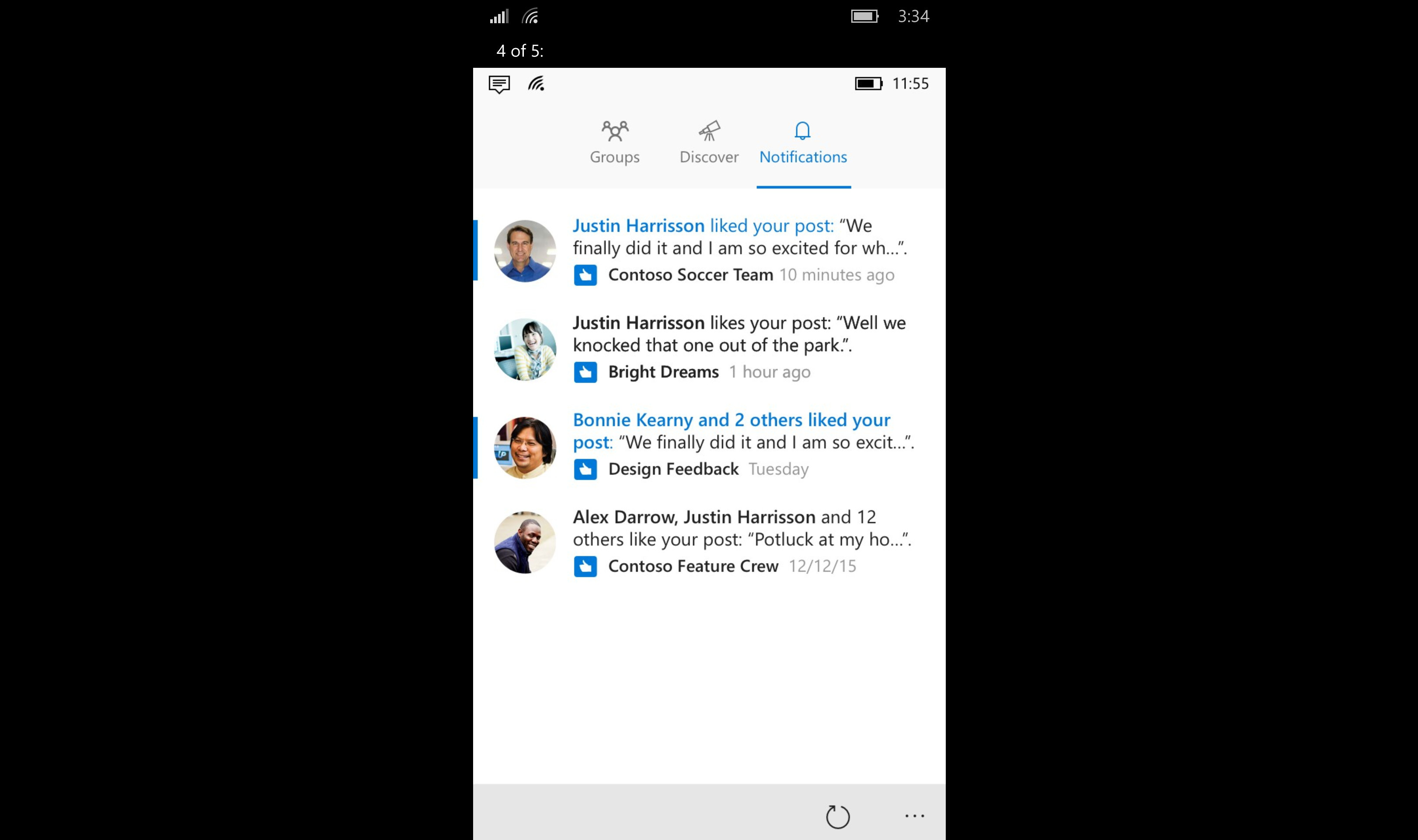 The Slack Beta for Windows phones has received a few updates that should solve a few headaches for users, including a conversation bug that prevented direct messages to new team members, as well as an isolated access issue that affected very few users:
Fixed: Some users couldn't get in via SSO. We've now added an alternate way for those few lost users.
Fixed: A l'il bug that meant a very few people couldn't access the app as it kept forgetting who they were. A very rare case but now hopefully resolved. Sorry again, those people.
Fixed: A prickly DM conversation bug where users were unable to DM other team members unless they'd had previous message history with them. But talking to new people is good! We've embraced that now.
The Line app that was recently launched for Windows 10 PCs is now available for phones as well, making it a Universal Windows app both in name and in practice. Along with several bug fixes and performance optimizations, the Line app on phones now has the same key features as the PC version:
High-quality voice and video calling
Instant messaging
Timeline - share text, photos and videos with your friends
Stickers
HERE is fleeing
If you've been keeping up with the news, the latest brand to ditch Windows users is HERE. The HERE apps will still be available for Windows 10 Mobile until the end of this month, but they will stop working completely at the end of June 2016. As for the people who don't upgrade to Windows 10 Mobile, the HERE apps will continue to work past that date, but will only receive "critical bug fixes", because HERE can't sever their deep integration with Windows Phone 8.x.
Even if you weren't using the apps yourself, this is still bad for the health of Microsoft's mobile ecosystem, which is something that we have to accept no matter how much we love Windows devices. Despite all this, there is a bit of good news, as Microsoft is apparently hard at work improving the Windows Maps app in Windows 10, however you have to run the latest Insider Preview from the Redstone branch if you want to see those changes.
If you don't have time to play with installing preview builds of Windows 10, you can watch our hands-on with build 14291 to see the updated Windows Maps app, as well as a quick look at Microsoft Edge extensions. The list of improvements in the latest version of Windows Maps is quite big, but the most notable change is the addition of tabbed searches, which means you can now quickly switch between them, and you can also layer them on top of each other to plan a trip.
LastPass has unveiled its own two-factor authentication app this week, and you can grab it for free in the Windows Store. The LastPass Authenticator app supports the classic user-generated TOTP (Time-based One-Time Password) and SMS codes, and you can use it to log into your LastPass Vault with just one tap on a push notification.
This week, the Straw polling app for Windows phones has received the same updates as its iOS and Android counterparts, including endless scrolling for easier navigation, notification support for new polls that appear in a category of interest, as well as polls that you've already voted on, so that you can keep track of the results.
There were lots of other apps that received updates this week, mostly in the form of bug fixes and performance optimizations. A few of them are:
Fresh and promising
There is no shortage of new apps in the Windows Store this week, but we've rounded up a small selection of apps and games that looked promising.
If you have a kid who is a big fan of Disney characters, you may be interested to know that Gameloft has launched a new game called Disney Magic Kingdoms earlier this week. Available on both PC and mobile, the game is a combination of free-form construction and story-telling through quests that involves various characters. The game is free to download (mind the data charges), and offers several in-app purchases.
Ryken Studio is perhaps best known as the developer of the popular YouTube client called myTube!, but this week it has released a major revision of an app called Photo Shader. As the name suggests, it is a Photoshop-like app, and it offers the ability to edit pictures with an almost real-time preview of the result image:
The Photo Shader app is free to download for basic use, and you can purchase the "Pro Pack", which gives you access to over 40 effects and filters for just $2.99. Other noteworthy features are the ability to selectively apply filters to areas of interest, as well as remove an individual effect from the history without having to undo all the other ones.
It's also worth noting that Photo Shader is a UWP app, and a quality addition to the pool of Windows 10 apps.
For those of you who don't know, Todoist is a popular task management app that helps you keep organized and work more efficiently whether you work in a team, or alone. While it has been available on PCs since November 2015, it landed on Windows 10 Mobile a month ago, making it yet another quality addition to the UWP family.
As you can probably see right from the 'Preview' tag, Todoist is still a work in progress, but it has been receiving constant updates so far, and this week is no exception, with the app receiving theme support, undo functionality, and several UX improvements. You can grab the app for free in the Windows Store, but it's likely that you'll need a premium subscription to make the most of it, and that will set you back $28.99 per year (or €28.99 if you live in the EU).
Finally, the Deezer Music Preview is another UWP app that landed in the Windows Store at the beginning of this month as a beta, after much anticipation following an announcement from Blogmusik SAS in December last year that Deezer will be making an app that finally has the same features and user experience across PC and mobile.
For those of you who don't know, Deezer is a music streaming service that is quite popular in Europe, and has two tiers: a free ad-supported tier that allows you to listen to standard quality tracks, and a premium tier that burns €6.99 from your pocket every month - but gives you access to higher quality versions of the over 35 million tracks with no ads, as well as offline access and synchronization across devices.
The app itself is promising, as it does away with the different UX that separate apps have offered on PC and mobile in the past. Furthermore, the Deezer Music Preview app features an UI consistent with Windows 10 design guidelines, a menu that gives you better access to important functions, and the signature 'Flow' feature should now work the same across devices.
Things to come
For those of you out there who enjoy creating simple apps with App Studio, there is now a page in the Windows Store for a Windows 10 app that could make the process of installing those apps that much easier for people who are not familiar with PowerShell. The problem is that it doesn't currently work, and Microsoft has made it unavailable for now, as it is still a work in progress.
If reports out there are to be believed, Starbucks might be developing a Windows Phone app. We don't know how many coffee lovers out there own Windows phones, but apparently a tweet from Starbucks Brazil reads that there is at least interest in making it happen. However, take this with a grain of salt, as the app has not been officially announced, and statements such as these can change at any time.
We know that Bank of America has promised to release a Windows 10 app 'very soon', but new information has surfaced this week that points towards a March 28 release. Not only that, but the leak in question also shows a screenshot of what the app looks like on phones, as well as a list of features that indicates this should be worth the wait for Windows users.
WhatsApp is currently conducting a closed-beta of its new app, but that doesn't mean information doesn't get out. New reports on AppRaisin indicate that the developers of the new app are hard at work, with two updates this week that bring support for configuring permissions for media download for groups or individual contacts, as well as the ability to trim videos before sharing.
Here at Neowin, we'd like to know: what apps/games do you want on Windows 10 that are not available yet? Is it time to move one from Windows Phone? Sound off in the comments section below.
If you're interested in the bigger picture of this week in the tech world, have a bite of our 7 Days feature, and if you have the time, there's plenty of interesting discussion on our vibrant community forums.
From all of us on the Neowin team, have a great weekend!