When it comes to smartphones, there are now plenty of quality options available at different price points. In the United States and Europe, the majority of folks who want the best of the best will often gravitate towards brands like Samsung, LG, HTC, and Google. But things are a bit different in Asia, where the likes of Xiaomi, Huawei, and Oppo dominate the field. These are brands you might be familiar with, but for the past few years, they have all been upping their global presence, making their products an alluring option.
Last year, Xiaomi managed to catch the world off guard with its near bezel-less marvel, the Mi MIX. In 2017, the near bezel-less look was adopted by many manufacturers and it also even trickled its way down to more affordable handsets. With its successor, the Mi MIX 2, Xiaomi decided to tighten up the design, making it more comfortable to hold in hand and also made some improvements to its core features. Now that the competition has caught up when it comes to design, Xiaomi is without its design edge, and one has to wonder whether the Mi MIX 2 can hold its own in a very crowded market.
Specifications
Xiaomi Mi MIX 2
Product Codes
Mi MIX 2
Display
5.99-inch 18:9 aspect ratio IPS display
Processor

Qualcomm Snapdragon 835
403 PPI, 1500:1 contrast ratio
DCI-P3 color gamut, high color saturation

Graphics

Adreno 540 GPU

RAM
6GB RAM
Storage
128GB
Connectivity
802.11a/b/g/n/ac, 2.4/5G Wi-Fi
Bluetooth 5.0

GPS, AGPS, GLONASS, BeiDou

Camera

12MP rear camera at ƒ/2.0 with 1.25μm, four axis OIS, PDAF autofocus
5MP front-facing camera
4K video at 30fps, 1080 video at 30fps, 720p at 30fps

Ports
USB Type-C
Sensors
Accelerometer
Barometer
Gyroscope

Ultrasonic proximity sensor
Ambient light sensor
Electronic compass
Hall sensor

Battery
3,400mAh
Launch OS
Android 7.1.1
Launch Date
September 2017
Size & Weight
151.8mm x 75.5mm x 7.7mm
185g
Price
Starts at $465 for 4GB RAM model
Starts at $569 for 6GB RAM model

Design and Display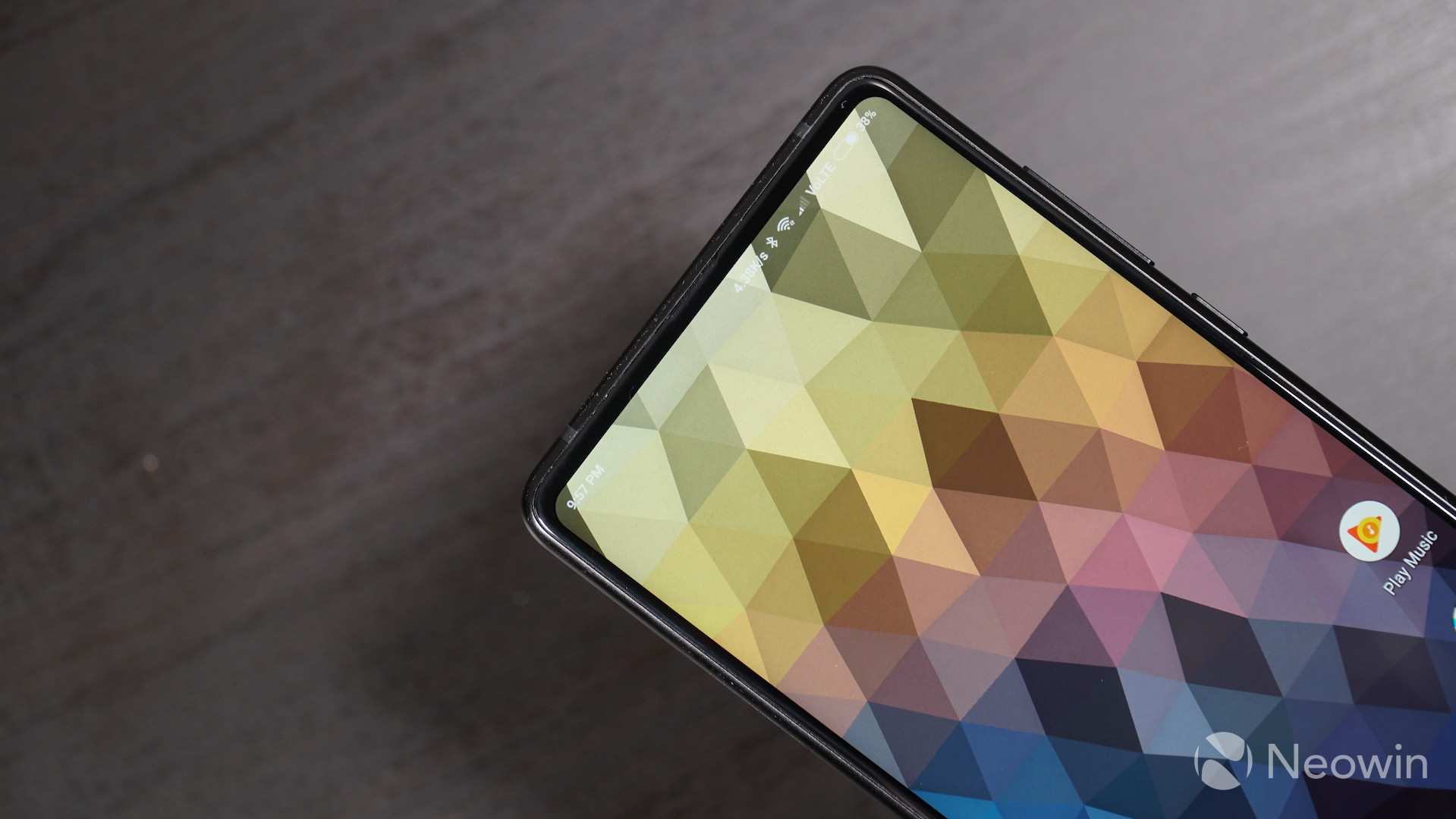 The Mi MIX 2 is a beautiful slab of smartphone that utilizes ceramic and metal for its exterior. The metal is utilized in the bezel and the ceramic layer is present through its rear. It can look quite reserved, but when it manages to hit the light just right, the depth of the ceramic material is revealed, and it is truly a sight to behold. The front of the handset is dominated by a 5.99-inch IPS 1080p display. The top, left, and right sides of the display are nearly bezel-less, with the sensors and the front-facing camera being housed in the lower chin. If you look closely, you'll be able to spot a small slit in the top portion of the handset above the display, which provides an opening for the earpiece.
On the bottom of the device, there is USB Type-C port that is flanked by two grills, one is a speaker, the other a microphone. The right bezel offers a volume rocker and power button. On the rear, there is the 12MP camera that is accented in gold, a dual LED flash, and fingerprint reader. When you read this description, it sounds just like any other smartphone, and to an extent, you're correct. But there is something about it when you get it into your hand, it truly does offer a different experience.
Software and Performance
Although it was a bit of work getting Google apps and services on the Mi MIX 2, since that time, it has been working smoothly. As you might expect, the handset powers through most tasks with ease thanks to the powerful Snapdragon 835 processor that is paired with 6GB RAM. When it comes to the OS, it is running Xiaomi's MIUI 9, on top of Android 7.1.1. While the firm does have an Android Oreo beta, it is yet to announce when it will be coming in its official form.
This might come as a surprise to some, but the MIUI interface does not have an app drawer, so it will require users to organize their icons on the home screen. Although this isn't something you see much of from manufacturers like Samsung and LG, it is quite common for handsets that are built for the Asian market. Luckily, if you are not comfortable with this, you can always install a third party launcher that will give you the option of having an app drawer.
Along with the interface, the settings menu is a little different as well. While it does have everything laid out in an understandable manner, the organization of some of the settings isn't where you might expect it to be. For example, changing the timeout for the screen isn't located in the display settings, but is instead in the lock screen section. It's the little things but when you are familiar with one way that is generally universal, it takes some time to get used to MIUI. While MIUI doesn't attempt to throw the kitchen sink at you, it does give you enough options in regards to customizations to make it feel like you have a little breathing room.
There is also the matter of little quirks here and there. For example, Android Messages cannot send or receive MMS. Despite browsing numerous forums, there still doesn't seem to be a solution for this and will require users to either stick with the stock messaging app or find one like Textra that actually works. While it isn't a major issue, it is a little odd and there are other tiny problems that have been reported on the Xiaomi forums but have yet to be fixed, which is a nuisance. But, overall, as a whole, the OS is responsive and works well. If there is one point of caution about the software, it would be the frequency of updates. As of this writing, the handset is still running Android 7.1.1 and has security updates from December. Hopefully, Xiaomi will provide adequate updates and support for the Mi MIX 2 for the next couple years, but as of right now, things are not off to a good start.
Camera
As new smartphones arrive to market each year, what inevitably makes or breaks the experience, is how well it can shoot photos and videos. While many device manufacturers have tried to implement a second lens to boost the quality, Google has shown that it isn't about how many lenses you have, but how well your software is optimized to handle the real world. Many consider the Pixel line, and more specifically, the Pixel 2 devices, as the epitome when it comes single lens camera execution.
The Mi MIX 2 utilizes a single lens approach and for the most part, things work well. As mentioned in the hands-on, the Mi MIX 2 does have issues when it comes to focusing, sometimes, missing the mark. It isn't a huge problem and happens maybe once or twice out of of a dozen shots. But it is something to take note as you could end up with some blurry photos in the end if you aren't paying attention to what you're focusing on. As far as night time quality goes, it's okay and you won't be blowing anyone away with its quality.
Perhaps one of the more interesting surprises of the handset is how well it can take photos when using Snapchat. Android handsets are extremely inconsistent when it comes to image quality when using third-party apps. Snapchat utilizes its own software to shoot photos and sometimes, these can just look terrible. Being able to shoot amazing photos with Snapchat isn't going to be a priority for many, but it's a nice bonus for those that utilize the app.
If you are someone who likes to tweak camera settings, the Mi MIX 2 has you covered with a manual mode that will allow manipulation of the exposure, ISO, white balance, and more. You also have the option to toggle HDR, choose different image filters, and choose from different modes like tilt-shift. If you want to adjust the contrast, saturation, and sharpness, you'll have to dive into the settings menu of the camera which can be a bit of a pain. The camera isn't quite as flexible when it comes to video options, giving users the option to shoot 4K@30fps, 1080p@30fps, 720p@120fps, and 480p@120fps. Interestingly, Xiaomi does not detail what frames per second these modes are shooting at within the software.
When it comes to video quality, the focusing problem that pops up every once in a while when taking photos is a bit more apparent when filming videos. The camera does tend to have to hunt for the subject and sometimes it completely misses the mark. It is when there is movement, that these flaws are most noticeable. The handset does have optical image stabilization (OIS) but the quality of it is average at best. You won't be wowed with its capability to smooth out videos when there are jolts in movement, it simply isn't at the level of top-tier handsets. If there is one thing that will absolutely tank the camera experience, it is the audio quality, which is the worst out of any handset I have tested recently. The poor audio quality not only affects video taken with the standard camera app but also any other applications like Instagram and Snapchat. If you are someone that relies on their smartphone to shoot video, you will want to steer clear of the Mi MIX 2. However, after doing a bit of research, it looks like this problem is related to a software issue which could mean that there could be a fix for it in the future.
Battery Life
The Mi MIX 2 has a 3,400mAh battery which is more than enough to get it through the day. During a typical day of use, web browsing using Chrome was common, along with streaming music via Bluetooth, YouTube for a couple hours, messaging, light calls, Slack, emails, and more. If the day started at 8 am, there would be plenty of battery life left at 10pm, sitting at around 30 percent. If you are someone who uses more intensive apps like Snapchat, you will still be able to get through a day, but you'll be looking at around 10 percent or lower, in the same time duration. If you require a charge during the day, you'll be happy to know that the phone does support Qualcomm's Quick Charge and this should be enough to get you topped up in no time. If there is one thing that can be gained when using a lower resolution display, it is that the battery life will always be that much better compared to its higher resolution counterparts. While some may love QHD resolution, 1080p is perfectly fine if it means having the benefit of getting extended use out of my smartphone.
Conclusion
The Mi MIX 2 is one of those handsets that you will probably never see another soul using if you live outside of Asia. If you are someone who likes having something unique, this is probably the handset for you. The device starts at $465 and can go a little higher if you choose to opt for more RAM and internal storage space. But considering that Samsung and LG are charging around $700 and over for their flagships, this isn't a bad price at all for what you get.
The design is beautiful and the handset is crafted to turn heads. The ceramic exterior is on another level and looks phenomenal in the right light. The display isn't the highest resolution but it looks good, produces accurate colors and can be seen from all angles. The camera can shoot some good photos but the audio when capturing video leaves much to be desired and is probably the phone's biggest flaw. Also, with a handset like this, you are always left wondering whether there will be proper support in the future. After all, without proper updates to the OS, a handset's life is dramatically reduced.
While a year ago you could have argued that the Mi MIX was something special due to its design and some of its more experimental technologies, this year, things are vastly different. There are many options available and even some in the same price category like the OnePlus 5T. If you're looking for something that no one will most likely have outside of Asia, the Mi MIX 2 is a good choice, but if you want something that will offer better longevity, you'll probably want to stick with a familiar brand.
I'd like to extend a big 'Thank You' to the folks at GearBest who supplied the Xiaomi Mi MIX 2. If you would like to purchase the handset, you can head to the GearBest website, where it starts at around $500.