Lenovo's ThinkBook 14 Gen 2 is here, and what you need to know is this: it starts at around $630. While it comes with a choice of Intel or AMD Ryzen 4000 processors, we're focusing on the AMD model here. The configuration that Lenovo sent me is the base model, with a Ryzen 5 4500U, 8GB RAM, and 256GB of storage.
And it's pretty awesome given the price. Sure, it doesn't have a lot of bells and whistles like a premium laptop does, but it gets the job done. ThinkBook is a brand that's aimed at small to medium size businesses (SMBs), and this is something that fits in perfectly for an SMB use case. It's inexpensive and checks the right boxes, and it doesn't stand out too much.
Specs
CPU
AMD Ryzen 5 4500U
GPU
Radeon Graphics
Body
323x218x17.9mm (12.72x8.58x.7"), 1.4kg (3.09lbs)
Display
14.0" FHD (1920 x 1080) IPS, anti-glare, 250 nits
Storage
256GB PCIe SSD
Memory
8GB DDR4 3200MHz (soldered)
Ports
(1) USB-A 3.2 Gen 1 Type-A
(1) USB-A 3.2 Gen 1 Type-A (always on)
(2) USB 3.2 Gen 2 Type-C (data transfer, power delivery, DisplayPort 1.4)
(1) HDMI 1.4b
(1) 4-in-1 Card Reader
(1) RJ-45 Ethernet
(1) Headphone/microphone combo jack
Connectivity
Intel Wi-Fi 6 AX201 11ax, 2x2 + BT5.1
Webcam
720p with ThinkShutter
Input
6-row, Spill-resistant, multimedia Fn keys, LED backlight, Buttonless Mylar surface multi-touch touchpad, supports Precision TouchPad
Audio
2x2W Stereo Speakers with Dolby Audio, Dual Array Microphones
Security
Power-on password, hard disk password, supervisor password, TPM 2.0 integrated in chipset
Battery
45Wh battery, supports Rapid Charge Pro (up to 50% in 30 min)
Material
Aluminum
Color
Mineral Grey
Price
$629.85

As always, it's worth noting that Lenovo's business laptop prices on its websites fluctuates, so this reflects the price at the time that this review was written.
Day one
Design
If you checked out, say, my ThinkBook 15p review, then you already know what the ThinkBook 14 Gen 2 looks like. The current generation of ThinkBooks has a very clear and consistent design language. For example, the lid has that same two-tone design with a Mineral Grey color, using two shades of gray. The ThinkBook logo sits in that bottom half, and it's a clean look without any flash.
This machine feels solid and well-built. It's free of bells and whistles, but it doesn't feel like it's free of quality. It comes in at 3.09 pounds, an average weight for an aluminum laptop of this size. It doesn't go out of its way to be thin or light, as this is really the type of PC that's aimiung to check boxes.
And since it's not going out of its way to be thin, that means we have a solid port selection to choose from. On the left side, you'll find two USB 3.2 Gen 2 Type-C ports, meaning that they're good for 10Gbps speeds. They also support Power Delivery and DisplayPort, so you can use either one to charge the laptop, or you can use them to connect a monitor. Being a mainstream AMD-powered laptop, there's obviously no Thunderbolt.
You'll also find an HDMI 1.4b port, a USB 3.2 Gen 1 Type-A port for 5Gbps speeds, and a 3.5mm audio jack.
On the right side, there's a full Ethernet port, an SD card reader, and another USB 3.2 Gen 1 Type-A port. Indeed, it's pretty cool that this machine has four USB ports. I feel like most OEMs are using three at best, two of which are usually USB Type-C. With the ThinkBook 14, you get two of each.
I do enjoy the ThinkBook 14 design, at least as it applies to small businesses. The whole theme seems to be solid, yet subtle.
Display and audio
The ThinkBook 14 comes with a screen that's, you guessed it, 14 inches. And it comes in any resolution you want as long as it's 1920x1080, also meaning that it's still 16:9. That doesn't mean that there aren't different variations of the screen though, because there are.
Like I said, Lenovo sent me the base model, which has a 250-nit screen without touch. There are also 300-nit touch and non-touch options, and you should definitely get one of them. To be clear, 250 nits is a very dim display. In fact, even 300 nits isn't very impressive, but at 250 nits, you'll probably have to use it at full brightness all of the time.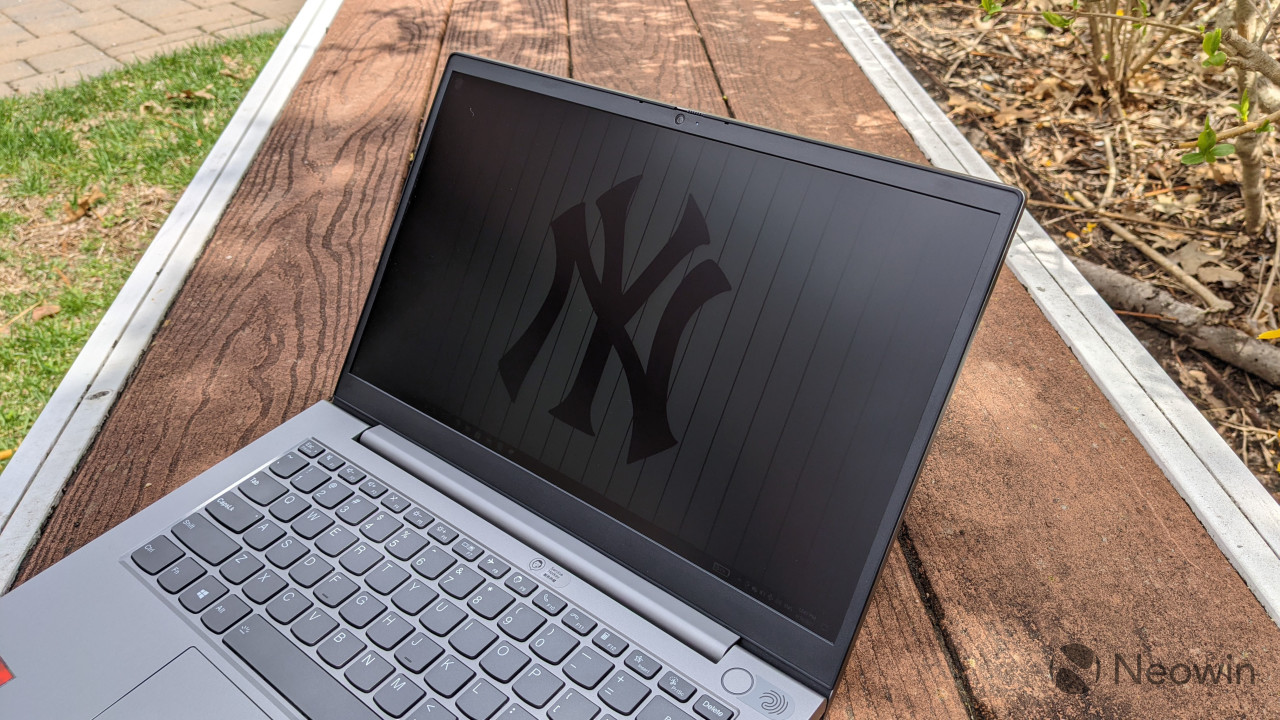 Other than that, the display is pretty good for what it is. It's a matte anti-glare display, which compensates for the lack of brightness a bit. Lenovo isn't pushing Dolby Vision HDR or anything like that with this one. It's just your basic 1080p 250-nit display, made for productivity.
The bezels are pretty slim on all sides, with the top bezel being a bit larger to make room for the webcam. There's also a privacy guard that can cover the webcam, so you don't have to worry about putting a piece of tape over it or anything like that. There's no IR camera, which is fine to me since there's a fingerprint sensor in the power button.
Also, it's worth noting that privacy guards and Windows Hello don't play nice with each other. If you're the type to keep the webcam covered but also want facial recognition to work, you'd have to remember to open it every time you want it to recognize you, which is a pain. A fingerprint sensor works out better.
The ThinkBook 14 has dual 2W speakers on the bottom that support Dolby Audio, and they're decent. They're not particularly loud or amazing, but they work great for calls and meetings. If you're playing music at your desk, you might want some proper speakers. But for meetings, you won't find them lacking in any way.
Keyboard and touchpad
One of the things that I really like about ThinkBooks is that while they're business PCs, they're sort of the anti-ThinkPads. They maintain the same quality that you'll get on a ThinkPad keyboard, quality that it's known for. But it sheds the legacy components. You won't find a TrackPoint here, nor will you find any physical buttons above the touchpad.
It also doesn't feel as deep as the keyboard on a ThinkPad keyboard. It still feels accurate and it feels comfortable, but all of it feels a bit more modern.
This is actually an important bit, because this is a premium keyboard. Indeed, ThinkPads are renowned for their keyboards, so when you put that kind of quality into a PC that costs six hundred dollars and change, it's something that's worth noting. If you're looking for a great typing experience in a package that doesn't cost too much, look no further.
And then there's the touchpad, which uses Microsoft Precision drivers. It's just a regular clickable touchpad though, so it's actually bigger than what you'd fine on a ThinkPad. ThinikPads have physical buttons above the touchpad, which are necessary for use with the TrackPoint. Since there's no TrackPoint, those buttons aren't necessary and Lenovo is able to produce a larger touchpad that works the same way as it would on any other PC.
Finally, I do want to draw attention to the power button in the top-right corner of the keyboard deck, which doubles as a fingerprint sensor. As is always the case with ThinkBooks, it scans your fingerprint when you first press it, so you don't have to touch it again after the PC boots up. That makes it just as natural of an interaction as facial recognition, since you don't have to perform any additional steps.
Performance and battery life
The model that Lenovo sent me has an AMD Ryzen 5 4500U processor under the hood. The 15W chip has six cores, and it does not have simultaneous multithreading (SMT), so it has six threads as well. Along with that, it comes with 8GB RAM and a 256GB SSD. It's a pretty basic model.
On Lenovo.com, you can have it configured with the octa-core Ryzen 7 4700U, which is also lacking SMT. However, Lenovo says that it's available with the Ryzen 5 4600U and Ryzen 7 4800U as well, and those are the same chips but with SMT. Honestly, it all depends on your work load to know if you'd benefit from SMT, and frankly, for a productivity machine like this, six cores and six threads is probably fine.
While it's a productivity machine, you can definitely do more than that, such as comfortable edit photos and even edit FHD videos. AMD's Ryzen 4000 processors were its first to be built on its 7nm process, and combined with the integrated Radeon graphics, there's a lot that they can do.
Battery life was pretty great as well, coming in at around eight hours with the lower slider at one notch above battery saver and the screen on about 50% brightness. Honestly though, I did increase the brightness at some point because this screen is so dim that it was hard on my eyes. I do credit that dim display with the excellent battery life that I'm getting.
For benchmarks, I used PCMark 8, PCMark 10, Geekbench, and Cinebench.
ThinkBook 14 Gen 2
Ryzen 5 4500U
ThinkBook 14s Yoga
Core i7-1165G7
Surface Pro 7+
Core i5-1135G7
Acer Enduro N3
Core i5-10210U
PCMark 8: Home
3,451
3,851
3,521
3,344
PCMark 8: Creative
3,712

4,861

4,192
3,419
PCMark 8: Work
3,584
4,083
3,403
3,513
PCMark 10
4,177
5,105
3,963
3,655
Geekbench 5
969 / 3,142

1,534 / 4,861

1,358 / 5,246
Cinebench
1,121 / 5,782
1,455 / 4,820
1,235 / 2,854

I do think that Intel's 11th-generation processors beat Ryzen 4000, although when Ryzen 4000 came out, it crushed Intel's 10th-gen chips. But in fact, it crushed Intel's 10th-gen processors that were being used in business PCs even more. While Ice Lake had the benefit of Iris Plus Graphics, Comet Lake didn't even have that. In other words, whether you choose AMD or Intel on the ThinkBook 14, you're getting a big boost over the previous generation.
Conclusion
Most of what this all adds up to is that it costs just over $600. You get a ton of value for that price, including AMD Ryzen 4000 performance, a solid build quality, and a great keyboard. My biggest issue with it is the display, which simply isn't bright enough to get the job done consistently.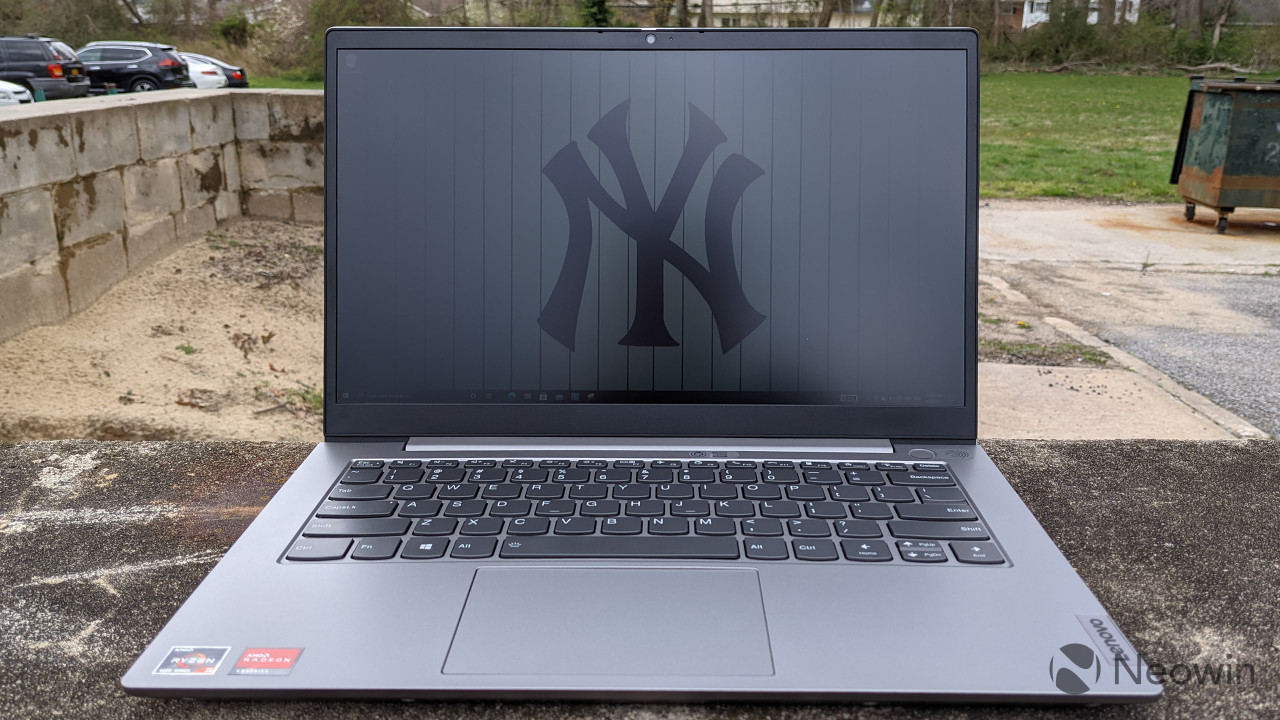 But most of all, this is just a no frills business laptop. It's a good one, which is actually my experience with ThinkBooks in general. They're fantastic PCs but without the bells and whistles of say, a ThinkPad X1 Titanium Yoga. But then again, a ThinkPad X1 Titanium Yoga costs nearly three times as much.
Overall, the ThinkBook 14 just checks the right boxes. The performance is there, the keyboard is there, and the battery life is there. Indeed, the battery life is pretty great, and that's with the smaller battery installed in this unit. Overall, there's a ton of value here.
If you want to check out the ThinkBook 14 Gen 2 on Lenovo.com, you can find it here.
Pros
Solid build quality Excellent keyboard Performance Value