When I was a kid, I was raised to like sports teams from Boston. The only problem was that back in the 90s, Boston's teams were awful. For example, it wouldn't be uncommon for Boston Red Sox fans in my family to talk about how we'd never see the team win a championship in our lifetime. And whenever a team had a bad season, I remember being told that it's a rebuilding year. That means that the team can't compete this year, but that's OK because it's working on getting it together for next year or the year after that.
That's where I feel like OnePlus is at. There's a lot to love about the OnePlus 9 and the OnePlus 9 Pro, but its Achilles' heel is always the camera. And that's not because the camera is particularly bad; it's because it can't compete with the likes of Samsung and Apple despite being priced similarly. OnePlus introduced a new Hasselblad partnership, and for the OnePlus 9 series, that collaboration is only on the software side. Once that partnership matures a bit, we might start to see some really interesting stuff.
But for now, this is what we have. Both handsets come with Snapdragon 888 chipsets and 120Hz displays, although the screens are different as we'll talk about in a little bit. OnePlus also doubled down on both fast wired charging and fast wireless charging.
Specs
OnePlus 9
OnePlus 9 Pro
CPU
Qualcomm Snapdragon 888
GPU
Adreno 660
Display
6.55 inches, 2400x1080, 402ppi, 120Hz, 20:9, AMOLED
6.7 inches, 1440x3216, 525ppi, Smart 120Hz, 20.1x9, AMOLED with LTPO
Body
160x74.2x8.7mm, 192g
163.2x73.6x8.7mm, 197g
Camera
48MP 1/1.43" f/1.8 IMX689 + 50MP 1/1.56" f/2.2 IMG766 + 2MP monochrome, Front: 16MP f/2.4 IMX471
48MP 1/1.43" f/1.8 IMX789 + 50MP 1/1.56" f/2.2 IMG766 + 8MP f/2.4 telephoto + 2MP monochrome, Front: 16MP f/2.4 IMX471
Video
8K - 30fps, 4K - 120fps, Front: 1080p - 60fps
Storage
256GB UFS 3.1
Memory
12GB LPDDR5
Battery
4,500mAh, Warp Charge 65T through USB 3.2 Gen 1 Type-C port, 15W Qi charging
4,500mAh, Warp Charge 65T through USB 3.2 Gen 1 Type-C port, Warp Charge 50 Wireless
Audio
Dual stereo speakers, Noise cancellation, support Dolby Atmos
Back material
3D Cornihng Gorilla Glass
Color
Astral Black
Morning Mist
OS
OxygenOS based on Android 11
Price
$829
$1,069

Day one
Design
While the OnePlus 9 and the OnePlus 9 Pro both have very similar designs, the OnePlus 9 Pro decidedly feels more premium. I can't really put my finger on why, but it's probably because the OnePlus 9 that was sent to me is the Astral Black color, which is just awful. Seriously, it's just another glossy black phone, something that makes it look similar to plastic devices that I've reviewed.
The Morning Mist color on the OnePlus 9 Pro is actually pretty stunning. I had expected a matte frosted finish, but that's not it at all. In fact, it's quite the opposite. It's entirely smooth, with the bottom half being mirrored and blending into a less reflective top. It really does look like you have a mirror and the top half is covered by a morning mist.
The OnePlus 9 also comes in colors like Winter Mist and Arctic Sky, and the OnePlus 9 Pro also comes in Forest Green and Stellar Black. I've not seen these colors in person, which is why I'm not reviewing them.
While the camera is the usual rectangle with rounded corners that we've seen from every smartphone OEM, it stands out with the Hasselblad branding. The two main sensors are aligned vertically and the silver and black (depending on the color of the device) rings around them give it that extra Hasselblad feel. Underneath the Hasselblad branding are two more sensors on the Pro, or one more sensor on the OnePlus 9. The extra one that's on both is a monochrome sensor, while there's also a telephoto lens on the OnePlus 9 Pro.
The rest of the designs are the same between the two devices. In fact, the sizes are almost the same too. They're both 8.7mm thick, and they're 192g and 198g for the OnePlus 9 and the OnePlus 9 Pro, respectively.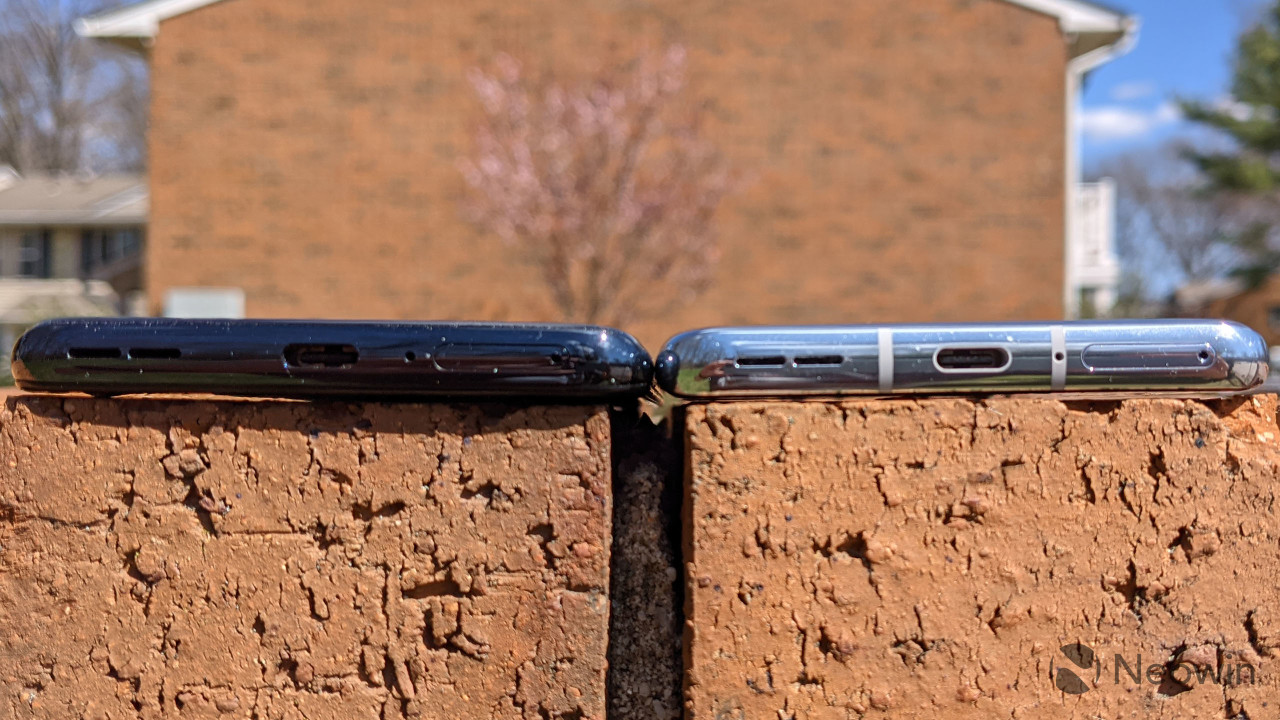 On the bottom, you'll find the USB 3.2 Gen 1 Type-C port, along with the nano-SIM slot. Note that a lot of phones still use USB 2.0 ports, so having a full 5Gbps USB Type-C port is pretty cool.
On the right side, you'll find the power button and above it, a switch to control notifications. It has three settings: one keeps notifications on, one puts them on vibrate, and one puts them on silent. It's one of my favorite features on OnePlus phones, and it's a shame that no other Android vendors do it. The only other place that you'll find a notification switch like this is on an iPhone.
On the left side is just the volume rocker.
The design is a nice blend between traditional OnePlus and a dash of Hasselblad. OnePlus has long used these glossy colors that are slippery on surfaces, but the pretty colors make up for it. And I have to say, I really love the Morning Mist color on the OnePlus 9 Pro.
120Hz AMOLED displays
Both of these devices have 120Hz AMOLED displays, which is awesome. It makes for super-smooth animations, and OnePlus actually started doing this with the OnePlus 8 Pro last year, and brought it to the non-Pro with the OnePlus 8T. Samsung also uses 120Hz screens in its high-end Galaxy handsets, but much of the rest of the industry isn't. Apple is still using a 60Hz screen in its iPhones, and Motorola maxes out at 90Hz.
That's about where the similarities end. The screen on the OnePlus 9 is 6.55 inches, and the OnePlus 9 Pro is just a bit taller at 6.7 inches. Also, the former is FHD while the latter is QHD, not that you'd be able to tell the difference by looking at them. I look at them side-by-side and forget that they're different resolutions. It's also worth noting that the OnePlus 9 Pro is set to FHD 120Hz by default for battery life's sake, but you can set the resolution to QHD or the refresh rate to 60Hz if you want.
Another key difference is that the screen on the OnePlus 9 is flat while it's curved on the OnePlus 9 Pro. Curved edges have fallen out of favor with some over the last few years, given that they can be a pain to use one-handed without making false touches. So if that's something that's important to you. You have a choice.
All of these images were taken in direct sunlight at full brightness, which is 1,100 nits on the OnePlus 9 and 1,300 nits on the OnePlus 9 Pro. In fact, the display on the Pro is the same one that's found on the OPPO Find X3 Pro, a device that I loved. That means that it's also an LTPO display, something we've seen from companies like Apple with the Apple Watch.
The key is that it actually has an adaptive refresh rate, which can vary between 1Hz and 120Hz; again, this is only in the OnePlus 9 Pro. That allows for better power management, and it can allow for things like an always-on display to suck down even less power, as the refresh rate can be dialed back to 1Hz.
The display has been a selling point for OnePlus phones since the 90Hz display on the OnePlus 7 Pro. The biggest downside of this phone is the camera, but if you don't care about that, it's an amazing experience.
Hasselblad camera
Here's why this is a rebuilding year. Hasselblad actually had nothing to do with the development of the hardware. The partnership is too new, so OnePlus and Hasselblad focused on color science and software instead. Indeed, there's an orange shutter button in the Camera app, a new sound when snapping a picture, and a Hasselblad pro mode.
You might remember Hasselblad as being the company that made the camera that went to the moon. That's why a lot of the promotional images have the moon in them. Sadly, I don't think it's enough, but I'm still really excited about what we'll see in the OnePlus 10 next year when the company can help develop the hardware.
The OnePlus 9 Pro once again has a custom Sony sensor, which is a 48MP f/1.8 IMX789, while the OnePlus 9 has a 48MP f/1.8 IMX689. They're very similar sensors, and one of the key differences spec-wise is that the Pro has optical image stabilization. They both have the same IMX766 ultra-wide sensor, which is also the main and ultra-wide sensor in the OPPO Find X3 Pro.
And then they both have a 2MP monochrome sensor, and I don't think OnePlus has given any explanation for why that's there. It's just a way for companies to say that there are more lenses on the camera, to be honest. Finally, the OnePlus 9 Pro has a 3.3x telephoto lens, which is absent on the OnePlus 9.
Here are some samples from the OnePlus 9 Pro:
Here are some samples from the OnePlus 9:
Take note of those blue flowers. I drove almost an hour to go to a particular park where I knew I could find those this time of year, because they're the flowers I've had the most trouble photographing with a smartphone. With so many devices, they come out purple, or parts of them are purple as we've seen here. And I went there because of all of the color accuracy promises. Both phones failed the test, obviously, but the Pro did better than the non-Pro.
Interestingly, it was the ultra-wide sensor that actually got the proper colors. It's interesting, because if you get up close to a subject with either phone, it will immediately switch to macro mode, which uses the ultra-wide lens and digitally crops it down. It's a good method, better than a dedicated macro lens, but it was weird to see these purple flowers suddenly snap to a proper blue color when I got close enough.
The bigger problem, of course, is the price. The OnePlus 9 can be compared price-wise to a Samsung Galaxy S21 or an iPhone 12, while the OnePlus 9 Pro is comparable to an S21 Ultra, since it's now discounted, or an iPhone 12 Pro Max. The cameras on these OnePlus phones are good, but there are very limited circumstances where I could actually recommend these phones over other ones from Samsung and Apple that cost the same.
Performance, battery life, and Warp Charge
One thing that OnePlus always nails is fast performance. Both devices come with Qualcomm's Snapdragon 888 chipset, which is the fastest Android SoC. They've also got up to 256GB UFS 3.1 storage, which is the fastest storage, and they've got up to 12GB LPDDR5 memory. If you want anything faster than that, you have to start looking at gaming phones and cooling solutions.
Indeed, performance isn't something you have to think about, and that's a feature that OnePlus has promoted since its very early days.
As for battery life, they both come with 4,500mAh batteries, and the battery life all depends on your settings. Like I said earlier, you can adjust the resolution on the OnePlus 9 Pro between FHD and QHD, and you can adjust the refresh rates on both phones between 60Hz and 120Hz. The first thing I did was turn up the OnePlus 9 Pro to QHD and 120Hz, because I'm an idiot that just always wants the best of the best.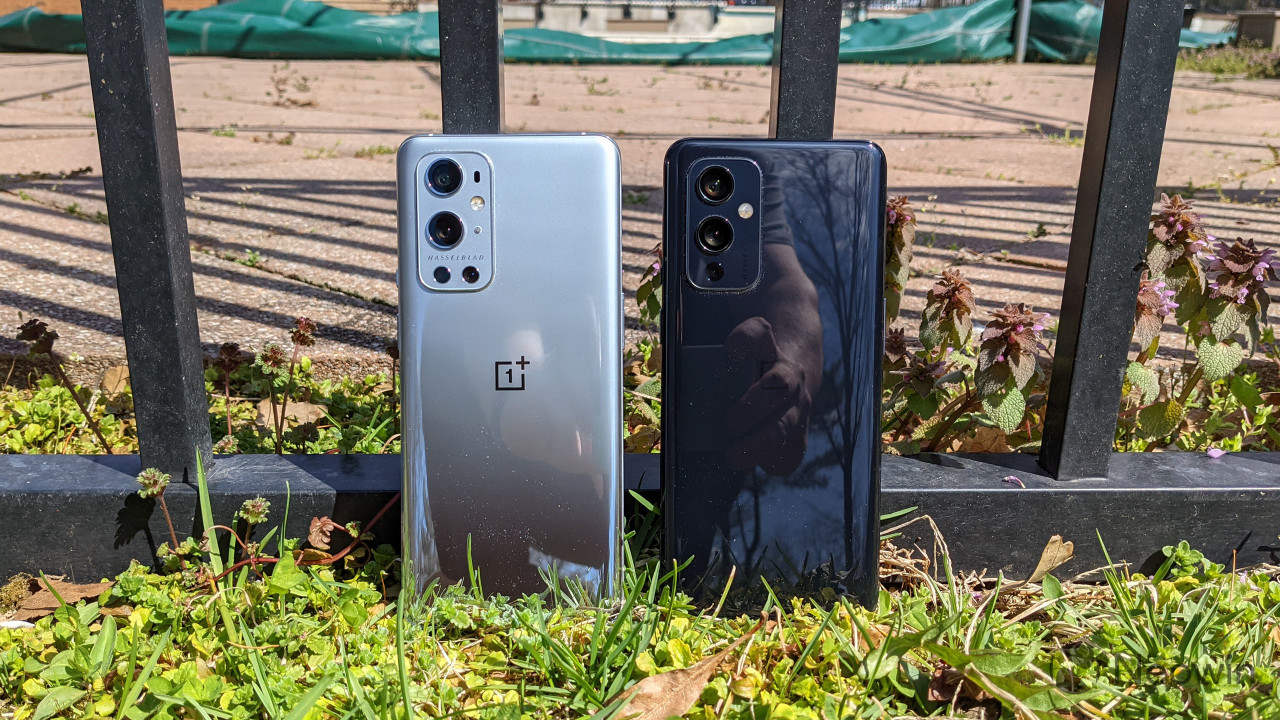 With this setting, battery life was horrible. If you think that the hit in battery life will be negligible, think again. Think of how much of an impact it has to have for OnePlus to make the default be that it doesn't use the full resolution of the display. With FHD 120Hz, I didn't have a problem getting a full day with either phone.
However, if you're close to a charger, that's fine too, because both of these devices support Warp Charge 65T, and let me tell you, these things charge fast. I'd put it on the OnePlus 9 Pro on the charger while it had about 25-30% charge, go take a shower, and come back to a phone that's 90% charged.
The OnePlus 9 Pro supports Warp Charge 50 Wireless too, so 50W wireless charging means it can just sit in a cradle and always be charged. They also improved the cradle, using two coils so you can place the phone vertically or horizontally. But more importantly, the cable isn't connected to the charger anymore, so you're not limited to a weirdly short cable like we were with the last one.
It's also worth noting that the OnePlus 9 finally supports wireless charging, although it's just 15W Qi charging. Still, not having it at all can be a real pain point. OnePlus only first introduced wireless charging in the OnePlus 8 Pro, and didn't offer it in the OnePlus 8 or 8T.
For benchmarks, I used Geekbench, AnTuTu, and GFXBench.
| | OnePlus 9 | OnePlus 9 Pro |
| --- | --- | --- |
| Geekbench | | |
| AnTuTu | | |
| GFXBench | | |

These are all top-notch scores for Android phones. There are no surprises here.
Conclusion
I love the OnePlus 9 and the OnePlus 9 Pro, a feeling that I've had for OnePlus devices since the OnePlus 7 Pro, but not before that. The only problem, frankly, is the cameras. The cameras are decent, and I do know plenty of people who simply don't care about the camera. It's just that when you look at what Apple and Samsung are selling for similar prices, they're just offering so much more in the camera department.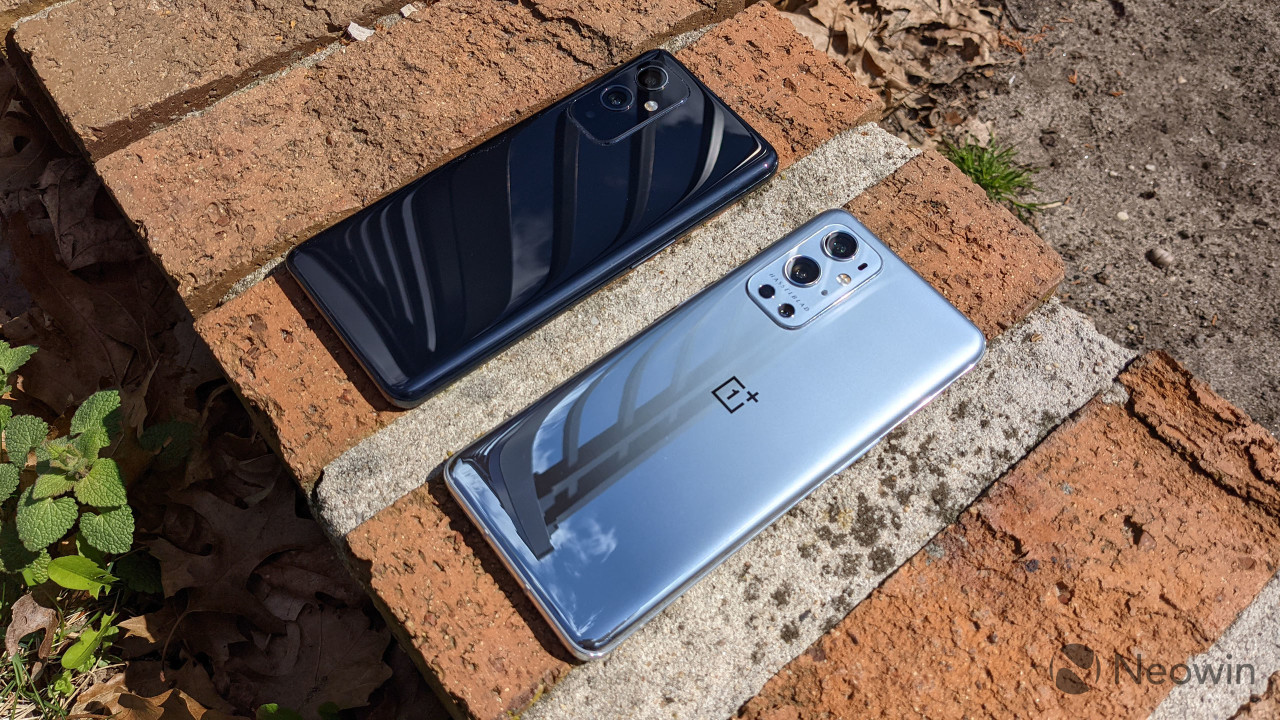 If you're one of those people that can deal with something that's more of an average camera, these are awesome phones. The 120Hz screens are both beautiful, and frankly, you'll be happy with either one despite the extra bells and whistles on the Pro. And these phones are fast, with a Snapdragon 888, fast storage, and fast memory.
Let's not forget about Warp Charge too, which is a game-changer. Charging anything else seems so slow now.
If you want to check out the OnePlus 9 series, you can find the OnePlus 9 here and the OnePlus 9 Pro here.
As an Amazon Associate, Neowin may earn commission from qualifying purchases.
Pros
Pretty design 120Hz AMOLED display Fast performance Warp Charge / wireless
Cons
Camera doesn't live up to promises Tough to match value of comparably priced phones