GoPro has been at the forefront of action cameras for quite some time. For years, others have tried to create similar devices that often fall short of consumers expectations, leading to poor sales and lackluster support. But what if a company decided to duplicate the GoPro and add features that are superior to the original?
YI is a company known for its diverse gamut of products that include: fitness trackers, air purifiers, headphones, a power bank, and more. YI has also produced many other products for the home and car, but one of the more notable products to emerge last year, was the relatively low priced YI action camera. While it wasn't superior to GoPro's offerings, it did offer a great experience and good quality images for a very affordable price. This year, YI has upped the ante by delivering the YI 4K, an action camera that exceeds GoPro's highest offering when it comes to specifications, in every single way. If that wasn't impressive enough, the YI comes in at an incredible price of $249, which is half the cost of GoPro's top-end HERO4 Black.
The YI 4K comes packaged in a simple white cardboard box that includes the camera, a 1400mAh battery, a microUSB charging cable, and some leaflets. The camera is available in Pearl White, Rose Gold, and Night Black - with the Night Black model being sent to Neowin for review. As far as the build quality goes, it's nothing to write home about, but the camera is sturdy, offering a plastic casing on its exterior. While it isn't the grippiest of materials, it still feels good in the hand and similar to what you would find on other action cameras. If there is one niggle about the exterior, it would be the flap that covers the microUSB slot, although it's fairly easy to pop off, it does sometimes take a little work to get back in. It's one of the parts of the camera that will undoubtedly at some point fall off and become lost forever.
The front is dominated by a large, 155 degree seven layer glass wide-angle lens that is powered by a 12MP Sony IMX377 image sensor that can record up to 4K. What you find on the back is a little more unique, as there is a 2.19" LCD touchscreen display (protected by Gorilla Glass) that offers a resolution of 640 x 360 at 330ppi. While that might sound impressive, it is still tough to really get a handle of the quality by watching the playback on the tiny screen, and even more so when the LCD isn't bright enough when being used outdoors during the daytime. However, it is extremely useful for framing shots and getting a preview of how things will look when shooting.
The touchscreen has another added benefit that it allows you to navigate menus to change the settings of the camera. While something as simple as a menu system could become a disaster, YI does a good job of making things easily accessible. While you can deep dive into the settings menu by tapping on the gear icon, there is also a quick access feature, that can be accessed by swiping in from different edges of the screen. This is great for changing settings on the fly, as I found myself doing many times when switching from picture to video mode and vice versa. If you feel more comfortable navigating on a larger screen, you can do so by utilizing the companion smartphone app. The app will allow you to connect to the camera via WiFi (802.11a/b/g/n 2.4G/5GHz), preview images and also make adjustments to all of the camera's settings.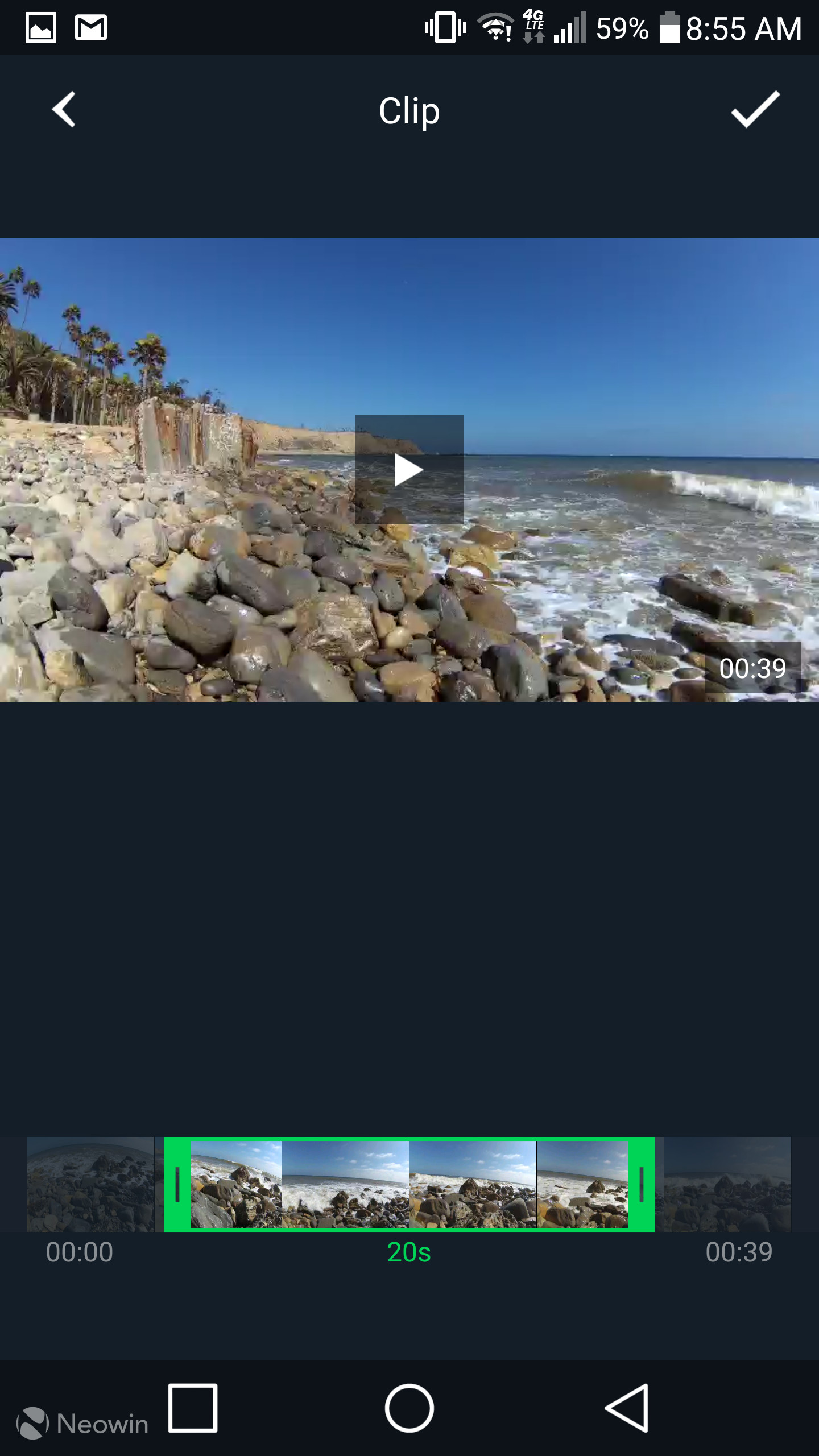 The YI camera app on mobile (support for both iOS and Android) can also be used to download pictures / videos and edit them. While it doesn't offer the most robust editing features, it does give you a way to pull clips from footage, add filters and music. You can also upload the creations to your preferred social platform. Unfortunately, YI does not offer a more powerful companion desktop client to edit your footage.
Naturally, all of the above specifications and features mean nothing, unless the actual image quality is there to back it up. When it came to dumping all the images from the memory card to my computer to check the quality, I was surprised. While I have never owned an action camera before, I like to think that it should offer great results with minimal effort. What I found was that while the camera can shoot decent still images, the area where it really excels is with its video. During the daytime, the camera was able to take exceptional videos. This also the case for lower light scenarios like in the afternoon, right before sunset.
The quality is a bit different when you're facing night time scenarios, with the camera stumbling a bit. Although it has a F2.8 aperture lens and image stabilization technology, the camera is never quite able to capture a great night scene, whether it is in still images or video. For those who want to tinker with the image quality, you can also manually adjust the ISO, white balance, and more, to get the optimal image. For now, the YI camera is best used during the day, with night shots that could possibly improve with future firmware update (it received two updates during two weeks of use). As for time, you will get about 2 hours with a single charge, and this will vary depending on the mode that you choose. For example, I was able to eke out 2 hours and 20 minutes of capture time recording at 1080p at 30fps.
While I don't own a GoPro and can't make comparisons, I was content with a majority of the images and video that I pulled from the camera during my use. It's important to note that certain benefits like image stabilization are only available at lower resolution settings, so you will only be able to take advantage of it by shooting under a 4K resolution. Although it isn't the perfect action camera, it's a product that I think most will feel content with, and even more so when considering that the YI 4K is priced at half that of GoPro's $499 offering. For those looking for a GoPro alternative, or wanting to experiment with an action camera, the YI 4K is it.
Naturally, there are things that the YI 4K could improve on, as mentioned previously, but interestingly, the main caveat isn't with the camera, but in the form of its lack of available accessories. Unlike, GoPro, which has been out on the market for several years and has a myriad of first and third party accessories for its devices available online and in physical stores, the YI does not. Currently, there are a few accessories available, and most cannot be found easily online and are nearly impossible to find in stores. While this will undoubtedly change over time, it is a huge issue for those who want to be able to purchase extra batteries, or replacement cases (waterproof) from their local store. After all, this is an action camera, things can happen to it and when they do, you may need a replacement accessory. But, these are things that should change, as the YI pushes the 4K to more markets.
Editor's note: Xiaomi was removed from the title and other parts of the article as YI is a separate company.
I'd like to extend a big 'Thank You' to the folks at Geekbuying who supplied the YI 4K for this review. If you are interested in purchasing this device, you can pick it up from Geekbuying. You can check out more at YI's official product page.
Pros
price and robust feature set image quality during the day build quality battery life
Cons
image quality at night lack of accessories lack of desktop app