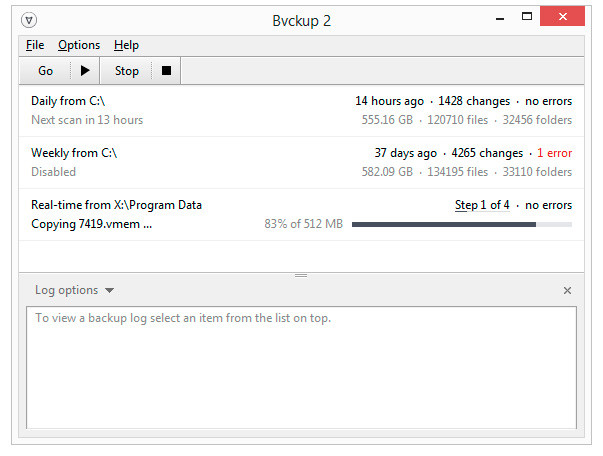 Bvckup 2 is a mirroring data backup software notable for its use of delta copying, speed of operation, small resource footprint and a "beautifully functional" user interface. The software replicates files from one location to another in their original format and purposefully does not include options for compressing or encrypting them. It does however include a comprehensive list of supporting features including periodic and real-time backup scheduling, removable device tracking and shadow copying support. Ideal for making local backups, backups going to external and removable drives as well as to NAS devices.
Bvckup 2 features:
Real-time, scheduled and manual backups
Very fast, delta file copying
Excellent user interface
Backup of locked files with shadow copying
Removable device tracking
Move/rename detection
Windows XP and newer
Full 64-bit support
Run-as-a-service mode
Symlink and junction support
Ownership, group and DACL copying
Fully asynchronous I/O
Multi-core processing where required
Optimized throughout for no run-time bloat
Software update notifications
Bvckup 2 Release 80.5 changelog:
Added support for opportunistic backup of offline files - this is related to the OneDrive folder backups. It is now possible to temporarily suppress processing of files that are offline (i.e. not cached locally).
See https://bvckup2.com/wip/24082019 for the background and https://bvckup2.com/support/forum/topic/1245 for the HowTo.
Added support for cloud-specific attributes to the file filters - it is now possible to exclude/include items based on their Pinned, Unpinned and Recall-On-Xxx attributes. See https://bvckup2.com/wip/23082019 for the explainer.
Added ReFS to the list of recognized file systems - this basically means that bvckup2 now knows the timestamp resolution and the maximum file size of ReFS, which is used in cases when it cannot determine these through active testing.
Enabled support for TLS 1.1 and 1.2 in the email module - this should resolve issues with email alerts mysteriously failing with "failed to secure the connection" errors, when they were sent to mail servers refusing older protocol revisions AND just flat out dropping connections instead of reporting their issues with the protocol revision.
Humanized error reporting for offline cloud-stored files - a handful of errors relating to trying to read offline file is now also explained in plain English.
Fixed a quirk with scheduling of periodic jobs - this is a good one. Just like the Oracle from The Matrix, it's been with us from the very beginning.
Basically, if a job was set to run at 12:00, being run manually at 11:59 and then cancelled at 12:01, then it will be re-run immediately after that. This was because the time of the next run was computed relative to the _start_ of the previous attempt... whereby it should've been the latest of the last-attempt start and the last-good-run finish.
Resolved an issue with the SSD detection logic - we can all thank HTS541010B7E610 for this, because for whatever reason this HDD reports that it supports TRIM, which it clearly shouldn't since is an SSD-specific operation. Well done, WD.
Resolved an issue with reporting NTFS stream copying errors - destination-side errors were erroneously reporting as being source-side.
Download: Bvckup 2 Release 80.5 | 2.4 MB (Free trial, $19.95)
View: Bvckup 2 Home Page | Discounts | Release Notes
Get alerted to all of our Software updates on Twitter at @NeowinSoftware